Posts contain affiliate links so readers can locate resources mentioned in recipes & articles. Merci.
Simple Lobster Bisque Recipe
This Pinterest pin is definitely a teaser for what promises to be a scrumptious and simple lobster bisque recipe.  I started early this morning breaking apart two lobsters into body, tails, claws and legs using very handy gadget.  Then, I gathered all the vegetables and started the chopping process.
In my opinion, it's the rich soup base that makes the soup.   Although my kitchen does not come equipped with a large tank of fresh lobsters, let's say that I could probably have used two additional (and larger) lobsters to make the stock.  
Step #1 To A Simple Lobster Bisque Recipe: Prepare A Rich Soup Base
It is necessary to establish a quick and obvious fact – this is not an inexpensive soup. 
I purchased two lobsters (at a cost of $29.00) to make the stock but now that the stock is made, I could easily have used four lobsters to have the desired amount of lobster meat. 
Hours of "local market comparison shopping" took place before buying the lobsters.  Eleven dollars a pound for "chicken" lobsters is a good price!
The price for larger lobsters would be almost prohibitive but you can also opt to go this route. 
Although we live near the Chesapeake Bay, we're not quite within that short drive of a true seafood market.   Such markets offer a choice of lobster sizes. I would select culls to make this simple lobster bisque recipe because culls are cheaper and taste exactly the same as a lobster with two claws!      
I also learned a few things at the seafood counter in my local supermarket.  This fact alone would have been useful to know
before ordering the lobsters.  But I made up for it with this!
Since
the bisque is for dinner tomorrow
, it is impossible to show you the finished
soup
Campbell's Homestyle Soup, Chicken Noodle, 15.4 Ounce (Pack of 8)
New Price: $13.52
Old Price: $13.52
(as of 02/26/2018 03:46 UTC)
.
Update: The Lobster Bisque was a success.  Thick and creamy, rich tasting soup base with spoonfuls of tender garlicky Maine lobster bits.

This first step in preparing the soup base was time consuming but finishing the bisque just before dinner will require nothing more than adding cream and lobster The Lobster
New Price: $2.99 Old Price: $2.99 (as of 02/26/2018 03:46 UTC)
meat.  Yum!  Stay tuned.  Sunday's menu is a soup and sandwiches event!


Picture below are the vegetables, herbs, seafood Maine Shore Dinner
New Price: $113.00 Old Price: $113.00 (as of 02/26/2018 03:46 UTC)
/lobster broth or stock and lobster shells ready to simmer for a good hour.  Yes, I tasted the soup base. I always do to adjust the seasonings but the DH took a spoonful too. He thought it was ready to eat. Wait till I add the cream!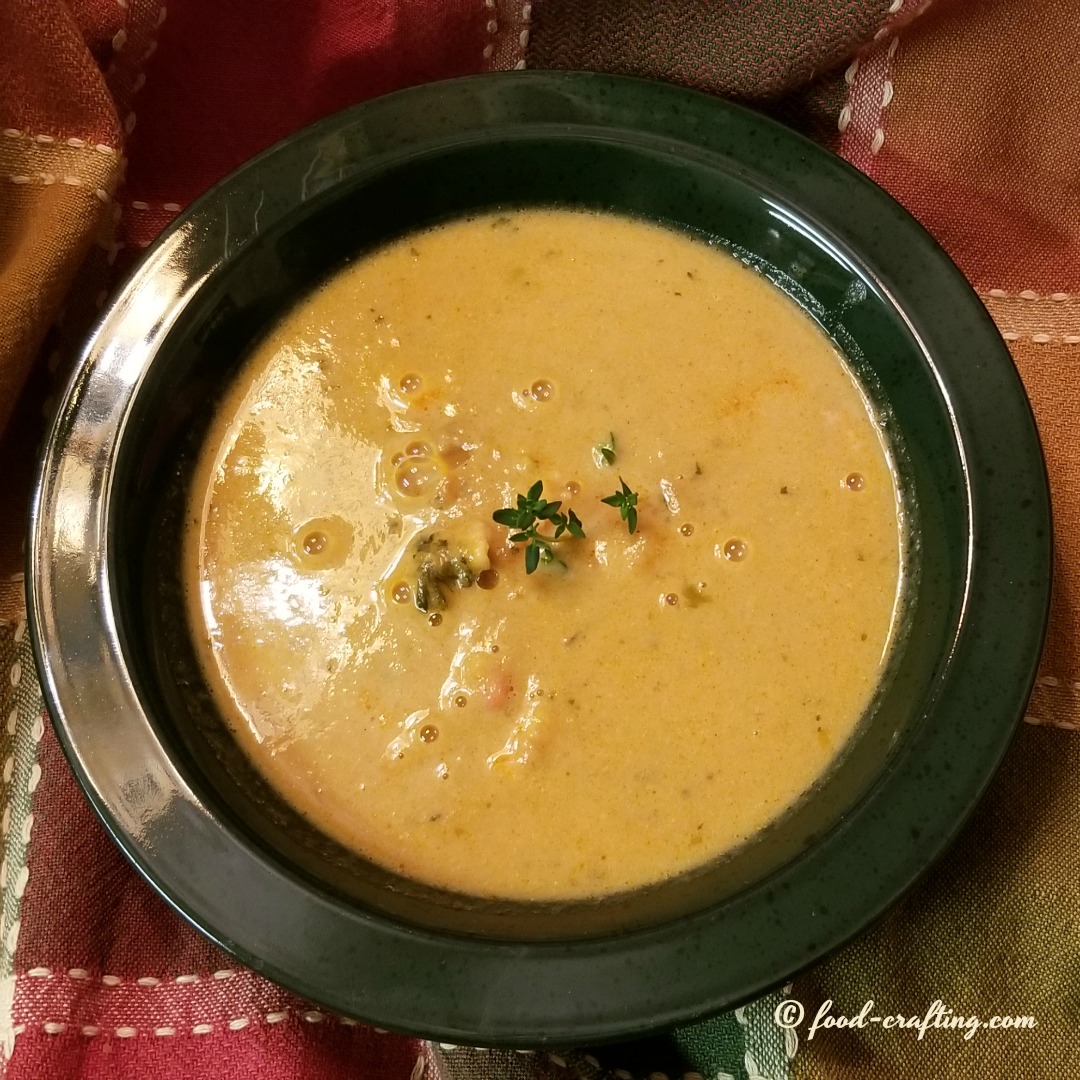 Step #2 To A Rich Lobster Bisque Was Well Worth The Effort
It's now Monday so let's do some Monday morning quarterbacking.
I'll admit it. I misspoke. The final step to the soup making was not as quick and simple as I anticipated. But I was multi-tasking.  The soup base was set to "slow-cook" while I shredded the lobster meat.
The two chicken lobsters yielded more meat than I anticipated (see the pic below) but not enough for hearty helpings of bisque.  Soup was a welcome meal yesterday as the high temperature for the day was barely 18 degrees with a wicked windchill factor.
With the addition of the 7 ounces of packaged lobster meat (previously frozen and which I also shredded), there was more than enough meat to distribute into nine soup bowls.
Print
Simple Lobster Bisque Recipe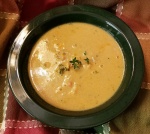 The Pinterest pin was definitely a teaser for what is a scrumptious and simple lobster bisque recipe. I started early this morning breaking apart 2 lobsters in to tail, claws and legs.   
Author:
Prep Time:

3 hours

Cook Time:

2 hours

Total Time:

5 hours

Yield:

14 cups

Category:

Soups

Method:

Simmer

Cuisine:

American
Ingredients
2 chicken lobsters (1 to 1 1/4 lbs each) $$; want more meat? Add 2 container of Maine lobster meat (chopped fine) $$
4 tablespoons butter
3 cloves of fresh garlic, chopped fine
Sprinkling of fresh parsley
One stick of butter
1/4 cup of robust olive oil
6-8 medium carrots (or 14 to 18 ounces); diced
1 bunch of celery with leaves; washed thoroughly. Hold the bulb end and trim 1/2 inch from the top then cut into thin slices all the way down to the bulb. Do not cut into the white portion.
3 medium yellow onions; diced.
2 bay leaves
Large sprig of fresh thyme
4 ounces of tomato paste with roasted garlic
Salt and freshly cracked pepper to taste
2 tablespoons of lobster base
3 (32 oz.) containers of Kitchen Basics© seafood stock
1 cup of Holland House© white cooking wine
1/3 cup of brandy
1 cup of whole milk
3/4 cup of heavy cream
Instructions
In the largest stock pot you own, melt the butter. Add the olive oil and add all the diced vegetables. Season with salt and pepper but don't overdo it. There is plenty of sodium in the broth and the soup base.  You can always adjust the seasonings later.
Sauté the vegetables and stir well to combine them evenly as they cook. When the onions have take n on some color, place all the lobster shells in the stock pot.
With a large spoon, stir lobster shells and diced vegetables until well combined.  Pour 2 full cartons of seafood bisque plus about half of the third carton over the vegetables and shells.
Add the tomato paste. Stir to dilute.
Add the bay leaves and thyme.
Taste the broth and add seasoning if needed.
Stir well to distribute the vegetables throughout the shells and the broth.
Cover and simmer over low heat for a full hour.
Allow the broth to cool sufficiently to be able to remove the shells from the stock.
---
With an immersion blender, the following process is very easy.  Check out the model below and other models of hand blenders.
The following step will be safer to ensure that all pieces of lobster shell are removed from the broth. Yes, it takes longer but this step is necessary.
With a skimmer, strain the vegetables from the broth and place in blender.  Blend into a thick puree. (I managed to get 99 % of the veggies – only the smallest bits of carrots and onions escaped)
Keep putting the pureed vegetables back in to stock until you have reduced all the veggies to a purée.
Set aside the soup base.  Mine was refrigerated until the following day.
Final Soup Prep Before Serving
About 1 and half hours before you plan to serve the soup:
Remove the milk, cream and lobster meat from the fridge.
Reheat the soup stock over medium heat until it bubbles gently then lower the heat to the lowest possible heat setting while you prepare the crab meat.
Add the milk and cream about 10 minutes before serving, stirring to combine well. Heat through for about 5 minutes.  You do not want the cream to curdle so do not add it until you know you will be serving the soup.  
While the soup is heating up, prepare the lobster meat as described:
Prepare some garlic butter and melt in a medium shallow pan – a pan large enough to hold all the lobster meat in a uniform shallow level.   Heat through.
Spoon a quantity of lobster meat into each bowl and ladle hot soup over the crab meat.  
Serve immediately and don't forget the oyster crackers. I did 🙂
Notes
You'll be amazed at how much liquid is retained in the shell of a cooked lobster. Break them apart over a bowl so you can keep all that liquid to add to the soup stock.
At the seafood counter of your supermarket, have the lobsters cooked for [5 minutes only] . Make sure you ask to have them cooked IN A SOLID TRAY not the typical perforated tray. That's how you keep all the cooking liquid that drains from the lobsters as they cook. Imagine the flavor bits you can add to the broth.
Break up the lobsters into pieces and remove all the meat. You won't be able to remove the meat from the legs in small lobsters but it will add tremendous flavor to the broth as the soup base cooks. Set aside while you prepare the soup base.
Just another one of our Tasty Recipes!
Buy An Immersion Blender! In My Kitchen, It Pays For Itself Every Day Thanks To Its Versatility & Powerful Efficiency
 Breville BSB510XL
Control Grip Immersion Blender
Use an immersion blender to purée all the vegetables after you have removed all the lobster shells from the soup stock.
My personal choice in immersion blenders is one that is stainless steel for an easy cleanup and has variable speeds for greater control and stability during the blending process.
I also look for a good pistol type grip because you want to have a good grip on the blender when you start it up in the pot.
Think in terms of tall soup stock pots. This immersion blender is perfect with an 8 inch long stick – long enough to reach the bottom of your pot.   It is always easier to begin the blending process near the bottom of the pan rather than near the top of the soup contents.
Love the fact that the base of the blender is not metal so you don't have to worry about scratching pots and pans with non-stick coatings.
Can this blender power through the thickest soups? Yes it can.
This one has plenty of power and comes with a useful selection of accessories to make mayonnaise for example. This model comes with a chopper bowl, a small whisk and a larger container ideal for storing prepared foods.
Makes egg rich aioli, regular mayo or purée a stock pot full of chunky vegetables in no time!

Soup's On! Only Had To Say It Once.  Here's How I Got Them To The Table!
In order not to get into the "you skimped on the lobster in my bowl" dilemma, my solution was to heat up the lobster meat in a separate pan – in garlic butter.
Garlic butter you say? Yes, garlic butter will have my clan belly-up to the table in record time.
Once warm, the meat was evenly spooned into individual bowls then covered with a large 8 oz. ladle of steaming hot soup.
The lobster meat did not get tough and rubbery during the soup cooking or the reheating.   Why? Lobster meat tends to get chewy when overcooked.  All you really need to do is heat it through since it is pre-cooked.  Tossing the meat in garlic butter simply adds another layer of flavor.
Grandma! You did you remember the oyster crackers? Ooops.
There's More Than One Way To Make Simple Lobster Bisque
This simple lobster bisque recipe is definitely not a quick and easy method. 
Not even my family or dinner guests will be aware of the time spent to prepare the soup. As long as it tastes great, you can get rave reviews from a doctored can of Campbell's© soup.  So why spend the time? Because
A few month ago, I prepared a really tasty crab Colossal King Crab Leg Meat
New Price: $60.00 Old Price: $60.00 (as of 02/26/2018 03:46 UTC)
bisque.  The crab bisque was not only easy but very quick – a soup you can prepare at the last minute.  And it costs much less.  
The lobster bisque recipe may be simple but it is not the soup you add to the menu at the last minute.    Be sure to check out our other soups.
Have a question about the recipe? Just vegetables in a rich broth, milk instead of cream?  That would be scrumptious too.  A seafood soup. 
Which herbs would you use? Let's compare notes about the recipe ingredients so please add your thoughts to the comments below.
Related: De's Food Crafting Soups Archives
Daddy Jack's Lobster Bisque!
Full disclaimer – I did not follow Daddy Jack's recipe but you would be amazed at the number of recipes found in my collection of cookbooks that call for the shells to be crushed.
I skipped the mallet method.  Although I have a sieve, it would not have filtered out all those little bits of shell from the soup.  Jack is quite liberal with the cognac and the white wine.  Brandy does add a "je ne sais qoui" flavor to the soup and white wine does as well.  
(Visited 135 times, 148 visits today)