Posts contain affiliate links so readers can locate resources mentioned in recipes & articles. Merci.
Make Homemade Gyros Meat – Ready to homemade lamb gyro meat recipe?
A gyro by any other name is still a tasty sandwich of grilled meats seasoned to yummy perfection with special seasonings,  with a side of cool and creamy tzatziki sauce Kamis Seasoning for Tzatziki Sauce 20g (Pack of 3)
New Price: $4.19 Old Price: $4.19 (as of 02/26/2018 03:49 UTC)
. Add lettuce, tomatoes and onions and you have the "hamburger" of the Levant.
You Can Make Homemade Gyros Meat!
Just once, try seasoning the meat with herbs and spices that do not contain preservatives or additives. Gustus Vitae Condiments
make a world of difference.
Depending on the Eastern Mediterranean country we called home at the time, it was Doner Kebab, Gyros Midamar - Halal Beef Shawarma Slices - Gyros Seasoned - 1 Case
New Price: (as of 02/26/2018 03:49 UTC)
or Shawarma – meat shaved off a huge piece of mixed meats grilling to perfection on a rotisserie spit.
In other neighboring countries, it was referred to as "Turkish" style kebabs.  Or Greek kebabs.  Depends on who you spoke to. I could tell you a long story about Greek this and Turkish that but we won't go there now.
Regardless of the name, let your nose guide you to the spinning rotisserie
and order the meat on the spit!  It's all good.
Gyros are relatively easy to prepare at home but for me, several ingredients will always be missing – the brilliant Mediterranean sunshine, music in the air, the intense fragrance of jasmine and of course the scent of grilled meat, along with a front row seat at a sidewalk café like this one.
How can you go wrong? Notice the sign?  They serve Gyros! 🙂
Seriously, to get the most authentic flavors when you make homemade gyros meat, splurge and buy the simplest and freshest gourmet spices on the market.
Going Authentic With A Gyros Spinning Grill Rotisserie
The only flavor ingredient missing from our recipe is the authentic "grilled" flavor.  When I prepare gyros again, I will set the loaves of meat on grill mats and finish the cooking process on the grill.  About the only other tweak that would make it perfect is a grill rotisserie!
 Blackstone Charcoal Grill – Automatic Rotisserie
 50 Recipes For Your Grill's Rotisserie
 Cyprus Deluxe Automatic Charcoal Rotisserie
&
Print
Making Gyros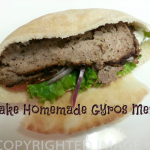 Making gyros as authentic as possible without the traditional gyro rotisserie spit.
Author:
Prep Time:

1 hour

Cook Time:

2 hours

Total Time:

3 hours
Ingredients
3 1/2 pounds beef, round, roast ( bottom, well marbled and with a good layer of fat on top )
3 1/4 pounds leg of lamb ( boneless, up to 3.5 pounds )
3/4 pound stew meat ( lamb stew meat with fat )
1 yellow onions ( large, + 1 medium roughly chopped )
2 tablespoons garlic ( 2-3 Tbsp. fresh and chopped )
2 tablespoons Greek seasoning ( Cavender's All Purpose Greek Seasoning )
1 1/2 teaspoons salt
1 teaspoon pepper ( freshly cracked )
1 teaspoon oregano
1 teaspoon rosemary ( crushed )
1 teaspoon thyme
Instructions
Cut the beef into 1 1/2 inch cubes and run – in small batches – through the food processor using the metal blade. You want what amounts to unrecognizable bits of beef which are much smaller than ground meat. Add the beef to a large bowl and season with half the spices.
Cut the lamb into 1 1/2 inch cubes and process in the same way as the beef. Add to a second bowl and season with the remaining spices.
Process the onions, garlic and herbs until nearly rendered into a paste. Add salt and pepper. Pulse to combine well.
Flip the lamb over in its bowl and spread the onion mixture evenly over it.
Flip the bowl of minced beef over the layer of onions and lamb.
With your hands, combine the two meats and the onion/garlic mixture until completely blended. Pound down with your fists until the meat becomes almost of a "spreadable" texture.
Cover and allow to rest while you prepare the pans: 3 large loaf pans.
This amount of meat will make enough Gyro mixture to nearly fill 3 large loaf pans. You do not want them to be completely filled as the fat will melt and overflow.
If you have a fourth loaf pan, use it to press the meat down into the pans. You want to compact it as much as possible to create a nearly homogeneous mixture that cuts into a neat slice.
Heat the oven to 375*.
Place all three loaf pans on a sturdy cookie sheet and bake for about 45 minutes to an hour or until golden brown on the surface and cooked just until done. I use a meat thermometer. Remove from the oven.
Once cool enough to handle, carefully invert the loaf pan onto a rack and allow the fat to drain off completely. Do the same for all 3 loaf pans and place the "loaves" back on the cookie sheet.
Raise the oven temperature to 400* or set the 375* oven to convection and roast the inverted meat loaves for about 20 to 30 minutes or until well grilled.
Before the meat is completely cool, wrap tightly in foil and refrigerate until ready to use.
When ready to prepare your gyro sandwiches, cut thin slices of the meat and pan fry for a minute or so per side to heat through and "grill". Assemble sandwich.
 Spinning Grillers Gyro Machine
 Gyro Machine
 Spinning Grillers Gyro Machine
Adapted from a recipe found on Food.com
When you prepare the recipe to make homemade gyros meat, don't let the fat mentioned in the recipe scare you.
It is there to baste the meat and melts away during the cooking process.  Be sure to cook until golden as stated in the recipe above but double check "doneness" with a meat and poultry thermometer
.
Fat To Lean Ratio Is Important
In Step 12 of the cooking instructions, the meat loaf is flipped out of the pan onto a rack and the fat drains off.
Think of it this way…you buy ground beef according to the fat content. This finely chopped meat mixture needs some fat in order to stay tender during the cooking process. The ratio of meat to fat in this recipe is close to 90%-10%.
Oddly enough, it has been my experience that ground beef has a tendency to toughen up when handled too much.
The opposite is true here. This mixture was purposely mashed into a pulp even after being chopped fine in a food processor
.
Yet the re-heated sliced meat was still tender and juicy.
Leftover Tzatziki Sauce
Any leftover tzatziki sauce? Add finely chopped tomatoes, cucumbers and red onions for an incredible veggie dip.  Toast the leftover pita then cut into triangles.
Don't want to take the time to make the tzatziki sauce? No worries.  Make the sauce from scratch.
The cool cucumber sauce is readily available in the refrigerated deli section of your neighborhood supermarket.  I found the following two brands at my local Safeway© store.
Now, I can't go as far as adding a spit roasted meat cell phone cover on my phone but if you own an iPhone6 Plus, your wish just came true.
It's lunchtime somewhere in the world and I am now officially hungry. Think I'll make homemade gyros meat and have it ready for tomorrow's dinner.
Related Recipes:
(Visited 2,110 times, 347 visits today)