Posts contain affiliate links so readers can locate resources mentioned in recipes & articles. Merci.
Our recipe for Okinawa Shoyu Pork Recipe is super easy to prepare. While well versed in geography, for some odd reason, I never think of Okinawa Okinawa and the Ryukyu Islands: The First Comprehensive Guide to the Entire Ryukyu Island Chain
New Price: $20.64 Old Price: $24.95You Save: $4.31 (as of 02/26/2018 03:47 UTC)
as part of the Japan.
In fact, even in Okinawa, the largest island in the Ryukyu Islands Okinawa and the Ryukyu Islands: The First Comprehensive Guide to the Entire Ryukyu Island Chain
New Price: $20.64 Old Price: $24.95You Save: $4.31 (as of 02/26/2018 03:47 UTC)
 chain of Japan, they call Japan – nearly two and half hours away by air – the "mainland".
In a hurry to make sushi or tackle shoyu pork? ===> Stock up on Japanese sauces and condiments
Preparing An Okinawa Shoyu Pork Recipe
They are that different in so many ways.  Even their cuisines are different as explained in this CNN travel article.  It is a combination of Chinese, mainland Japan and various Southeast Asian cultures.  This dish is one of my favorites!


Let's explore how to prepare what is in effect a very easy recipe using pork belly Farmland Belly Pork, 51.7 Pound -- 1 each.
New Price: (as of 02/26/2018 03:47 UTC)
.
Pork belly is inexpensive but not that common an offering in the supermarket meat section.  You'll find them at Shopper's Food next to the pig's feet.  🙂
Print
Okinawa Shoyu Pork Recipe: East Asian Barbecue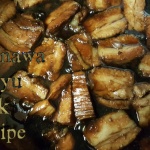 Pork belly slow cooked in water until fork tender, then simmered in a soy and mirin based "sweet and sour" sauce until perfectly glazed.
Author:
Prep Time:

20 mins

Cook Time:

2 hours 30 mins

Total Time:

2 hours 50 mins

Yield:

2

Category:

Main

Cuisine:

Japanese
Ingredients
1 1/2 pound pork belly strip
4 to 5 cups of chicken broth (optional)
Several large cloves of garlic, minced fine
1 tablespoon or more of minced fresh ginger root
Shoyu or soy sauce – 1/2 cup
Mirin – 1/2 cup
1/2 cup water
3/4 cup light brown sugar
dash of sesame oil (regular or hot)
Instructions
Rinse the pork belly under cold running water.
Place in a heavy duty pan like a Dutch Oven.
Cover with cold water. Bring to a slow boil and boil for about 10 minutes.
Drain the first "bath" and cover the meat again with cold water or chicken broth.
Bring to a boil, then lower the heat to a simmer and slow cook for about 2 and a half hours or until a knife has no resistence at all to the meat.
When the meat is cool enough to handle, remove the layer of fat from the top of the meat. Remove as much fat as possible. There will still be strips of fat between the layers of meat. Do not remove those layers or else the pork belly will fall apart.
When the fat is removed, cut into 3/4 inch wide chunks of meat.
Complete The Recipe:
Drain the water/broth from the Dutch oven.
In the same pan, add the liquids, combine well then add the suger. Stir well until the sugar is completely dissolved. Add the minced garlic and ginger. Simmer for about 5 minutes then add the pieces of meat to the pan. Continue to simmer, without covering, until the sauce is thick and the meat is completely glazed – about 15 minutes.
Notes
This recipe can easily be doubled. Two strips of pork belly will not affect the length of cooking time. Prepare twice as much of the glaze recipe.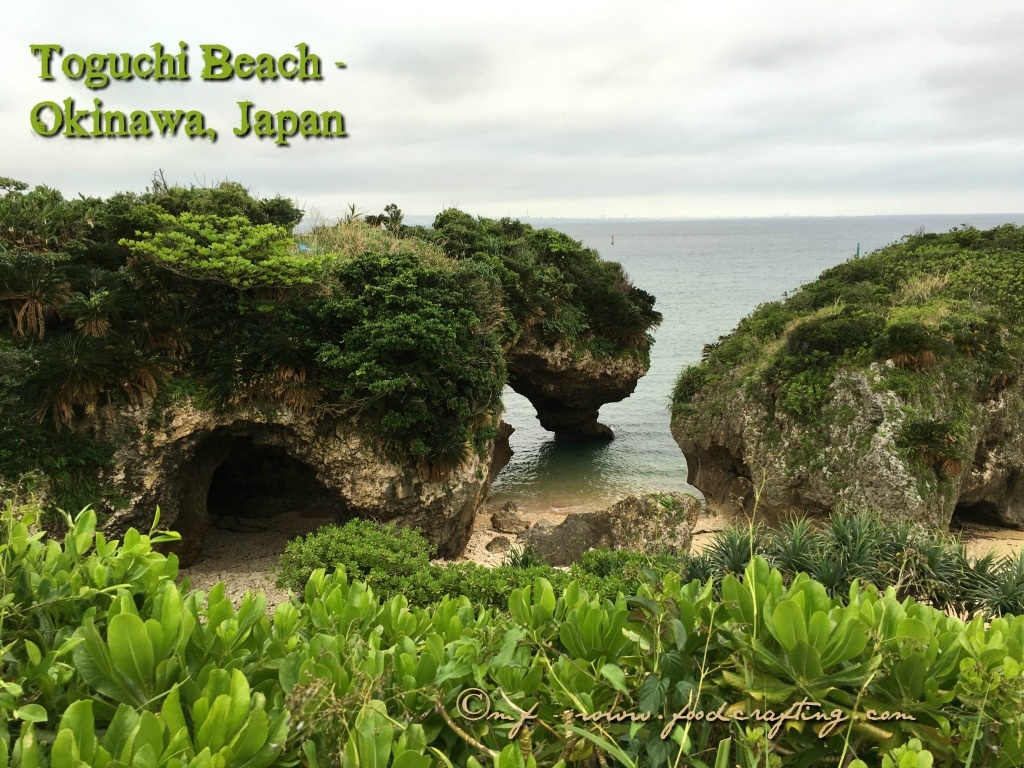 What do you think of my first video? Sixteen seconds of my Okinawa Shoyu Pork recipe simmering in a rich sweet and sour sauce.  🙂
At this point, the aroma of the ginger Simply Organic Ginger Root Ground Certified Organic, 1.64-Ounce Container
New Price: $3.95 Old Price: $3.95 (as of 02/26/2018 03:47 UTC)
and garlic plus that of the Shoyu bubbling away is enough to make you want to sample the meat.  Then sample it again, just to make sure.
You could easily make a piggy out of yourself with this recipe.  It's hard to believe something so simple tastes so good!
Okinawa Shoyu Pork recipe prepared in a slow cooker works like a charm when using a pork butt Pork Butt - BBQ Competition Grade Compart Duroc Pork Butts
New Price: (as of 02/26/2018 03:47 UTC)
or larger pieces of pork.  I will definitely prepare the recipe this way – browning the meat first – when cooking for a crowd.
You really don't need a wifi controlled pot to prepare this recipe. A Dutch oven works perfectly well – just use one of these old fashioned kitchen gadgets
All you need for dinner is a steaming crock of rice and some crisp oriental vegetables
and you are set to experience incredible flavors.
Don't limit yourself to pork with this simmer sauce. Try it with chicken! Click HERE for another video montage of an Okinawa Shoyu Pork recipe.
(Visited 2,137 times, 361 visits today)