Posts contain affiliate links so readers can locate resources mentioned in recipes & articles. Merci.
Simple Salisbury steak recipes are easy to find.  The trick is to find an easy comfort food dinner recipe – or prepare one – that delivers a big flavor punch from the thick, rich beef gravy and the caramelized onions and mushrooms. Every bite of meat must be coated in gravy!
It's July 4th so why am I thinking about easy salisbury steak recipes?  I blame the weather.  The calendar says it is Independence Day but the weather looks more like a gloomy day in Fall.  The sky is steely grey and it is raining.  Comfort food – that's what we need today because it's that kind of a day.
[yellowbox]Salisbury Steak is one of the
most popular ready made entrées
found in supermarkets.
===> Check out the incredible selection of
prepared Salisbury steak meals
![/yellowbox]
Simple Salisbury Steak Recipes For Every Taste
There is my recipe for a quick and easy Salisbury steak recipe (made with meatloaf blend of beef, veal, pork plus lamb ground meats) and there is also the recipe for Salisbury Steaks from Blue Apron© I came across early this morning.  Just viewing their page made me hungry for this simple and easy dinner.
Love the way their cookbook presents recipes for home chefs in a methodical sequence – first listing the ingredients and then photos of various steps in the preparation of the recipe.
Very appetizing and easy to display on a tablet.  So much for written recipes and cookbooks.   You can identify those cookbooks I use most often by the number of splattered pages.  🙂
Particularly pleasing to the taste buds is to see that the Blue Apron© version of the recipe includes diced onions in the meat mixture which is the way I make my regular hamburgers.  They also use garlic which I add to just about all ground meat combinations.
I was pleased to see that they used a blend of beef and lamb.  Ground lamb is considerably more expensive than ground beef or meat loaf combination packs but even the addition of just one other meat to the beef adds a layer of flavor.
Tomato paste is the only ingredient I have never in simple Salisbury steak recipes.  I do make a tomato based sauce when making Italian style veal patties in a very similar recipe.
My Simple Salisbury Steak Recipe
Every recipe I've prepared for Salisbury steak is based on the recipe below found in a newspaper years ago.
Print
My Simple Salisbury Steak Recipe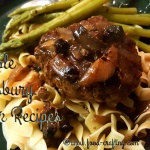 This simple Salisbury steak recipe is easy comfort food on a rainy day. Serve the rich gravy with mashed potatoes or wide egg noodles. Add a side of steamed green beans and a slice of apple pie for an all-american meal.
Author:
Prep Time:

30 mins

Cook Time:

45 mins

Total Time:

1 hour 15 mins

Yield:

12 patties

Category:

Main

Cuisine:

American
Ingredients
3 lbs. ground "meatloaf" mix (beef, veal and pork)
1 lb .ground lamb
2 medium to large yellow onions
2 (8 oz cell) packs of sliced portobello mushrooms (I use 2 because we love shrooms)
1 tablespoon or more of fresh garlic, minced
2 tablespoons fresh parsley, minced
2 eggs
salt and freshly cracked pepper to taste
1/3 cup Progresso© Italian seasoned breadcrumbs
2 small tubs of Knorr© Concentrated Beef Stock
2 cups of hot water
1/2 cup of water / 3 tablespoons of cornstarch
4 to 6 tablespoons butter
Robust olive oil
Instructions
Coarse shred 1/2 a large onion into a liquid "paste". Onions bits are welcome.
Slice remaining onions.
Lightly crumble the mixed ground meats into small pieces evenly mixing in the ground lamb.
Beat the eggs and pour evenly over the meat.
Add the onion paste, breadcrumbs, the minced garlic, parsley, and season with salt and freshly cracked pepper to taste.
Combine the ingredients together with the meat as thouroughly as possible.
Form into 12 evenly sized patties. Set aside while you sauté the sliced onions and mushrooms.
Remove sautéed onions and mushrooms from the frying pan.
On medium heat, brown the meat patties until well browned, then turn over to brown the other side.
Remove all fat from the pan before proceeding with the recipe.
Once the fat is removed, you can spread the onion/mushroom mixture evenly over the meat patties.
Cook until the meat is browned on the second side.
Slowly add beef broth. Tip the pan so the broth reaches every corner. If you feel you need more than 2 cups of broth, add in small amounts until the meat is nearly covered. Adjust the cornstarch mixture to the total amount of beef broth.
Lower to heat to a simmer. Simmer for about 30 to 40 minutes.
In the meantime, prepare the noodles or the mashed potatoes. Steam your veggies!
Bon Appétit!
Notes
You will need a large, heavy bottom frying pan. The twelve patties barely fit in a 12 inch wide pan. The best pan I've used to prepare Salisbury steaks is a large rectangular electric skillet.
Easy on the salt content if you are on a sodium restricted diet. The Knorr© stock has 700 mg of sodium!
Ever so often, those pantry staples you would swear are on the shelf…are not.   Sacré bleu! No prepared bread crumbs? Not a problem.  I took two slices of rosemary & olive oil bread and ran them through a mini food processor
with the fresh garlic cloves.  And…because I was running short on prep time, I did not bother to whisk the eggs.  I just cracked them and into the mixture they went.  I am quite certain these two steps did not harm the recipe in anyway.
Simple Salisbury Steak Recipes: Variations
Sometimes, I add finely diced onions to the meat mixture leaving only the mushrooms as part of the gravy.
At other times, I sauté the onions along with the mushrooms to create the rich sauce.  Regardless of the method, in preparing simple Salibury steak recipes what you are looking for are tender and juicy meat patties smothered in a thick rich gravy.
The gravy tastes so good ladled over mashed potatoes but we also love to dip our French fries in the sauce!  Today, we opted for fresh egg noodles.
I accomplish the tender meat patty by barely handling the meat mixture, and slow browning over medium heat.
When the diced onions are in the meat, they cook thoroughly during the cooking period and those in contact with the pan surface caramelize easily.
When the onions are caramelized in butter, followed by the mushrooms, then the meat is browned in a pan coated with incredible flavor!  All those brown bits just add to the rich flavor.
[yellowbox]A really quick way to make
semi-homemade
 but simple Salisbury steak recipes is to buy the seasoned patties, brown them over medium heat surrounded by chopped onions and sliced mushrooms, lower the heat to a simmer and then cover the meat patties with ready made
Heinz© beef gravy
or a
prepared gravy mix
.  Simmer over low heat for about 20 to 30 minutes.[/yellowbox]
A Super Quick Recipe!
You would like an even faster method for simple Salisbury steak recipes?  You are going to have to put your hand in the ground beef and shape the patties but this version is yummy too.
Drain (reserve the liquid) a large can of mushroom stems and pieces – or find ready made mushroom gravy!
Plain ground beef mixed with an envelope of Lipton's© Onion Soup mix. (1 pound of meat per envelope)
Pour 1/2 cup of water over the meat and seasonings.
Mix well and shape into patties.
Brown evenly over medium heat as if you were preparing hamburgers.
Reduce the heat, add the reserved mushroom liquid to the pan.
Cover and simmer for about 15 mintes.
Pour a jar(or two) or prepared beef gravy over the meat patties and heat through for about 10 more minutes.
Did you remember to buy the tub of garlic mashed potatoes?
Dinner could not get on the table much quicker than this unless someone else is doing the cooking.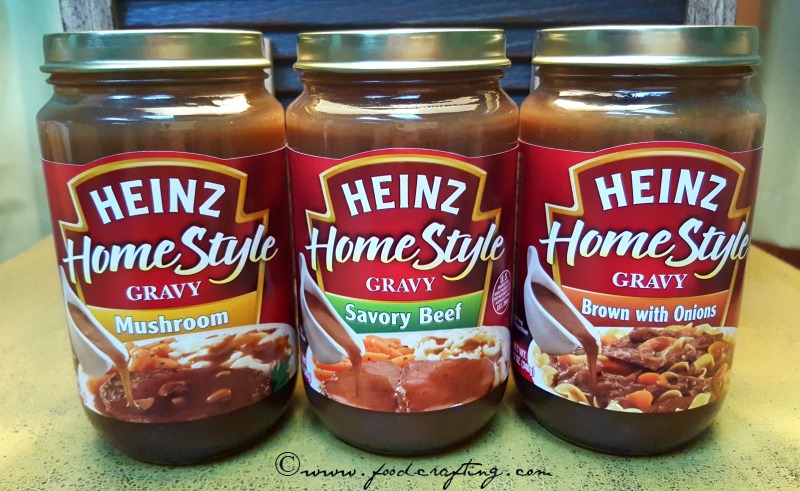 Whet your appetite yet? I am officially hungry!
Bottom line?  Take this opportunity to cook enough for a couple freezer meals.  Bring out that vintage "harvest gold" or shiny new electric skillet you don't get to use nearly often enough.
Rain or shine, Fall or the Fourth, simple Salisbury steak recipes are the ultimate comfort food and make everything right again.
(Visited 893 times, 110 visits today)