---
Description
A hearty country style braised duck meal. Fresh leeks, shallots, garlic, carrots and red potatoes round out this white wine infused one pot meal. Fresh duck sautéed to a golden brown make this a dish fit for Sunday dinners with Mom.
---
Ingredients
6.5 lbs fresh duckling (cut into 6 to 8 serving pieces)
Rougie©, D'Artagnan© or the best pure duck fat
4 large organic carrots (about 1/2 pound)
8 oz. pack of fresh leeks – sliced, cleaned and cut into 6 inch long stalks
5 oz. pack of sliced Baby Bella mushrooms
1.5 lbs of Baby Red potatoes
3 large shallots, sliced thin
6 large cloves of fresh garlic. crushed
1/2 tablespoon of fresh thyme leaves
48 oz. container of Chicken broth
1 cup of Holland House© white cooking wine
1 large bay leaf
1/2 cup fresh curly parsley
Poultry seasoning of your choice
Salt to taste
Freshly cracked pepper to taste
---
Instructions
Cut the duckling into 4 large pieces or 6 serving pieces. Slash the skin on each piece.
Season both sides to taste with salt and pepper and a sprinkle of poultry seasoning herbs and spices (a combination of onion, garlic, basil, rosemary, coriander, sage, thyme, paprika, and marjoram)
Place the pieces skin side down in the pan and sauté over medium low heat until golden brown on both sides. When all the pieces are browned, set aside on a platter while preparing the veggies.
Remove all rendered duck fat from the pan. Wipe clean and replace with a couple tablespoons of clean, pure duck fat. The choice is yours – just don't add the fat you just rendered which is probably full of burned bits of herbs.
Melt and add the vegetables (minus the potatoes).
Sauté the vegetables until they start to become translucent but do not burn.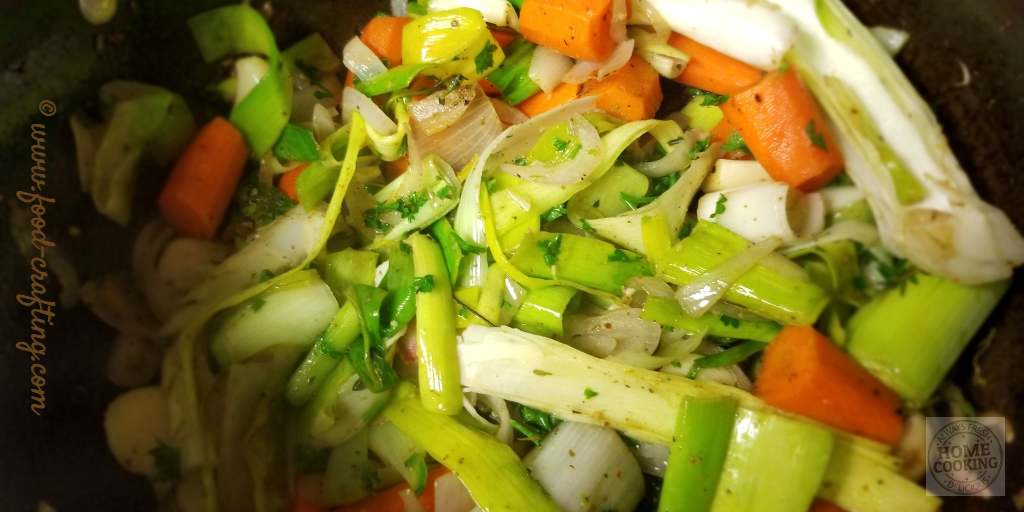 Place pieces of duck over the vegetables. Add a bay leaf.
Season to taste with salt and freshly cracked black pepper.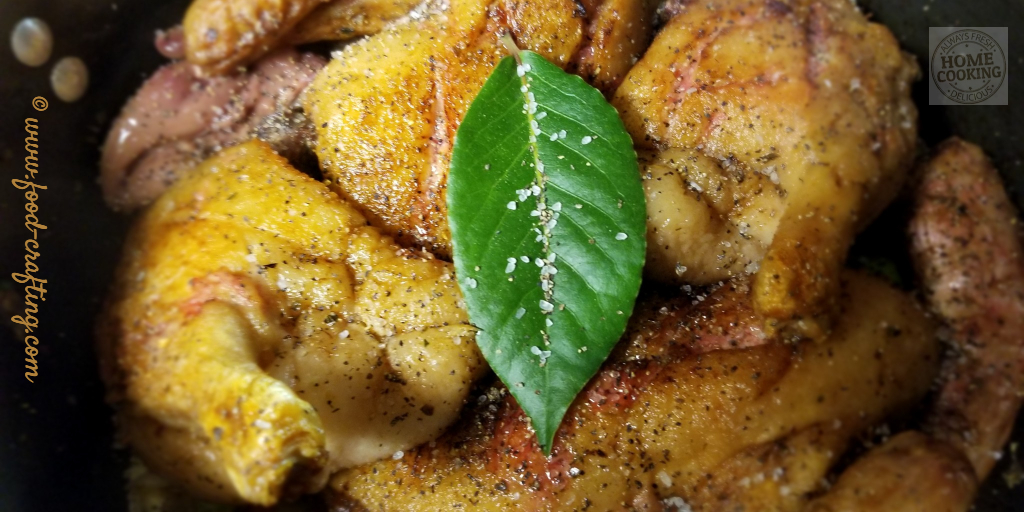 Carefully pour chicken broth and white wine around the meat. It should come to about half way up the vegetables and meat.
Do not immerse the duck and vegetables – the veggies will reduce in size and the duck with also sink into the broth.
In a separate pan, steam the potatoes until knife tender. Set aside.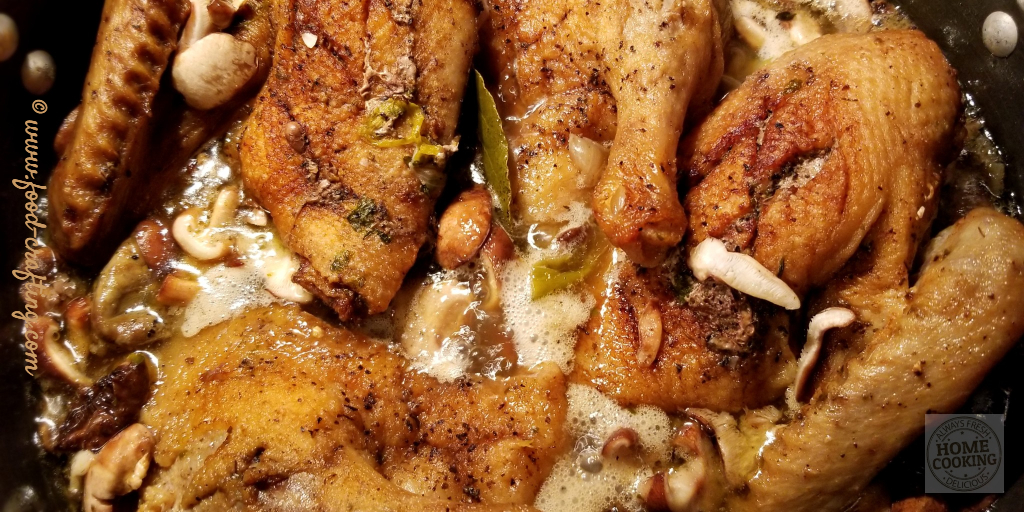 Placed the lid on the Dutch oven and simmer on low for about 45 to an 1 hour or until the duck is fall apart tender.
You can remove some of the braising liquid half way through the cooking process and thicken it with cornstarch or Wondra®.
Add the potatoes and the diluted/well combined mixture back to the cooking liquid about 15 minutes before the duck is ready to serve.
By cooking the potatoes ahead of time and placing them in the dish during the last few minutes of cooking, you know that they are fully cooked and will not absorb a large quantity of the liquid in the braise. You want some gravy!