Posts contain affiliate links so readers can locate resources mentioned in recipes & articles. Merci.
Baked Seafood Platter Recipe – It's rare when I am faced with preparing dinner without the slightest clue as to what to we could eat.
On Monday, I hoped an easy menu would come to mind as I walked through the grocery store.
You know the routine – some of this, some of that and a generous helping of the other.
By then I was walking past the seafood counter. The sea scallops were perfect, the shrimp was on sale and a thick halibut fillet was calling my name.
Why not add crab leg clusters? In a matter of minutes, I had all the seafood ingredients for a grand meal.
Invite friends and set the table with nautical themed dinnerware
Easy To Prepare Baked Seafood Platter Recipe
 16″ White Enameled Oval Tray

There was just one problem. It was not my kitchen and did not have the proper pots and pans.
Recently, when preparing ready-to-eat portioned meals for my elderly mother, I've started using as many disposable and re-usable pans as possible. I have also figured out how to streamline the cooking process for certain meals. As a result, meals have also become very "transportable"!
The only issue on Monday evening was how to time the different foods to all be cooked and ready at the same time 🙂
Here is how I prepared the New England style seafood platter in under an hour.
Print
Baked Seafood Platter Recipe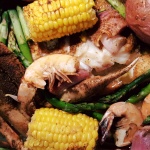 The freshest seafood and favorite vegetables round out an easy to prepare baked seafood dinner!
Author:
Prep Time:

15

Cook Time:

40

Total Time:

55 minutes

Yield:

3

Category:

Main Dish

Method:

Bake

Cuisine:

American
Ingredients
2 bags of mini corn on the cob – microwaveable
1 bag of small red potatoes – microwaveable
1 large red onion, cut into large chunks
1 bunch small asparagus; washed clean with tough stringy ends removed
1 lb. seas scallops
1 lb. raw shrimp; shell on – size 16-20 per lb.
1 lb. halibut fillet
3 crab leg clusters
1 to 2 tablespoons seafood seasoning – only 95 mg. of sodium
4 oz. salted butter
2/3 cup water
1 large foil roasting pan
1 turkey size oven bag
Instructions
Pre heat the oven to 425 degrees.
Microwave the mini corn cobs as directed on the package.  Set aside.
Microwave the potatoes as directed on the package.  Remove them from the microwave about 2 minutes before completely cooked. Set aside.
While the corn and potatoes are cooking, wash and cut the bunch of asparagus and unpack all the seafood.
Open and spread the turkey sized oven bag in the foil roasting pan.  Make sure to position in such a way that it sits flat on the bottom.  You want as much space as possible to arrange the contents in a single layer.
Place the fish fillet in the middle of the bag (and the middle of the pan). Distribute the potatoes and corn evenly all around the fish.   Top with the crab leg clusters. Sprinkle with seafood seasoning to taste.
Fill in the spaces with shrimp and scallops.  Season.  Top with asparagus stalks.
Top the fish with half a stick of butter.
Carefully pour the water in the bottom of the pan.  Bring the open end of the bag together and tie a loose knot.  Make sure the knot sits higher than the bottom of the bag so the water does not leak out.
Place in pre-heated oven and bake for approximately 30 to 40 minutes.  
Notes
This recipe was portioned for 3 servings.  
The halibut fillet was so thick that even a third of the fillet provided a good portion of fish.
The pound of shrimp was perfect giving us each 5 large shrimp.  We each had about 3 large scallops and 1 crab leg cluster per person.
The quantity of vegetables can easily be adjusted.  I prepared a little more than required because it gave me another read made meal for Mom!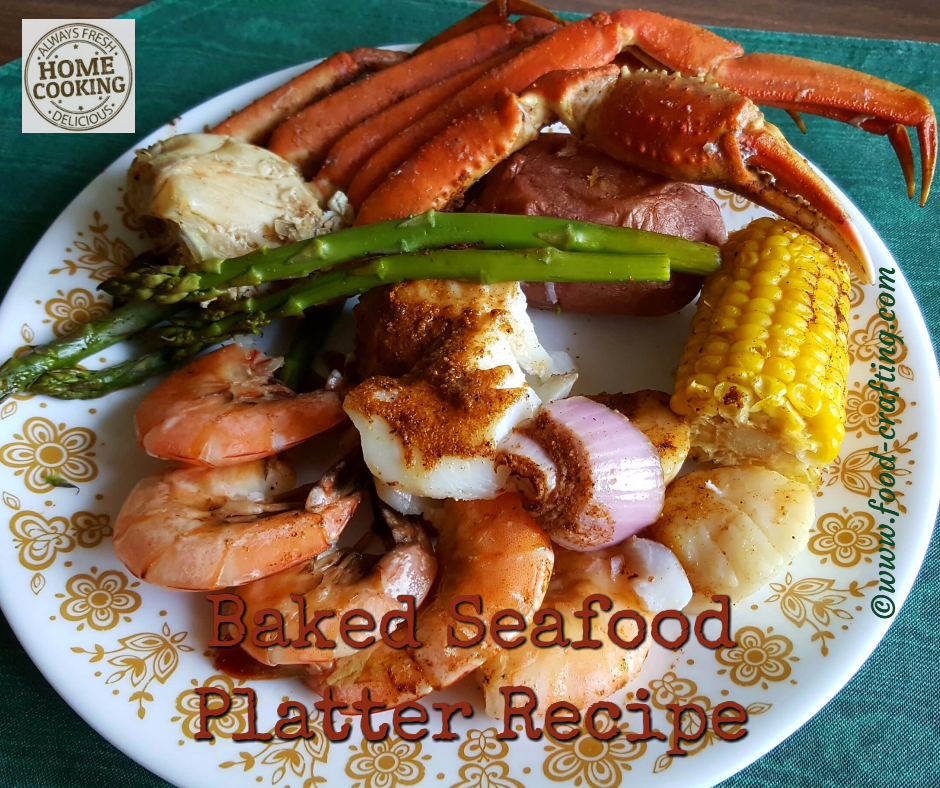 Make Oven Bags A Pantry Staple!
Parchment or heat resistant nylon oven bags in all sizes now occupy an entire shelf of my pantry.
We all know they are perfect to line slow cookers but I reach for them all the time to marinate all types of meats.
I was shocked at how quickly a turkey cooked in one of these oven bags. Preparing this New England style seafood dinner is just as quick and easy!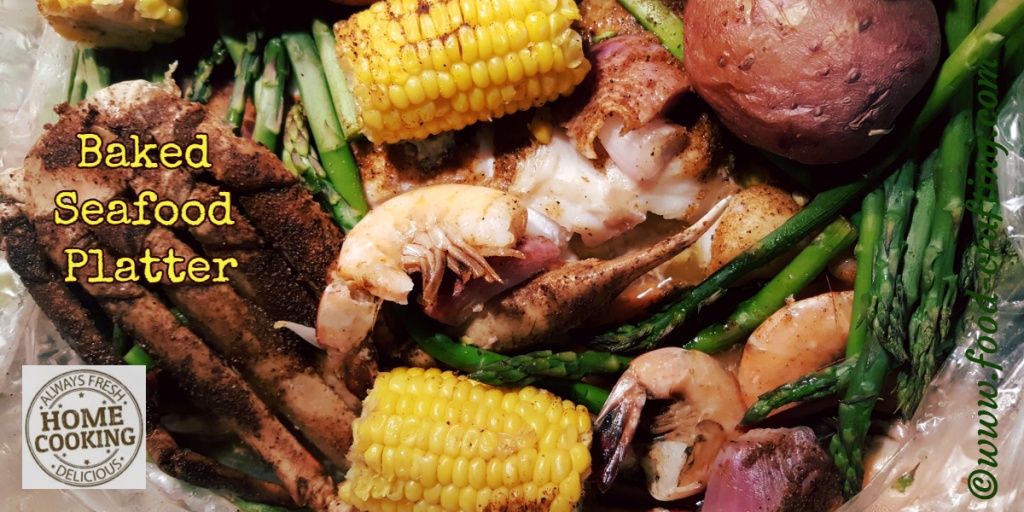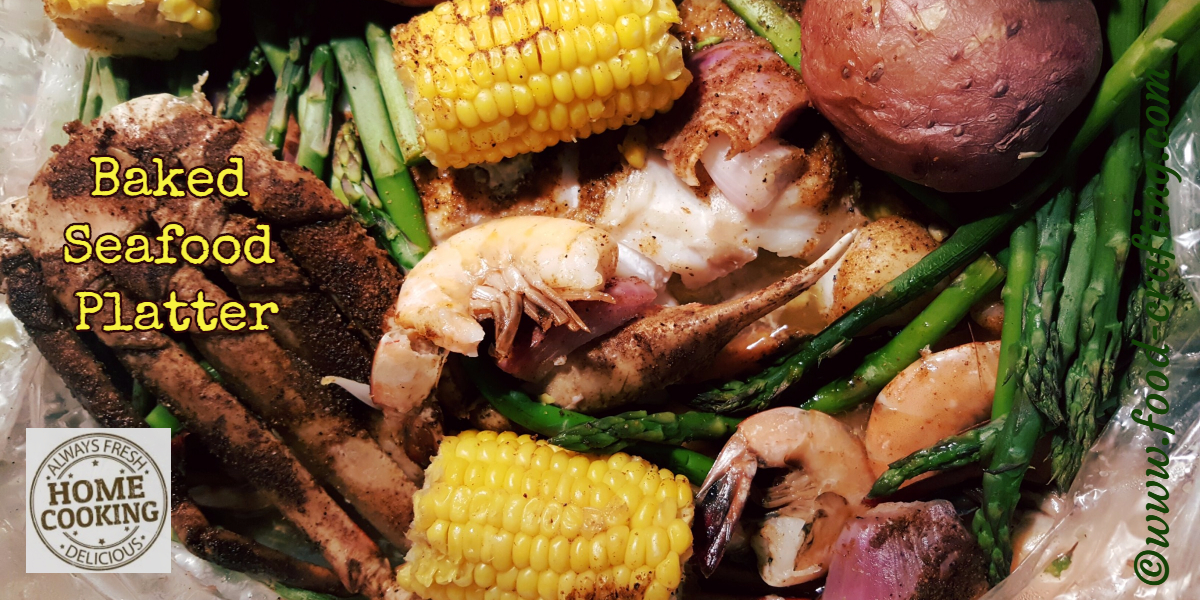 Needless to say, this dinner can be as varied as you want it to be.
Substitute the crab legs with lobster tails or whole Maine lobsters. Add clams or mussels like our favorite Johnny's Blues wild Maine mussels.  A side of chowder never hurts and a basket full of fresh bread is always welcome.
All that's missing is an ocean breeze.
(Visited 600 times, 257 visits today)