Posts contain affiliate links so readers can locate resources mentioned in recipes & articles. Merci.
Easy Fresh Lemon Pound Cake – Do you have a favorite homemade lemon pound cake recipe?
Uncle Wen's egg-rich fresh Lemon Pound Cake is not for the faint of heart and no friend of the waistline but once you've had a bite of this old fashioned classic pound cake – nothing else compares.
In a hurry? Get out your very best tube pans
and the best cake mix!
He used to entice us to come visit by saying "I'll make a lemon pound cake!"…as if we needed a reason to see his smiling face.
This pound cake was definitely reserved for special occasions.  Although we first tasted it back in the late 50's and again in the early 60's, he never shared the recipe – probably scared to shed light on the ingredients.
There are much lighter versions of this pound cake, even glazed lemon pound cakes, but your owe it to your taste buds to  baking a pound cake flavored with fresh lemons.  Make it at least once- the old fashioned way.


I'm positive this cake made it on the menu of many catered events – summer and winter.
All I remember is the incredibly moist yet dense texture of the cake. It simply melted in your mouth. He may have baked other goodies we never knew about but this cake became his trademark recipe.
 Lemon Crumb Pound Cake

 Lemon Cream Pound Cake Loaf

In time, I found his famous recipe written on the flyleaf of an old cookbook that I inherited. It has become a family favorite reserved for the holiday season.
Our waistlines can't afford it more often than once a year!
Uncle Wen's Fresh Lemon Pound Cake:
Print
Lemon Pound Cake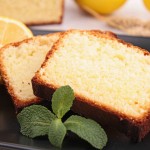 Bake a show stopper lemon pound cake and worry about the calories later…
Author:
Prep Time:

30 mins

Cook Time:

1 hour 15 mins

Total Time:

1 hour 45 mins

Yield:

12 servings

Category:

Dessert

Cuisine:

American
Ingredients
1 ½ cups of butter (at room temperature)
3 cups of sugar
8 eggs – that is not a typo
3 cups all purpose flour
1 tablespoon plus 1 ½ teaspoons lemon juice
1 tablespoon plus 1 ½ teaspoons lemon extract
Instructions
Cream butter.
Gradually add sugar, beating until light and fluffy.
Add eggs, one at a time, beating well after each addition.
Stir in lemon juice and lemon extract.
Pour into a greased and floured 10 inch tube pan.
Bake at 350 degrees for 1 hour and 15 minutes or until golden brown. Test with cake tester. Remove from pan and cool completely.
Notes
You will also need: A 10 inch tube pan, measuring cups, measuring spoons, mixing bowls and hand held mixer or mixer such as a KitchenAid©, Oster© etc.
Serves: Many…but depends on how often they come back for second and third helpings.
Nutritional Information: Scary…
Lemon Cake – Canstock Photo ID csp13080287
Yields a 10 inch pound cake that does not sit around long enough to go stale.
Thank you Uncle Wen!
You can bake this dense, melt in your mouth pound cake in regular loaf pans but when baked in a tube pan, it becomes a spectacular centerpiece on the dessert table. A regular pièce de résistance!
P.S. The Starbucks lemon pound cake comes in a close second in the old fashioned flavor department! But how can you beat this? Only 6 ingredients add up to an easy recipe for one of their best selling dessert – lemon pound cake.
(Visited 537 times, 54 visits today)