Posts contain affiliate links so readers can locate resources mentioned in recipes & articles. Merci.
Christmas Holiday Dinnerware Sets – Call me old-fashioned like that but I love bringing out the holiday themed dinner sets.  I particularly love Spode and Portmeirion china with their very traditional Christmas designs.
I guess (no, I know) the love of  Spode china and Portmeirion patterns dates back to seeing all those lovely china patterns displayed in my in-laws' family store. My china pattern is Spode's Summer Palace (which I picked from the store) so it goes without saying that Portmeirion's Botanical Garden is second on my list 🙂
It is also in the store that I first marveled at the colorful selection of Christmas Holiday dinnerware sets.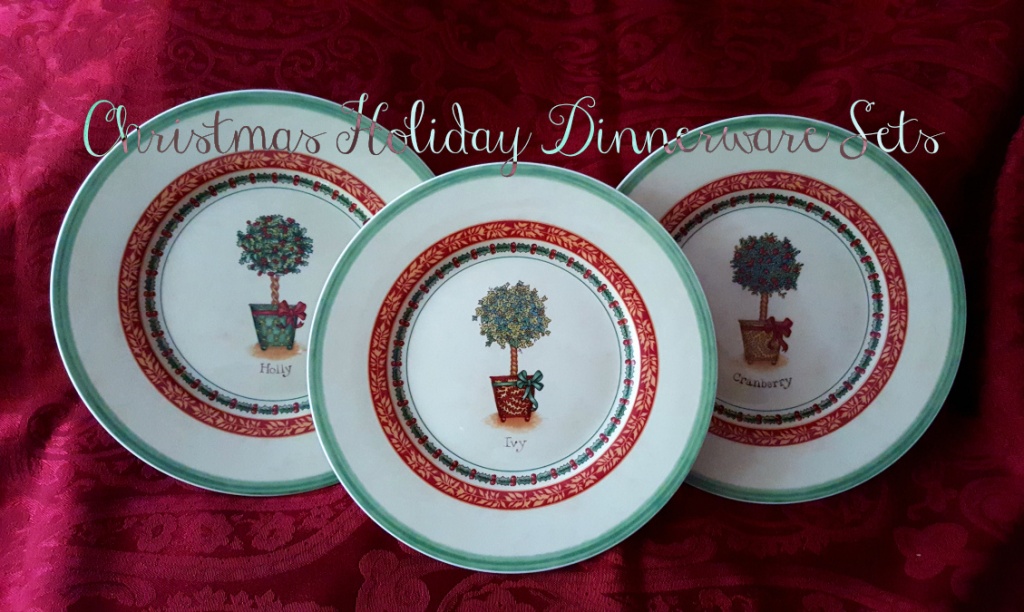 In a hurry to set the table?
====> Pick Your Favorite Christmas China From An Assortment Of Holiday Sets
Christmas Holiday Dinnerware Sets
Spode Christmas Tree Dinnerware
 Spode Christmas Tree 12-Piece Dinnerware Set With Mugs
This set is possibly the best known of the Christmas holiday dinnerware sets.
Although it is far from a new design, it can still be purchased in place settings or individual pieces in stores like Tuesday Morning® amd in department stores.
The most popular is the Christmas Tree pattern with a simple green trim along the rim of the dishes.
If looking for replacement pieces, you will find it listed as Christmas Tree (green trim).
What I love about this set is its simplicity. Spread out Grandma's festive red or green tablecloth on the dining room table and let the dishes decorate the tablescape.
Did not you know there is another design called the Christmas Tree Grove?  It also features a Christmas tree centered on the plates but the colors are not as festive – browns, blues, pinks and yellows on a floral border.  
I may be old-fashioned but the pattern never made me think of Christmas carols, candy canes Brachs 12- 6oz. Peppermint Candy Canes
New Price: $5.18 Old Price: $5.18 (as of 02/23/2018 08:31 UTC)
or even Christmas pudding.   When I last checked, a 56 piece set was  still available if you can spare a thousand dollars.
Spode also came out with annual cup and saucer Christmas designs.  These are definitely collectibles along with unusual pieces such as the Loving Cup and the various styles of jumbo cup and saucer sets.  Be on the lookout for the buffet and accent dinner plates with unique designs called Holly & Juniper or Red Ribbon.  They're beautiful!
Spode Christmas Tree Annual Collector Plate
2 new from $39.00
Free shipping
Buy Now

Amazon.com
as of February 14, 2018 10:55 pm
Features
New for 2017
Plate measures 8.0" diameter
Earthenware
Hand wash only
Item comes in photo boxing
Portmeirion's Christmas Dinnerware
Portmeirion has several Christmas holiday dinnerware sets.  Why do they make so difficult to choose just one?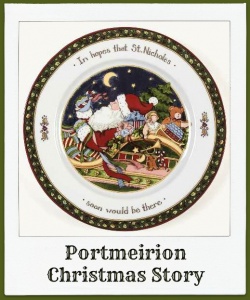 Christmas Story
How can you go wrong with a name like that?
The Christmas Story dinnerware pieces are as beautiful as any picture book you would read to the children on Christmas Eve.
Each dinner plate tells a part of the story.  The pattern is becoming difficult to find, even as replacements but why not find a single piece like the footed cake plate to accent the dessert table?
Botanic Garden Mistletoe
 Portmeirion Botanic Garden Mistletoe Medium Teapot
Yes, you could believe that this pattern is my favorite because it is a Christmas version of Botanical Garden.  It has the same dainty leaf band around the rim.
Don't get me wrong –  all Portmeirion Portmeirion Botanic Garden Bread and Butter Plate, Set of 6 Assorted Motifs
New Price: $78.26 Old Price: $78.27You Save: $0.01 (as of 02/23/2018 08:31 UTC)
patterns speak to me.   Somehow, Garden Mistletoe does not speak to me quite as loudly as…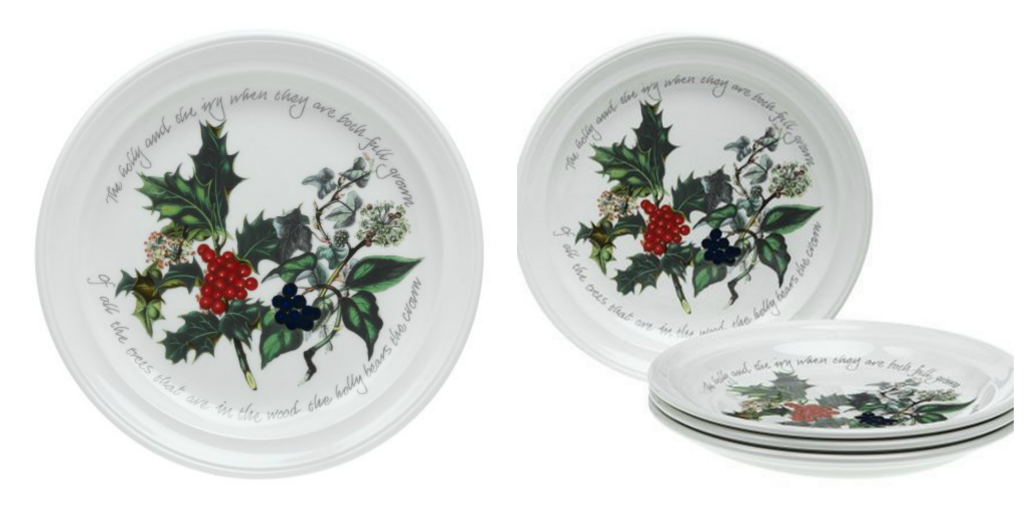 The Holly & The Ivy
As much as I love the folksy Christmas Story and Christmas themed Garden Mistletoe, the Holly & The Ivy is the pattern on my permanent wish list just in case you're  wondering what to add to my collection.
I love it for its simplicity, bold seasonal colors and traditional design – from the cups and saucers, the square and crescent shaped salad plates, the breakfast mug and the incredible serving dishes.  There are matching glasses. napkins, tablecloths and even coasters but why go there?
This is another Christmas holiday dinnerware set that looks fabulous on the simplest, solid colored linen tablecloths Lann's Linens - 10 Pack of 90" Round White Polyester Tablecloth Covers for Weddings, Banquets, or Restaurants
New Price: $139.98 Old Price: $139.98You Save: $69.99 (as of 02/23/2018 08:31 UTC)
.  Make that a  nice polyester, machine washable tablecloth.  I plum forgot how time consuming it is to iron linen!
---
Royal Worcester Christmas China
Royal Worcester Christmas Past Series Boxing Day by
If the Queen Mum is coming over for dinner, better bring out the Holly Ribbons Christmas holiday dinnerware set by Royal Worcester.  This is formal tableware.
An entire service? No thanks. I'd be afraid to handle it and would cringe to see the DH cutting into his roast beef on such fancy china.
But I love their Christmas Past dessert plates. Again, only when Mom visits. Besides, I might not even be able to find more than a few plates.
What about the Worcester's Twelve Days of Christmas?
Too busy in my opinion but that's just me.
Village Christmas with winter scenes, holly and a gold trim is now discontinued as a seasonal pattern.
Royal Doulton Christmas China
 Royal Albert Old Country Roses Christmas Tree Place
Royal Doulton, Royal Albert bone china (subsumed into Royal Doulton as they say in England) and Mintons belong in the big leagues.
Their history spans the past 200 years.
Minton has a discontinued pattern called Avignon that is very similiar to Spode's Summer Palace.
Had a senior moment remembering the pattern names of the Royal Doulton Royal Doulton Pacific 16 Piece Set Splash Dinnerware Set, Multiple
New Price: $86.99 Old Price: $121.80You Save: $34.81 (as of 02/23/2018 08:31 UTC)
Christmas Holiday dinnerware sets.
So, I enlisted the help of my sister-in-law who used to set up the store displays.
The first set that came to mind was their every popular Old Country Roses pattern.
However, what I do recall is the dichotomy of one specific design – Old Country Roses Christmas Tree.   Sorry Royal Doulton but what were thee thinking?  Old fashioned roses and satin ribbons are fine but to combine them with a festooned fir tree is too much.  And the colors – fuschia, bright rose and a horrid shade of green? This pattern is much too colorful and formal for me.
Want to go very formal for Christmas?  The Holyrood pattern is a rich shade of red with a 22K gold trim that could work at Christmas.
I would personally be much happier with Gordon Ramsey's white dinnerware set from his Union Street Café collection and colorful seasonal decorations.
Here are some lovely vintage Royal Doulton dishes.
---
Villeroy & Boch Christmas Patterns
The Joyeux Noel pattern?  I'm not sure why they bothered.  
I would not at all mind knowing that the Villeroy & Boch Merry Winter dinnerware service is carefully stored in the china cabinet.  
Their Festive Memories dinnerware set is spectacular but very fancy and very busy.
On the other hand, I own a set of Villeroy and Boch Boston Wine Goblet Set of 4 by Villeroy & Boch - Clear
New Price: $39.99 Old Price: $120.00You Save: $80.01 (as of 02/23/2018 08:31 UTC)
dessert plates called Festive Memories – Winter Treats.  
Each plate features a different old fashioned dessert in beautiful muted colors.  I mix the set with the Festive Memories – Topiary. These too are hard to find.
I've included photos of the plates used to serve my Easy Caramel Apple Cake Recipe and Brownie Fruit Bars.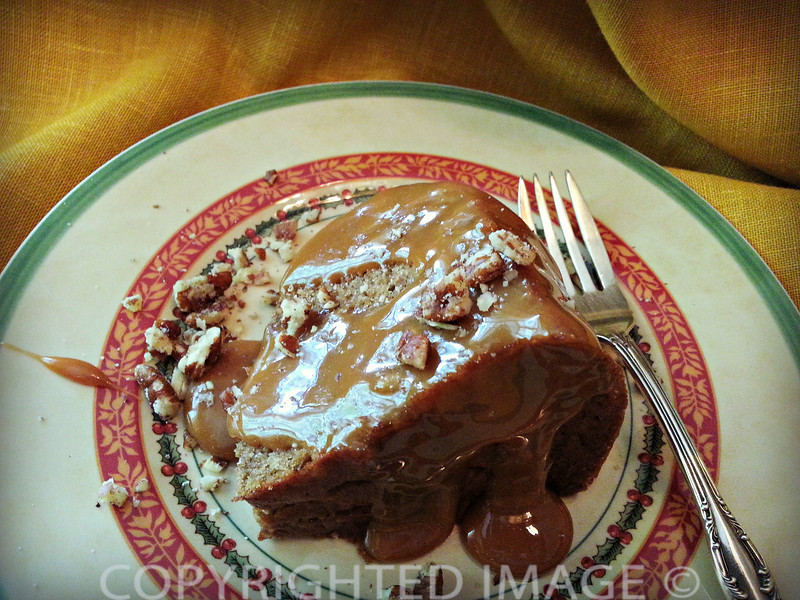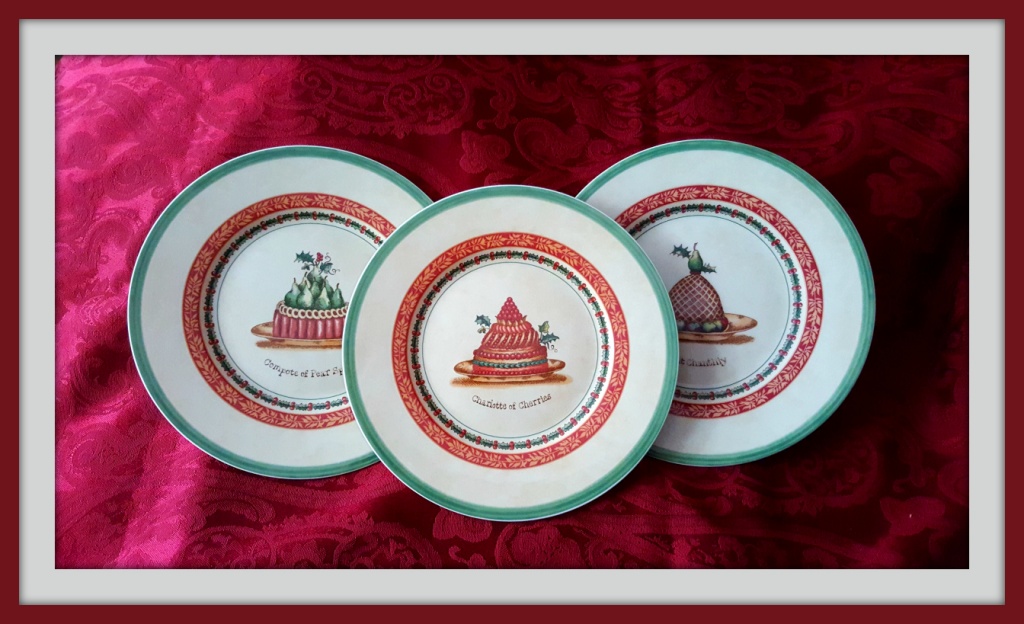 Varied Holiday Dinnerware Sets
Fine china and stoneware are definetely not the dishes I use on a daily basis.  I only bring out the "nice dishes" for birthdays, special events and holiday gatherings.  Why? Because it is expensive and I do not want to make a habit of finding replacement pieces.
In my mind, it is not the cost of the china that makes a Christmas dinner with the family a memorable event.
It is the only time of the year when we do whatever is required to be under the same roof.  That's why we make Thanksgiving such a big production.
The family members and friends seated around the table are the only important part of dinner gatherings during the holiday season – not the dishes.  However, it does not mean that you cannot set a beautiful table.
We all sit there after a hearty meal of favorite dishes, bemoaning the fact that we've all gained at least 5 pounds at one sitting. That fact is probably true but nobody ever checks to see if Mom brought out the fancy dinnerware.   Rest asssured that before the last fork has been set on an empty dinner plate, the only thing I will hear is "what's for dessert?" and the only thing I can say is "can I at least finish my last bite of roast beast?"  I've never heard the comment  "I'm so happy you used the fancy dinnerware".  And so it goes…
Don't feel you need to have a complete matching set of dinnerware.  Or even fancy dishes.  We just celebrated a milestone 90th birthday with melamine!  Nice melamine indeed but plastic nonetheless.
Don't forget that you can set a beautiful tablescape with individual place settings of different china patterns.  So whether its a complete set or mixed individual place settings, be sure to make it a Joyeux Noël and Merry Christmas!  That's all that matters.
Dress up the dinner table with your favorite Christmas holiday dinnerware sets!
(Visited 888 times, 88 visits today)