Posts contain affiliate links so readers can locate resources mentioned in recipes & articles. Merci.
Old Fashioned Fruitcake Recipe –  Why even bring up the topic of fruitcake recipes? Some family members run at the appearance of fruitcake or Christmas pudding on the dessert table. But…the DH looks for a slice of cake after the equally traditional roast beast dinner.
So, with only a few days left before the big day, it's ime to bake traditional Holiday cakes or find a quick and easy fruitcake recipe!
[yellowbox]In a hurry?  Buy the
best moist fruitcake
with homemade flavor and
find more "Savory" recipes
.  If I am eating fruitcake, you know it tastes great![/yellowbox]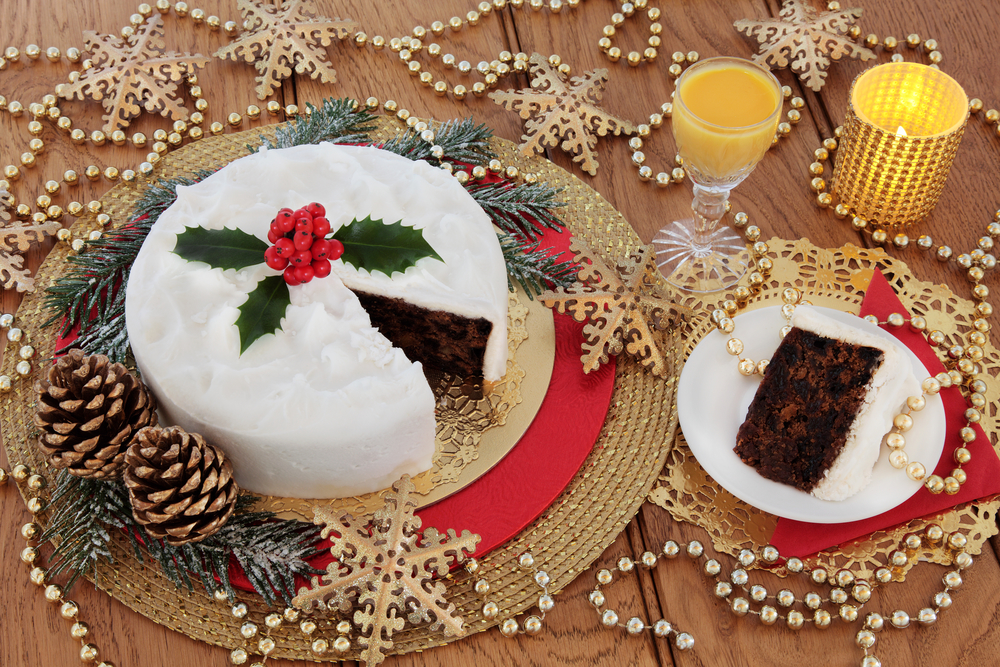 The time has passed to prepare the old fashioned – soaked in whiskey or rum – fruitcake but there is plenty of time to bake a light fruitcake.
There are so many variation on the traditional fruit laden cakes that we have narrowed them down to those fruitcake recipes we know will be eaten by most members of our family.
Ours is not quite the old-fashioned gooey "Christmas Cake" laden with spices that looked more like a plum pudding. Nor is it the traditional English fruitcake covered in marzipan and royal icing.
In any case, a variety of cakes evolved from a basic recipe.
Help –  I Need An Old Fashioned Fruitcake Recipe!
Shhh…Don't tell anyone my secret but mine starts one of several ways depending on the time frame:
Using a box mix.
As a variation of my spicy apple cake
Tweaking the famous Barcardi® rum cake recipe – again from a box.  Buy the Duncan Hines® Butter Golden cake mix.
You can also take a simple, basic pound cake recipe, experiment and make it your cake.
[yellowbox]Don't forget that you need
two boxes
of mix to fill a
bundt or tube pan
. My favorite tube pan for this type of cake is the
Nordic Ware
model. Loaf pans work well too.[/yellowbox]
Here are some of the ingredients I have added or adjusted to box mixes.
Let's start with:
One and a 1/4 c. of granulated sugar
Half cup of butter and shortening or all butter
1/2 cup of milk
2 cups flour
Two teaspoons baking powder
3 eggs.
Now let's make it your fruitcake recipes!
To the batter, add :
A teaspoon of cinnamon
1 teaspoon ginger
1/2 teaspoon grated nutmeg and cloves
One cup of golden raisins or the regular ones which are less expensive or
1 cup of currants
Everyone loves red and green cherries and candied pineapple – just a quarter cup of bits will be enough.   Think in terms of added color not flavor.
 Fruit Cake Holiday Print Tacky Ugly Christmas Xmas Sweater

&
[yellowbox]Need more baking inspiration?  Explore the world of
yummy recipes
 and
look through my recipe box
![/yellowbox]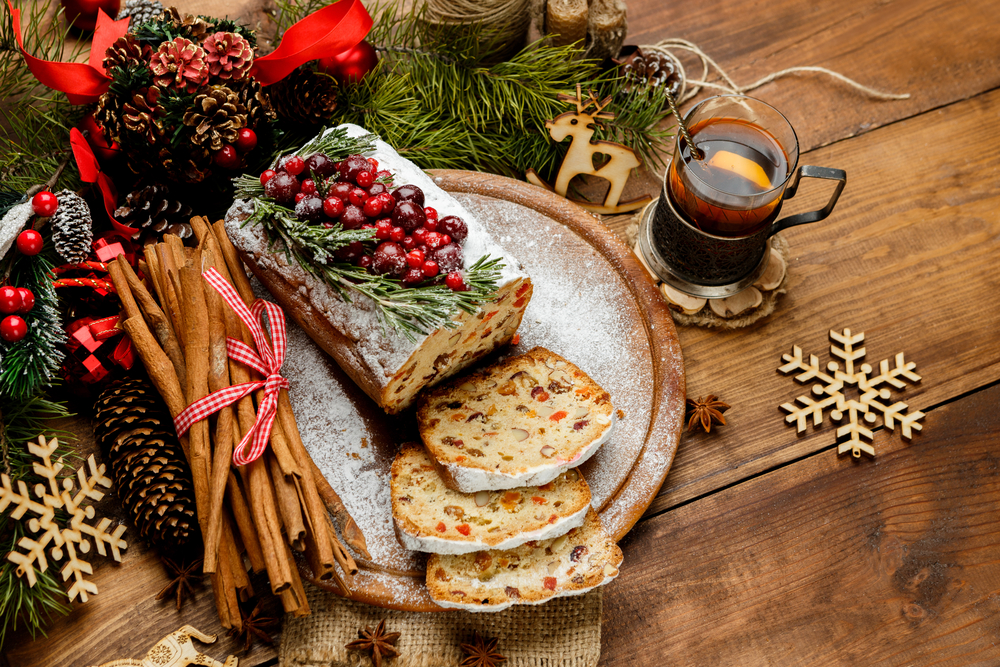 Dark Holiday Fruitcake
Just like grandma used to make – only better… because we add sultana raisins which have been left to plump up overnight in spiced rum.
Prep Time:45 minutes
Cook time: 2 to 2 1/2 hours
Yield: 1 Fruitcake [12 cup Bundt or tube cake pan]
Ingredients:
3 cups chopped pecans
2 cups chopped Candied Pineapple Wedges
3/4 cup chopped Candied Red Cherries
1/3 cup chopped Candied Orange Peel
1 3/4 cup plus 3 tablespoons, all-purpose flour
1 cup butter, room temperature
1 cup granulated sugar
5 eggs
1 tablespoon real vanilla extract
1 tablespoon lemon extract
1/2 teaspoons baking powder
1 pinch salt
powdered sugar
Instructions:
Position rack in lowest third of oven and preheat to 250 degrees Fahrenheit.
Grease and flour 12 cup Bundt pan or tube cake pan.
In large bowl, mix pecans and fruits with 3 tablespoons of flour.
In another large bowl, cream the butter with the sugar until light and fluffy.
Beat in the eggs 1 at a time.
Stir in vanilla and lemon extracts.
Sift 1 3/4 cups flour with baking powder and salt.
Add the dry ingredients to batter and stir until blended.
Fold candied fruit mixture into batter.
Pour batter into prepared pan.
Bake until golden brown and tester inserted into center comes out clean, about 2 1/2 hours.
Cool in the pan, on a rack for about 15 minutes.
Turn out onto rack and cool. (Can be prepare 2 weeks ahead; wrap in foil and store at room temperature.) Dust with powdered sugar.
Candied Fruit from Pennant®
 Fruitcake Fruit Cake Square Wall Clock

Is available in neighborhood store such as Wegman's® and Harris Teeter® in time for the Holiday baking season.
In Wegmans, It is displayed on a multi tiered rack near the Bulk aisle in the back of the store.
Other stores, such as Food Lion,  will generally display it with other baking products or in the produce section.
&
[yellowbox]
Note:
All fruit bits should be dredged with flour before being added to cake batter.  To avoid having small leftovers of the individual candied fruit, I either purchase pound bags of
Fruit Cake Mix
Fruit
)
in a quantity sufficient to cover all three candied fruit varieties required for the recipe.[/yellowbox]
There are times when I purchase the candied fruit in bulk as the recipe will be made more than once during the holiday season. This is the easiest recipe for me to prepare when it makes the "exchange" list, the dessert buffet list and treats for the many holiday office party.
Set out fruitcake bites
Holiday Cooking Books)
every morning with the freshly brewed coffee. It keeps fresh as long as it is stored in a tin and amazingly enough, it disappears faster than you may think.
Really short on time? Look no further than your local Giant® Foods store and their bakery department for a small table where they display Benson's® large and small cakes – made using the best ready-made old fashioned fruitcake recipe!
(Visited 445 times, 119 visits today)