Posts contain affiliate links so readers can locate resources mentioned in recipes & articles. Merci.
Wild Mushroom Bisque Soup – The temperatures may not be representative of the season but it's soup time regardless.
I thought it would be fun to cook  my way through an old cookbook I found at home in France while I was there earlier this month. The first recipe is for what has to be the best mushroom bisque – one made with a variety of wild mushrooms found in the woods near home.
Do you use fresh herbs in your cooking?
  Chervil is easy to grow in a flower pot near a kitchen window!
Mushroom Bisque Soup Recipe: Variety Is Key
 Set of 4 Antique Botanical Edible and Poisonous Natural Mushrooms
French Truffle Forest Nature
Or, as they say at home une Mitonée de Champignons Sauvages.
This is not my first adventure into making mushroom soup.  We love both mushrooms and soup!
It can be right out of the Campbell's® can (and doctored up of course) or completely from scratch but I've never prepared this version.   
And it's obvious I am not going to find wild mushrooms.
Probably will never be able to prepare the recipe to the letter unless I forage for the wild mushrooms in neighborhood yards and parks.
Safety First: Be Sure You Know How To Recognize Edible Mushrooms!


Short of making a quick run to scour the forest behind our property in northern France, I must find my ingredients in a supermarket.
So Wegman's© market it is because I know they have the best selection of mushrooms – even if I do nothing else than pick several packs of what they have labeled as  their "mushroom blend". 
The blend is my favorite combination to sauté with garlic as a steak topping.
What you want in this soup is the intense "woodsy" flavor of certain mushrooms.
Which Mushrooms Do I Use For Max Flavor?
Read all about foraging at your local Wegmans© market!
Here are some of the unique characteristics of the mushrooms I used in my wild mushroom bisque soup.  This is not an inexpensive soup to prepare when ingredients are "from scratch".  I've included the price tag for each type of mushroom.
Royal trumpet mushrooms, also known as King Oyster mushrooms, grow in clusters and have a nutty flavor plus an incredibly long shelf life. [1/3 lb @ $8.99 / lb.]
As one of the most common cultivated edible mushroom, oyster mushrooms are easier to find in supermarkets.  A 1/4 lb. purchased in bulk cost $1.68.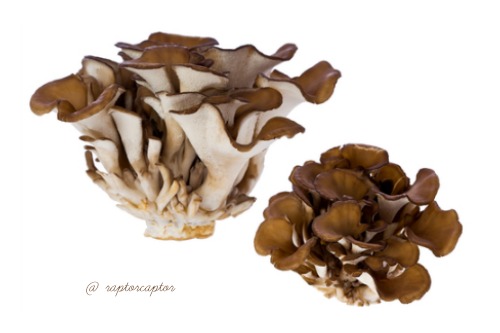 Hen of the Woods mushrooms grow in clusters at the base of oak trees.  Don't use the tough base of the cluster.  The older the mushroom, the tougher is gets.  This pricey mushroom has the most intense woodsy aroma and a price to match.  1/3 of a pound @ $12.99 per pound!
A more reasonably priced ($6.99) mushroom is the Shiitake mushroom.  Often found dried, the fresh mushroom has a strong woodsy aroma and is perfect for soups.
Crimini mushrooms are the tan version of a white button mushroom but they have a more intense flavor.  Another name for this baby 'shroom? Baby Bellas!   When it grows up, it becomes a Portobello 🙂
Interested in growing your own gourmet mushrooms?  It's easier than you think!



Print
Wild Mushroom Bisque Soup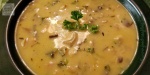 Rich and creamy soup chock full of assorted wild mushrooms (or not so wild as we can't go mushroom foraging around town unless it is in the produce department of an upscale market).
Author:
Prep Time:

25

Cook Time:

30

Total Time:

55 minutes

Yield:

6 servings

Category:

Soups

Cuisine:

French
Ingredients
18 oz.total of assorted mushrooms (combination of Royal Trumpet, Hen of the Woods, Crimini and Shiitaki mushrooms – a mushroom "blend" in a pinch)
4 to 6 tablespoons of sea salt butter
1 1/4 cups of coarse breadcrumbs – from stale baguette
48 oz. (6 to 8 cups for more servings) of rich chicken stock
2 to 3 green onions/scallions
Thyme, leaves from a few sprigs of the fresh herb
Fresh parsley, 1/4 cup chopped (as a flavor ingredient and to decorate each serving)
2 egg yolks
1 – 6 oz. container of "crème fraiche"
Salt & freshly cracked black pepper – to taste
Fresh chervil (or 1/2 teaspoon dried)
Instructions
Clean all mushrooms. I brush them off with a paper towel and try not to have to wash them. If they are particularly "dirty" with growing medium, rinse them quickly under running water or remove part of the stem. Scrape off any other specs with the blade of a knife.
Chop the mushroom into diced pieces – not so small that they will turn to mush. Set aside.
Slice the scallions, chop the parsley and shallots if you decide to use some. Set aside.
Chop the stale bread into large crumbs. My grandma always had the "butt end" of stale baguettes stashed in a linen bag for just this purpose.
In a large bowl, mix the chopped mushrooms, scallions, parsley and fresh herbs until well combined.
Add butter to a large Dutch oven. Melt the butter then add the mushroom mixture to the pan.
Sauté on medium low heat for about 6 to 8 minutes, stirring often with a wooden spoon or silicone slotted spoon. Season to taste. Do not allow mushrooms to burn – just sweat them down and cook till tender.
Remove about 1/3 of the mixture to a small bowl. Set aside.
Add bread crumbs to mushroom mixture in the pan and stir to combine evenly. Sauté for about 5 minutes then add chicken stock.
Simmer over low heat for about 30 minutes.
Remove approximately 1 cup of the soup liquid and place in a Pyrex© cup to cool off.
Whisk together crème fraiche and two egg yolks until completely blended.
Add some of the cooled soup liquid to the cream mixture. Stir to combine and slowly pour into the rest of the soup, stirring constantly. Reheat the soup but do not allow soup to boil.
Adjust seasonings if needed.
Ladle into soup bowls, top with chopped parsley and serve immediately.
Notes
The quick and easy way to make this wild mushroom bisque is to purchase several packs of Wegman's© mushroom blend. Chop the mushrooms into small pieces. However, for an intense earthy and woodsy flavor, experiment with mushrooms other than Baby Bellas or white mushrooms. While they are perfect for other recipes, you want a strong "mushroom" aroma and flavor. Instead on green onions, you can use finely chopped shallots. My preference is for chicken broth which does not disguise the flavor of the mushrooms as much as beef flavor. BUT – I have also used mushroom broth or soup base. and bouillon cubes.
Grandmère's Recettes Du Terroir
Many of these old fashioned recipes prepared with locally sourced ingredients seem overly complicated and tedious.  These home style recipes (recettes du terroir) are tied to ingredients available locally as regional specialties (such as the wild mushrooms found in the nearby woodlands) and those found in the family potager. 
In my mind's eye, I can still see us (Grandmère and I) head out to the backyard during the late afternoon to gather the vegetables and herbs required for the evening meal.
Don't let the many recipe steps scare you from preparing this mushroom bisque. You will be rewarded with a bowl of the ultimate in comfort food.
All you need to add to the dinner menu is a sandwich and a small salad.
Adding cream and eggs to a rich broth result in a bisque that will warm up even the chilliest of evenings.
(Visited 78 times, 80 visits today)