Posts contain affiliate links so readers can locate resources mentioned in recipes & articles. Merci.
French Food Gift Ideas – Earlier this week, I returned from a trip to France loaded down with a variety of unique ingredients required to prepare some of my favorite recipes.   I'm a native of Picardie and we definitely have our share of regional specialties!
I've spent many years adapting said recipes to make use of available ingredients with great success but, in my head and on my taste buds, something is always missing.  It's a flavor unique to special spices and ingredients – many of which are not readily available in the United States.  Even today.  
Looking for a special product or French specialty kitchen equipment? Leave a comment and we'll do our best to find it!
French Food Gift Ideas & Cooking Products
Surprise A Home Chef With Specialty Items
Following are the first 5 food and kitchen pots and pans every home chef should have in their arsenal.
By no means am I implying that few French specialty food Gourmet Natural Sea Salt Gift Set-All Naturally Seasoned-Cyprus Flake,French Grey,Himalayan Pink,Portuguese,Sicilian&New Zealand - Gluten Free No-MSG,Non GMO,Paleo 6 Tin Sampler 1/2 oz each
New Price: $14.99 Old Price: $14.99 (as of 02/26/2018 03:47 UTC)
items cannot be found locally.  Many products are available.  Believe me, I've looked in many high end markets for special cheeses and unique ingredients.  
What I am looking for a specific authentic regional products.
As a home chef, I am now determined to find those elusive ingredients.  Parent companies are being contacted directly to ask them where these products can be purchased in the USA – if at all.  I'm happy to say that several have already responded 🙂
A Tarte au Maroilles is a specialty of Picardy. It makes the perfect appetizer as bite size portions of biscuit type dough oozing with great tasting cheese. A strong, pungent cheese, Maroilles is also used in cooking.  French supermarkets carry both the small size tart and a full size 10 inch pie pan ready to heat and serve.  The best substitute for Maroilles is the more familiar Pont L'Evêque or an equally pungent Reblochon French Prefere de Nos Montagnes, Reblochon Style - 1.1 lb.
New Price: $25.88 Old Price: $25.88 (as of 02/26/2018 03:47 UTC)
.  But…they are not Maroilles!
Stoneware Brie Baker
 Le Creuset Stoneware Camembert Baker, 20oz., Cerise (Cherry Red)

Yes, we love our Maroilles so much that we even dip it in coffee.  But I digress…
Who does not love gooey melted cheese on crackers or slices of crispy baguette?  It is the perfect centerpiece when setting an authentic apéritif Aperitif Nail Polish 362
New Price: $9.50 Old Price: $9.50 (as of 02/26/2018 03:47 UTC)
table!
Brie and Camenbert are available in nearly all markets although not all brands come close to being authentic in flavor – perhaps because not everyone loves stinky cheese but the trick to selecting Brie or Camenbert is to recognize the various levels of what I call "doneness" as in how ripe they are. 
Brie or Camenbert?
Pick a cheese wheel to fit the crock.  Unwrap the cheese and cut a thin layer off the top rind your Brie or Camenbert, leaving  a small edge to hold the melted cheese.  Place in the crock. 

Top with chopped walnuts, cranberry chutney and a drizzle of honey for cheese Cheese Honey Savannah Bee Company, 3 oz. (4 pack) New Price: $20.18 Old Price: $20.18 (as of 02/26/2018 03:47 UTC) then add a sprig or two of fresh thyme – or stud with whole garlic cloves and fresh rosemary.  Place the lid on the crock. 

Bake at 350 degrees until melted and bubbly – about 30 to 45 minutes.
At Wegmans®, cave-ripened brie is labeled as mild, triple crème Triple Cream Severe Dry Skin/Eczema Care, 8-Ounce
New Price: $16.99 Old Price: $19.99You Save: $3.00 (as of 02/26/2018 03:47 UTC)
, medium and intense.
I often get strange looks but store personnel in the Cheese Shop will recognize exactly what you are doing.  Especially in France.
Don't get me wrong – I am not poking my fingers into the cheese but here is how I select either type of cheese according to the way in which I like to eat it.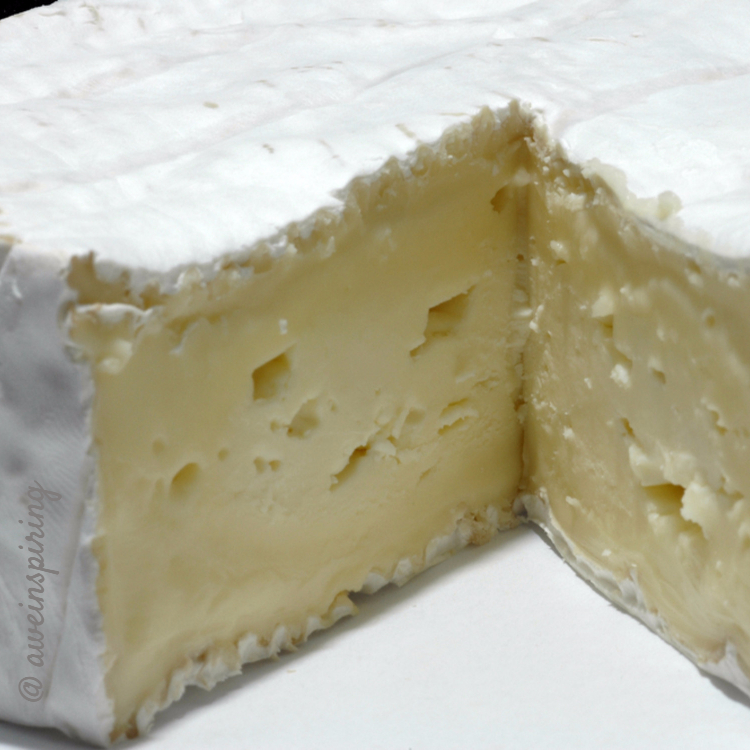 A brand new fresh wheel of cheese should be hard to the touch. 
Remove the lid and just gently press your thumb (as in a thumbprint) onto the paper wrapper.  
Mild brie or Camenbert has a dry white layer in the middle with a layer of creamy goodness surrounding the entire wheel. 
A riper wheel of cheese will "give" under your thumb.
At no time is the cheese supposed to smell overly strong or show any signs of light green on the outer rind.  It should always be white – the outer rind can even be lightly scraped and removed from the wheel of cheese.  The picture below shows that the top has been removed and the outer edge scraped.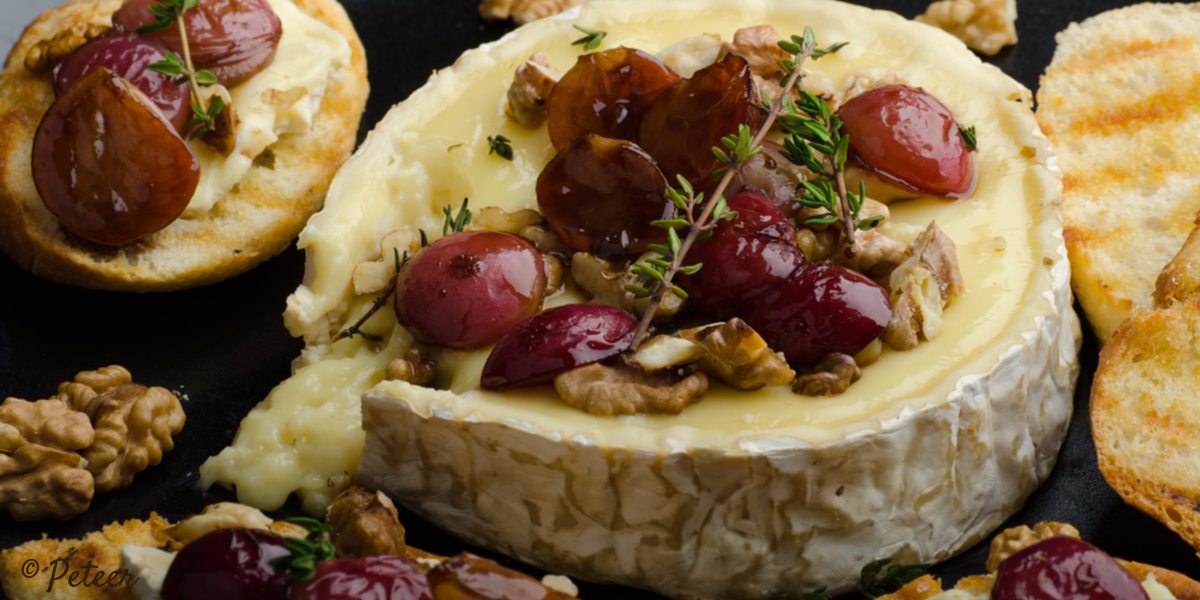 Intense flavor should not equate with stinky cheese.  Intense means the cream content of the cheese has reached its maximum amount. 
The entire cheese is soft and creamy. In other words, perfect for spreading and intense in flavor 🙂


Bouillon Cubes: A Basic Pantry Item
We all use bouillon cubes for soups, stocks and gravies.
 Maggi Bouillon KUB OR DEPUIS 1907 (16 Batonnets) – 128g – Lot de 6

 Maggi Bouillon KUB OR Herbes de Provence (32 cubes) -128g – Lot de 5

Although I also use soup bases, an entire shelf in one of my kitchen cabinets is devoted to a variety of bouillon cubes for everything from chicken to beef, pork to lamb, shrimp to fish, and vegetable to onion and garlic flavors.
Knorr®, Maggi®, Wyler's® and Herb-Ox® are among the brands I use regularly.
And then there's the Maggi® all purpose seasoning bouillon cube pictured below.  
Which is probably the closest product we have to a Kub® Or from Maggi®.
However… the flavor imparted by the Kub® Or is like no other bouillon cube (but you can order it directly from France).
I'm not sure how I can duplicate the flavor of Emeline's potimarron winter squash soup without the addition of one of those little cubes of intense flavor.
Sel De Mer – Sel De Guérande
One might be tempted to say that salt tastes like salt.  It's all salty.  Not!
Just once, treat yourself to a pound of butter with sea salt The Spice Lab Pink Himalayan Salt - 1 Kilo Coarse - Pure Gourmet Crystals - Nutrient and Mineral Fortified for Health - Kosher and Natural Certified
New Price: $7.99 Old Price: $7.99 (as of 02/26/2018 03:47 UTC)
crystals.  Bring it to room temperature and spread it fresh crusty baguette.  Forget the jambon or the fromage on the first slice of bread.  It's that good!
I currently use this salt but the coarse salt is great when preparing roasts and whole chicken.  Or turkey!
I almost purchased a couple bags of coarse sea salt but figured I could find them locally.  If I can't find it in my neighborhood markets, I will order it to prepare Holiday meals.
Aromatics Made Quick & Easy
 Schwartz Bouquet Garni Carton

You're making a typical stock, a heartwarming soup or rich flavorful stew. 
The recipe calls for "Bouquet Garni" herbs (a basic bouquet consists of fresh bay leaves, sprigs of thyme and parsley) to flavor the stock.   
Bouquet Garni is available in high end markets such as Wegmans® as a bundle of fresh herbs you can toss into the pot as you start the cooking process. 
It can also be purchased as dried herbs.
Want a clear stock?  Unless you add individual fresh herbs to a cotton organic muslin sachet bags such as these, you are left to skim or strain the broth in order to remove the tiny leaves.  
Or…you can buy the sachets and refills.  Voilà!

Top Cookware For Scrumptious One Pot Meals
Among the top unique gourmet gifts for any home chef is a Le Creuset® cocotte.  You need one in your kitchen.  Buy a large, 5.5 quart round cocotte  (They come in a 7 quart size.  Warning!  You'll need help to pick it up once the food is added!). 
The oval one is great for larger roasts and they come in a rainbow of colors to match your kitchen!


Potée Is Pure Comfort Food
Our home kitchen in France is equipped with a collection of well worn flame colored Le Creuset® cocottes, soup pots and skillets. My cousin Eric put the largest one to good use preparing a delicious Potée!


This is pure comfort food.  Lots of shallots sautéed in butter, then carrots coins added to the pot until they take on a beautiful color,  layers of curly cabbage leaves, topped with whole Montbéliard sausages (failing those use Saucisses de Toulouse), covered with chunks of potatoes.  Add some water and white wine to taste.  Cook over low heat until the potatoes are tender.  Top with thick slices of saucisson à l'ail.
Make sure to have a pot of Maille Originale handy.  What can I say?  It's cuisine à la mode de chez nous.  Home style.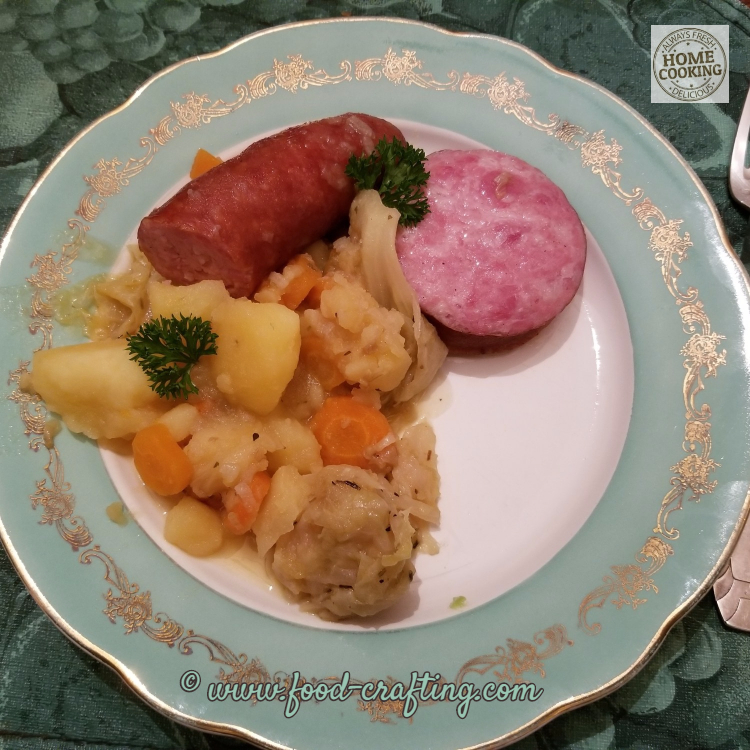 We're always adding to our entire collection of French Country Cuisine recipes.  My version of a potée will be available as soon as possible.  Right now, it's turkey time.
(Visited 63 times, 18 visits today)