Posts contain affiliate links so readers can locate resources mentioned in recipes & articles. Merci.
Simple Beef Chili – It's officially Fall and the temperatures drop as soon as the sun goes down.  The temperature does not drop dramatically (we're now starting the day in the 40s rather than the high 70's) but after an long Indian summer and what seem like endless weeks of brutal summer heat, the weather is now making it possible to vary the menu just a wee bit to include chili.
You can  pin the recipe now to read later or click on the button below to print it immediately.
Print The Simple Beef Chili Recipe!
As far as the DH is concerned, I could put beef chili on the menu once a week regardless of the season.  He's a meat & potatoes kind of guy so I could also easily omit the can of beans!
Easy & Simple Beef Chili
Making chili con carne is not in the traditional country French cooking repertoire 🙂   
When I first arrived in the United States, I imagined it to be a recipe I could tackle without too many repercussions.  I always wondered what to do with the coarse ground chili-beef  I first came across in Oklahoma surpermarkets.
Back home in rural France, we didn't do chili with ground beef.  We did not cook chili.  At least not when I was growing up. 
These days, I venture to guess that with English words steadily creeping into French vocabulary – I would not be surprised to find chili on the menu "en France" but I bet it would be a variation on the theme. What to call this dish? Du Chili!
Quick – Let's Make A Pot of Chili!
Chili is one of the easiest and quickest one pot meal you can make. Especially this basic recipe which will surely not win a ribbon at a chili making contest. 
Zesty it is but it will not set off any fire alarms 👨🏿‍🚒 or wake a sleeping dragon 🐉
No fancy ingredients – just think – I did not even add garlic to it.
Not because it does not taste good because it did garner a "Good Chili" from the DH!
10/3 update: The beef chili was dinner last night. He's reheating some for lunch!  Eating it twice in a row? I take that as a compliment.
Some recipes are time consuming to prepare with a long list of ingredients and several steps required to assemble the final dish.
 S&W, Chili Beans, 15oz Can Volpi Chopped Pancetta, 4 Ounce VIDALIA ONIONS FRESH PRODUCE 3 LB BAG
I've always found chili to be quick to prepare and this particular recipe was made even easier with ingredients nearly all home chefs have in their pantry and fridge:
White onions,
A can of beans 
Half a pound of lean bacon.
Looking for speedier? Buy a container of ready diced onions in the produce department of your supermarket and a pack of diced pancetta in the Deli.
Print
Simple Beef Chili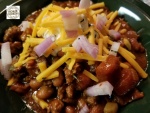 A bowl of zesty beef chili and beans for those chilly weeknight dinners. Top with sour cream, aged cheddar, and finely chopped shallots. Instead of corn bread, try an olive foccacia. All you need is a football game on TV!
Ingredients
Ground beef – 2.5 lbs of 80% lean/20% fat beef for chili
1 – 6 oz. container of diced white onions
One 4 oz. pack of diced pancetta
Two packs of McCormick® Mild Chili seasonings
2 – 14.5 oz. cans Del Monte® Zesty "Chili Style" diced tomatoes, undrained
1 (or 2) 15.5 oz. cans of S&W® Chili beans seasoned with chili peppers, onions & garlic in a zesty tomato sauce, undrained
Chili Toppings
Shredded aged cheddar
Sour Cream
Peperoncini, sliced
Finely diced shallots
Instructions
Over medium heat, in a cast iron Dutch oven, sauté the pancetta and the diced onions until the onions is translucent.
Add the ground beef. Brown until cooked through.
Sprinkle the packs of chili seasonings over the meat. Stir to combine well.
Add undrained cans of diced tomatoes.
Stir to combine all ingredients well.
Simmer, covered, for 20 to 30 minutes.
Remove the lid, add undrained chili beans.
Heat through.
Notes
Serve topped with sour cream, shredded cheddar and a sprinkle of diced shallots. A side of corn bread is more "authentic" but when in a hurry – buy fresh olive focaccia from the supermarket bakery!
What Do You Eat With Your Chili?
  Chili and Cheese Warmer

I will confess to developing an appetite for chili dogs when we lived in Oklahama. 
A fresh bun, a sizzling hot dog ladled with great tasting hot dog chili.  Topped with onions and finely shredded cheddar.  
But every member of this family eats their chili in a particular way.  We could easily have the Fire Department on standby when my son-on-law prepares his chili.  It is that spicy hot! 
The boys have come to eat their "Dad prepared chili" with smooth mac and cheese or even create a version of chili-mac. 
Sometimes, Grandma gets to hear that Dad was a little heavy handed with the hot sauce.
Do you like a side of cornbread, tortilla chips or Fristos® corn chips? 
My preference is for corn chips – the scoops – because I transform them into mini ladles!  Now if I had some perfectly cooked steak fries, I'd be a happy camper.
Some eat chili over rice.  How about a pepper jack grilled cheese sandwich?   Just add a big green salad for a well rounded meal.
Feeding a crowd or contributing to a pot luck dinner?  Simple beef chili is the perfet "what can I bring?" recipe.
Sodium Content of Recipe Ingredients
Wondering why I did not list salt and pepper?  This recipe came together in the proverbial New York minute.  I simply forgot to season the meat and I'm glad I did!
After sautéeing the pancetta with the chopped onions, I added the seasoning packs and the diced tomatoes to the onion/pancetta mixture.  The chili simmered for about 30 minutes and then I added the undrained can of beans. 
Only then did I think to taste it to adjust the seasonings.😱
My elderly mother has been on a sodium restricted diet for several years now and I have greatly reduced or completely eliminated the amount of salt used in cooking her meals and ours.
Let me put it this way – this chili is not for those on a sodium restricted diet without serious adjustments to the ingredients.
No Salt, No Pepper
Here is a breakdown of the sodium content of the chili ingredients without the addition of any seasonings – no salt, no pepper. Nada.  Just the ingredients.
McCormick's® Mild Chili Seasoning (2 packs) = 800 mg
4 Ounce pack of diced pancetta = 370 mg
Del Monte® diced zesty chili style tomatoes = 760 mg
S&W® Chili Beans = 620 mg
Sharp cheddar = 180 mg
Pepperonci = 390 mg (optional topping)
The foccacia = unknown amount but "salt" is listed
Beef Chili For A Sodium Restricted Diet
Yes, we can make this dish virtually sodium free!  Here are the ingredients I would use to make Chili for Mom.
---
Thin strips of oven baked pork belly or omit altogether
Del Monte® No Salt Added diced tomatoes
Sargento® cheese, reduced sodium cheddar
---
Where's The Beef ?
In this house, there never seems to be enough meat!  Not enough meat on the pizza (not even the meat lover's special!), never enough roast beef or spare ribs. 
In case there is not enough beef in the simple beef chili recipe above, here is my best meat chili recipe for big meat lovers everywhere.
On a totally different note!
The dude is using my favorite pan but who's to argue – he's cooking beef chili in it – just like me 🙂
(Visited 101 times, 44 visits today)