Posts contain affiliate links so readers can locate resources mentioned in recipes & articles. Merci.
Best Meat Chili Recipe – When I'm in a hurry, chili is the closest I will get to opening a can or two or three and calling it dinner.
If the DH asks for chili, he means MEAT with a sprinkling of beans – you know, few enough to count them without stirring the pot.



The same applies to spaghetti sauce where, by special request, the sauce has to be thick enough to use as mortar on a stone wall.
In fact, I can technically forget the pasta as well or maybe save 3 strands to decorate the meat sauce.
He will top the chili with aged Parmesan, and sour cream. And onions.
That's fine as long as I can alter any set of ingredients and directions to make my best meat chili recipe!
Wondering what spices to use to doctor up plain chili?
==> I use sea salt combination seasonings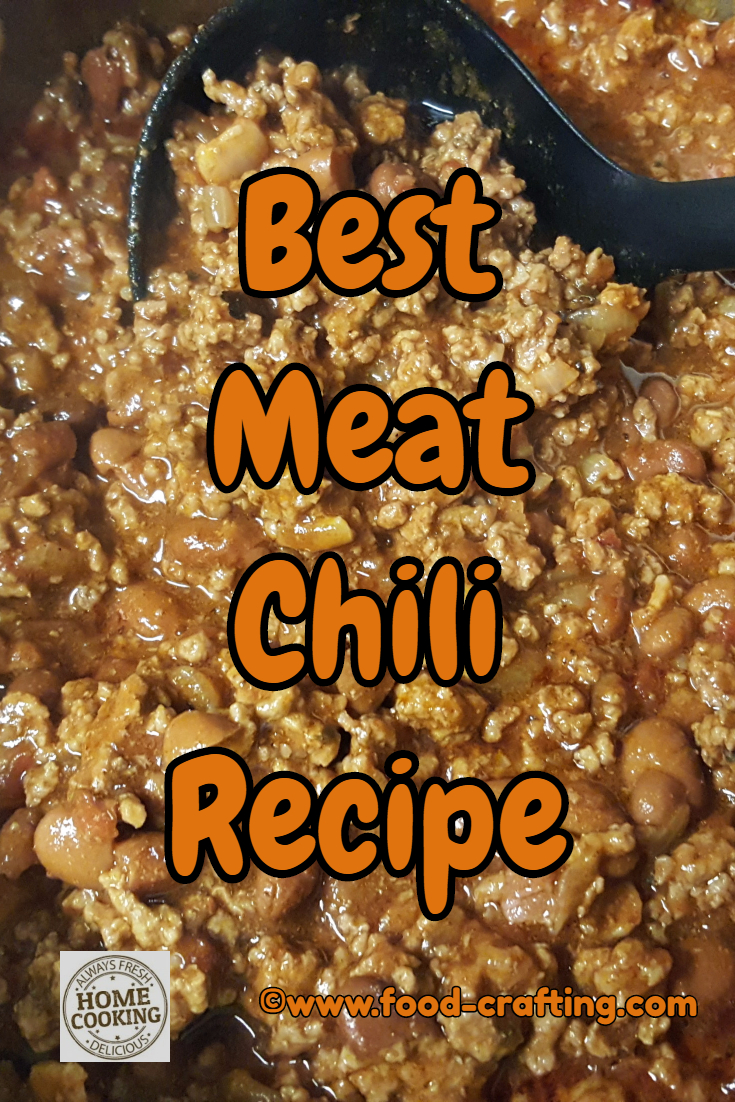 I created this recipe for the big meat lovers in the family.  It is the perfect one pot meal to serve to a crew of rabid football fans who will be glued to the HD screen for Super Bowl.  All I need to add is a salad, some rolls and tortilla chips, brownies and ice cream.
Other than the screams and curses heard when a player incurs an unforced error, the house is relatively quiet. 🙂  Right!
Everyone Has A Recipe For Meat Chili!
There are 101 delicious recipes for chili. I've even made the dish from scratch. But I had no idea there were so many varieties of beans for chili
, canned or dried. There are just as many types of chili seasonings
!
 A True Collection of Chili Recipes for Your Soul: The Best Chili Cookbook
 Chili Slow Cooker: 50 All Time Favorite Easy And Delicious Chili Slow Cooker Recipes
 The Ultimate Chili Cookbook – Chili Recipes for Year Round Deliciousness
&
What Goes Into My Best Meat Chili Recipe?
[amazon_link asins='B016KCSGY8′ template='ProductAd' store='foodcraftplugin-20′ marketplace='US' link_id='469b9018-d906-11e6-9432-7d89fc3cde90′]Today, I'm preparing the chili in my
vintage
Revere Ware®
 Dutch oven.  When I say vintage, this pot is more than 45 years old.
Nothing says you can't prepare the chili recipe in a slow cooker.   As long as you brown the meats as the first step, on the stove top or in a crock pot with a browning feature, this recipe is ideal for keeping warm in a slow cooker.

Print
Best Meat Chili Recipe: Meat Lovers Special
Prep Time:

30 minutes

Cook Time:

30 minutes

Total Time:

1 hour

Yield:

6 servings
Ingredients
The Meats
1 lb.ground beef (80% fat/20% lean)
1.35 lbs meatloaf mix
6 to 8 slices Oscar Meyer® center cut bacon (pick the leanest strips you can find or cut off any fat)
2 Johnsonville® Fresh Polish Kielbasa sausage, cut into 1/2 inch pieces (optional)
1 large yellow onion, diced
As much minced garlic as your taste buds allow
2 (15.5 oz) cans of Bush's® Chili Magic Chili Starter (traditional mild), not drained
1 (14.5 oz.) can of Muir Glen® organic fire roasted crushed tomatoes, not drained
Season to taste with Morton's® Sea Salt Cracked Peppercorn and Herbs or any seasoned sea salt
Instructions
On low heat, brown the sausage pieces unti golden brown. Add bacon pieces and brown along with the sausage.
Remove from the pan and place on paper towel.
Leave a couple tablespoons of fat in the pan. Add diced onions and brown over medium heat until they take on a bit of color.
Top the onions with the the crumbled ground meats.
When they start sizzling (after about 5 minutes), stir to combine the meats and continue cooking until the ground meat is no longer pink.
Add the sausage and bacon bits. Stir to combine. Season to taste.
At this point, you can transfer the meats to a slow cooker.
Add the 2 cans of chili starter and the fire roasted tomatoes.
Stir to combine well.
Plug in the crock pot before game time. Set to LOW for a couple hours. You are in effect simmering the ingredients to develop flavor. No need to turn the beans to mush. Keep on warm setting until it is all gone! 🙂
On the stove top, simmer over low heat for about 30 minutes. Dinner is done and the chili disappears just as quickly!
 Keeps Biscuits Warm for up to One Hour (Blue)

 Bread Basket Liner and Warmer in Red and White Check

 Keilen Bread and Biscuits Warmer and Basket

 Insulated Warmer Cloth – Keep Bread and Rolls Warm for Up to an Hour

For a complete meal, add a green salad.
Pass the sour cream, cheddar jack shredded cheese, slivers of shallots.
Ah…yes. The rolls? Pillsbury® Flaky Grands® biscuits lightly brushed with melted butter and sprinkled with the same Morton's® sea salt with herbs.
A basket full of hot flaky biscuits is the perfect side for the best meat chili recipe!
 Bush's Best Chili Magic Traditional Mild Chili Starter (Case of 12)

 Muir Glen Organic Fire Roasted Crushed Tomato, 28-Ounce Cans (Pack of 12)

 Weber Seasoning, Roasted Garlic and Herb, 7.75 Ounce – 2 Pack

&
(Visited 184 times, 35 visits today)