Posts contain affiliate links so readers can locate resources mentioned in recipes & articles. Merci.
Old Fashioned Rhubarb Pie – This is my take on Chef House's yummy quick homestyle rhubarb pie.
I knew this day was coming.
An Old Fashioned Rhubarb Pie!
 Rooster Pie PlateThere are times when I think the DH does listen to what I say – or at least is very selective in what he hears.
I mentioned the scrumptious looking pie when I first came across the recipe on the Evolution of Tastitude knowing full well it would pique curiosity and appetite.
Problem is that rhubarb (the vegetable that became a fruit) had not yet made an appearance in the supermarket or at the Farmer's Market. I know because he checked 🙂
Guess what? He was there when the first cart load of fresh rhubarb was added to the fruit and vegetable section of the market.  Then he remembered the pie.
Interested in checking out other recipes?
====> Check Out A Collection of Great Rhubarb Cookbooks
&

Old Fashioned Rhubarb Pie Recipe!
Print
My Old Fashioned Rhubarb Pie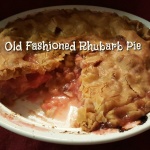 My take on Chef House's rhubarb pie. This semi-homemade version uses twice as much fresh rhubarb, half as much sugar and a pack of ready made pie crusts.
Author:
Prep Time:

30 mins

Cook Time:

1 hour 10 mins

Total Time:

1 hour 40 mins

Yield:

9 inch deep dish pie

Category:

Dessert

Cuisine:

Homestyle
Ingredients
8 cups of washed, trimmed rhubarb cut into smal pieces
1 1/2 cups of granulated sugar
1/4 cup of stevia for baking (this is a test ingredient)
About 1 teaspoon grated peel of a small orange
About 1 teaspoon grated peel of a lime
3/4 cup of cornstarch
4 pats of butter
1 pack of ready made Pillsbury® pie crusts (2 pie crusts)
about 1/2 tablespoon of soft butter (to spread on the pie crust before baking)
——
One 9″deep dish pie plate (mine is a Corning French White)
Instructions
Bring pie crusts to room temperature.
Pre heat the oven to 375 degrees.
After carefully washing the rhubarb, pat dry and slice into small pieces about 1/2 thick.
Set aside in an extra large bowl.
In a smaller bowl, combine all the dry ingredients plus the orange and lime peel.
I did not add salt. Mix well to combine into a fine powder.
Spoon evenly over the cut rhubarb and toss to coat the pieces. It may take a couple minutes to have all the pieces well coated.
Spray the deep dish pie plate with Crisco spray.
Spread one pie crust and bring the edges up as high as you can without tearing.
Believe it or not but all 8 cups of the rhubarb fit without problem in the deep dish pie plate.
Dot with 4 pats of butter.
Carefully place top pie crust over the rhubarb.
Press down along the rim of the pie plate and pinch the two crusts together.
Make 4 to 6 slits in the top crust.
Spread the soft butter all over the top crust.
Place in the pre heated oven for 1 hour checking after 30 minutes to ensure that the top crust is not burning. If it look like it is getting golden brown too quickly, cover loosely with a foil tent.
After 1 hour, check to the pie. Make sure the escaping juices are thick.
I added about 10 minutes to the total baking time
The result?  The orange zest definitely brings out the flavor of the rhubarb but even once cooled, the filling was still a little too runny.  Not enough cornstarch. Although the filling was very tasty, it was also just shy of tart.  It needs to be a little bit sweeter – not double the quantity of sugar because I nearly doubled the amount of rhubard but close to it.  It could be that the Stevia did not add the same amount of sweetness as an equal amount of Domino® sugar.
I need to bake another old fashioned rhubarb pie so I can get it right!


(Visited 266 times, 13 visits today)