Posts contain affiliate links so readers can locate resources mentioned in recipes & articles. Merci.
Chicken Enchiladas Supreme are on the menu because it's fiesta time with the leftover grilled chicken.
We're making chicken enchiladas, bathed in red sauce and topped off with shredded sharp cheddar.
Have Grilled Chicken Leftovers?
What do you prepare for dinner when your to-do list is a mile long, you are multi-tasking as if it was the only Saturday of the year and the temperature is rising?
In a hurry to get the fiesta started?
====> Check Out This Collection Of Delicious Recipes For Enchiladas!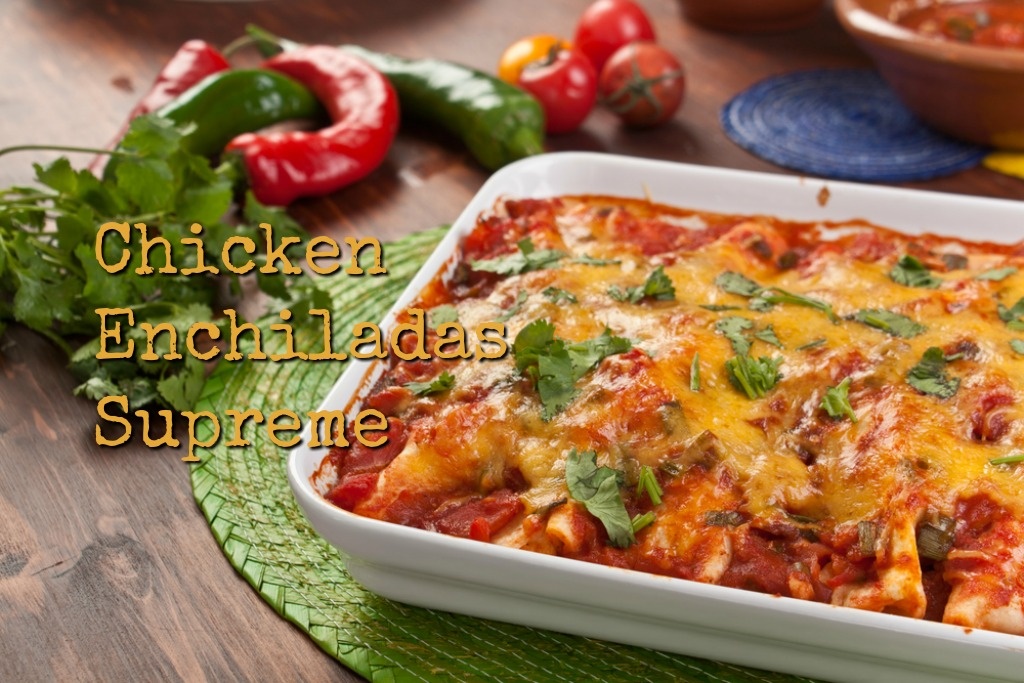 We take the cooking outdoors
every chance we get and Saturday was tailor made for grill time.  The choice vacillated between hamburgers, hot dogs and steak (not difficult to figure out which meat would win in that menu survey).
However, in order to accommodate one particular work schedule, we opted for two slow grilled spatchcocked fryers heavily seasoned with Mediterranean roasting spices.
Or Mexican spices 🙂
We normally split the flyers in half but keeping them whole makes for longer cooking time.   Less grill supervision allowed us to scratch even more items off the to-do list while cooking dinner.  How's that for multi-tasking?
Ever opened the fridge and have all manner of ideas pop up as side dishes?  The box of cherry tomatoes (sliced in half lengthwise) were the perfect addition to a simple corn salad.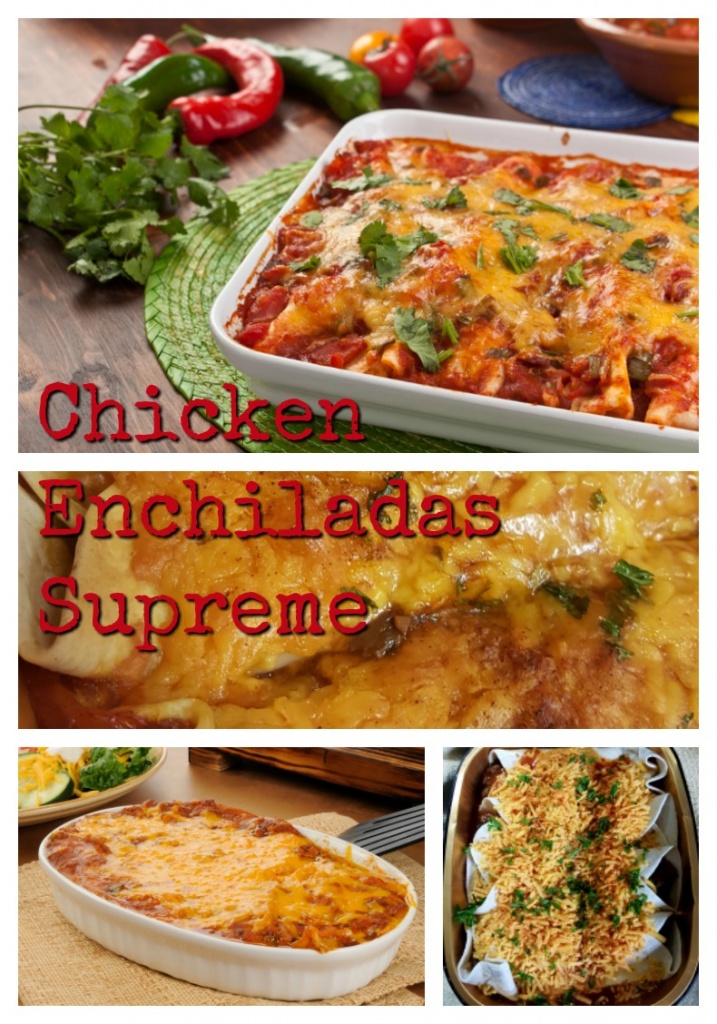 Use leftover fresh corn on the cob or two cans of drained corn (one yellow and one white for a nice color combination), sprinkled with fresh parsley and seasoned with salt, freshly cracked black pepper and a couple tablespoons of vinaigrette dressing.
Tossed and chilled until serving time, this veggie salad is great as is or sitting on a bed of crisp lettuce.
Don't know about you but there are never enough leg portions or wings to go around so I am left with all the white meat!
And when I have lots of leftover white meat, it goes without saying that our favorite chicken enchilada supreme is going to make the menu.
 From My Mexican Kitchen The Art of Mexican Cooking Simply Mexican
&
For this Memorial Day weekend, we're going south of the border.  I'm preparing a variation on traditional chicken enchiladas.  It is going to be fiesta time with the leftover grilled chicken for Sunday dinner and chicken enchiladas red sauce.
Margheritas too of course, along with a huge bowl of salsa and an equally large bowl of whole grain tortillas.  Olé!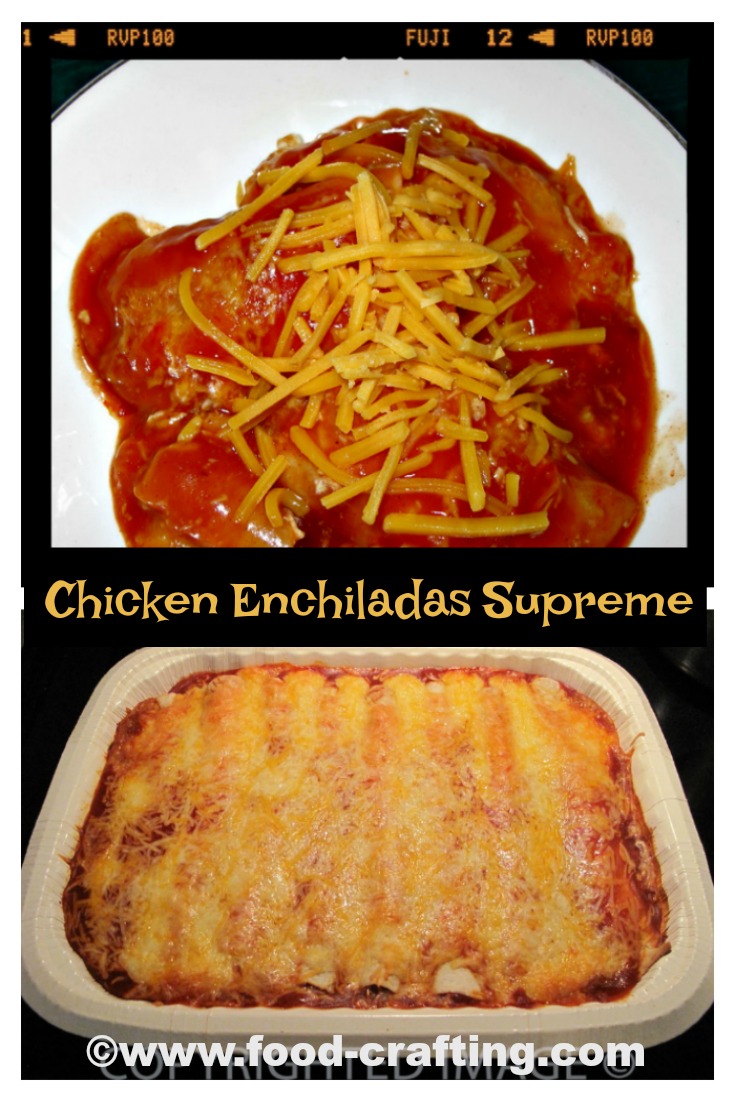 Time For Chicken Enchiladas Supreme!
Print
Chicken Enchiladas Supreme
Quick and easy way to use leftover chicken, pulled pork or even shredded beef.
Author:
Prep Time:

30 mins

Cook Time:

30 mins

Total Time:

1 hour

Yield:

8-10

Category:

Main Dish

Cuisine:

Mexican
Ingredients
1 1/2 to 2 cups of shredded, cooked chicken
1 – 8 ounce box of cream cheese at room temperature
1/2 cup of sour cream
8 or 10 inch flour tortillas
1 1/2 cups of shredded cheese (for filling), either sharp cheddar or for a milder taste, an equivalent amount of Kraft® or Sargento® 4 Cheese Mexican combination (Monterey Jack, Cheddar, Queso and Asadero cheeses)
2 cups of shredded cheese for topping when cooking, and at the dinner table allowing for the occasional nibble while cooking.
1 4 ounce can of Old El Paso® chopped green chilies
1/2 to 3/4 of a cup of chopped spring onions
2 teaspoons of Taco seasonings (entirely optional)
1 "Value Size" (28 ounces) Mild Enchilada Sauce
Instructions
Mix softened cream cheese with the sour cream then add green chilies, the taco seasonings, the chopped green onion and mix well.
Make sure all ingredients are evenly distributed throughout the cream cheese mixture.
Fold chicken pieces and shredded cheese into the cream cheese mixture evenly.
Cover and refrigerate if you do not plan on assembling the enchiladas right away.
Preheat the oven to 375 degrees.
Bring the filling back to room temperature before completing the dish or allow a little extra cooking time when the filling is cold.
Pour enough enchilada sauce to coat the bottom of your baking dish.
Place 3 to 4 tablespoons of cream cheese/cheese/chicken mixture to one side of an enchilada. You want to be able to roll the enchilada around the filling.
Place the rolled enchilada, seam side down, in the baking pan.
Continue filling the enchiladas until the filling is gone.
Pour the remainder of the mild sauce over the filled enchiladas.
Sprinkle with shredded cheese to cover evenly.
Bake at 375* for approximately 30 minutes or until the cheese golden brown and bubbly.
Makes 8 large chicken enchiladas.
Notes
You will need an oven proof rectangular dish such as a Pyrex® dish or a ceramic baking dish large enough to hold 8 full size flour enchiladas.


We've also had great success preparing this same recipe for enchiladas using shaved chicken or pork. We'd love to hear how you prepare Chicken Enchiladas Supreme!
(Visited 233 times, 27 visits today)