Posts contain affiliate links so readers can locate resources mentioned in recipes & articles. Merci.
Zucchini corn salad recipe – aka succotash salad is a summer favorite – especially with all things grilled.
During the summer, we make sure to eat the freshest fruits and vegetables we find at the local farmer's market. This Summer Succotash salad pretty much takes care of all our veggie favorites!
 Corn – Food of the Nation
Ready to prepare a cool and refreshing summer salad?
In a hurry?
===> Stock The Pantry With Corn!
Our zucchini corn salad recipe is the perfect summer side dish for grilled swordfish, chicken, pork chops or even steak.  A simpler version works well as a side for my Chicken Enchiladas Supreme.
You might think of succotash as a dish you had to eat at Thanksgiving.
Yes, i said "had to" because it seemed to always make an appearance at that time of year.
As a hot side dish, sometimes it was served plain and sometimes it came in a cream sauce. They tried in vain when I was young to make me eat it but I did not like either version.
Let's fast forward to the 80s when the summer months included a trip to visit family members who lived in the fertile New Jersey farmland area.
Besides spending time visiting with relatives we did not get to see often enough, it was always the perfect time to pick vegetables – tomatoes (destined for the nearby Heinz ketchup factory), green peppers, green beans, fresh limas and the sweetest tasting corn.
Is it any wonder that the preferred meal on those visits was fried chicken or ribs with a side dish of the best tasting succotash salad?  It often included bits of zucchini and other veggies.
After all, we had just picked the perfect combination of ingredients.
My view of succotash and having to eat it changed forever. Simple – make it cold and make serve it up in a salad – and so we came to create a zucchini corn salad recipe.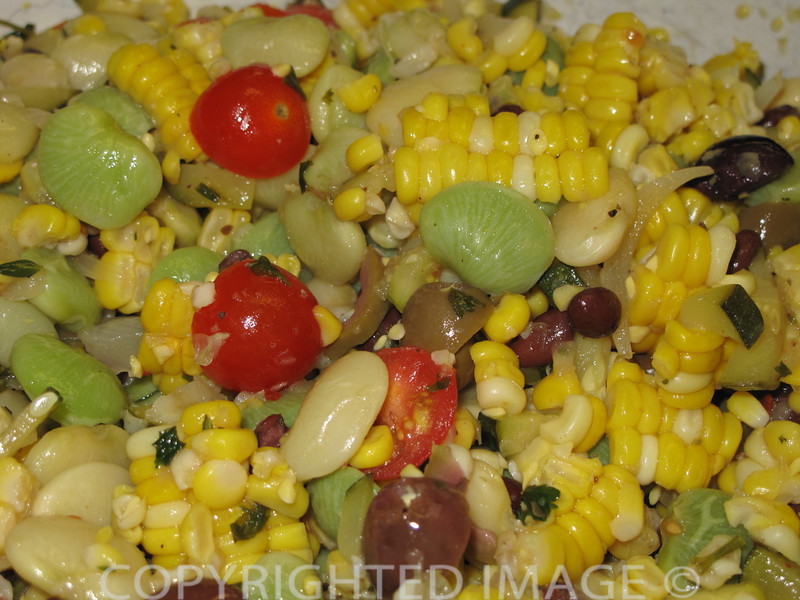 Add Uncle Wen's lemon pound cake, peaches or ripe watermelon slices for a sweet treat and it was downright difficult to get back in the car for the trip back to the big city.
The ketchup factory sits abandoned since the late 70's but the famous tomatoes are still grown in that section of New Jersey.
These days, a zucchini corn salad not only brings back memories but it serves as the perfect foil to almost any grilled meat from chicken to steak.
Visit the supermarket these days and you'll find plain succotash, which is a combination of corn and limas, but you also get to select from double and triple succotash or I can combine any fresh vegetables.
And can make a salad out of it!
 Norpro Corn Creamer
 Zyliss Corn Stripper
 Kuhn Rikon Corn Zipper
&
This corn salad is one of those dishes that lends itself to a variety of ingredients – basically anything you like in the way of beans will work. As long as the main ingredient remains corn and you can find tender young lima beans to create that well known color combination.
We can no longer pick our own veggies in the fields but we can come very close to the same fresh flavors by picking those vegetables at a farmers market.
And if all else fails, we find the required ingredients (we aim for nothing canned or in a jar) at our local supermarket.
Well..as luck would have it, this recipe was not to be prepared using fresh ingredients with the exception of the corn – a beautiful bi-color variety.
Other than the zucchini, every other ingredient had to be bought in cans or frozen, as in the Fordhook limas.
What's The quickest and easiest way to get those kernels off the cob? Here are some tools of the corn stripping trade…
You can use a regular knife as I did but there has to be a easier way. Grating the corn on a regular grating board was rather messy too. Surely there is some gadget made just for that purpose?
There is! A stripper, a creamer and a corn kernel zipper.
Our Zucchini Corn Salad Recipe
It's true. I do not have a recipe per se for this salad. The main ingredient is corn and I allow for one ear of corn per person.
All the other ingredients for the salad are added in quantities to maintain a high ratio of corn and limas to the "other ingredients". Make this recipe a "plat du jour" by using any favorite ingredients you have on hand that day.
You may decide not to include such items as olives, the roasted red peppers or even eliminate the zucchini altogether from the salad dressing. The same applies to the dressing. It could just as easily be a bottled salad dressing such as an olive oil based vinaigrette. Make it easy, quick and convenient.
I just find this succotash salad a quick way to incorporate a variety of vegetables into a single dish which can be prepped in record time. As long as the fresh corn and Lima beans are already cooked and cooled!
Louise's recipe did not have some of the ingredients I now use to make the salad but it was equally tasty. In fact, back then, it was nothing more than corn, limas and cubed tomatoes.
Over time, I've tweaked the ingredients to include…or not:
One green zucchini squash, cut into julienne strips
1/4 pound of marinated tomatoes
1/4 pound of mixed marinated olives
1/4 pound of marinated roasted red peppers
I've even added pieces of crumbled feta cheese seasoned with tomatoes and cracked pepper. If you prefer not to add it to the salad, just use it as a topping. Anything and everything works.
And now for the "dressing". Make your own or pour from a bottle?
It could be the same plain oil and vinegar, salt and pepper concoction you prepare for a green salad. Add some chopped curly parsley and some grated onion.
You could get fancy and create a cooked dressing (time permitting) and include some creamed corn and sautéed zucchini.
Why grated onion instead of a sliced? No particular reason other than it incorporates better as a smooth paste like ingredient into the liquid portion of the dressing. That is not to say you can not have it both ways – grated in the dressing and sliced in the actual salad – or none at all.
Why a Vidalia onion instead of a regular yellow onion? Vidalias are not as strong and pungent. They impart a subtle onion flavor rather than one that hits you like a ton of bricks. You could use shallots.
Baby, don't cry! Surely we can find a gadget to make the onion chopping process relatively quick. Thank goodness Amazon has a grand supply of all the tools to make it a tearless part of the recipe.
Let's make my salad dressing…
Add a couple tablespoons of high quality olive oil to a medium sized frying pan. Sauté half of a grated, medium sweet onion, such as a Vidalia in the olive oil. Be careful not the burn the onion.
Allow the onion to get translucent and soft enough to create a paste to which you will add the equivalent of a grated ear of corn.
Season to taste with salt and pepper and any other combination spices like Mediterranean or Italian herbs. Stir until well combined.
Season with a dash or two of Tabasco to taste, add some thyme (this time I went for the fresh) and parsley and then add the equivalent of one corn cob which has been grated into a paste.
Cook through for a few minutes longer and add a couple tablespoons of red wine vinegar to the mixture. Remove from heat and stir to combine well. You should have a thick, creamy paste. Allow to cool.
You can add more olive oil once the creamed onion, corn and zucchini combination has been thoroughly mixed into the remaining salad ingredients.
At this point you can add any additional ingredients such as cubed tomatoes, shredded or julienned fresh zucchini, olives, and black beans.
When preparing the salad to illustrate this post, I used a can of "Caribbean" seasoned black beans, drained, and rinsed. Pat them down with a paper towel to remove most of the water.
The little bit of remaining olive oil and garlic marinade used for the tomatoes and olives is more than sufficient to help create a dressing for the other veggies and beans.
It all depends on how wet you like your salad.
(Visited 89 times, 8 visits today)