Posts contain affiliate links so readers can locate resources mentioned in recipes & articles. Merci.
Cuisinart DLC-X Plus – Parts for this food processor parts are not easy to find.
I reached for my Cuisinart food processor Hamilton Beach 70740 8-Cup Food Processor, Black
New Price: Old Price: $36.49 (as of 02/26/2018 03:48 UTC)
a few weeks ago to give a few ounces of boneless pork a rough chop.  My Chinese Pork & Cabbage soup was on the menu.
My first thought?  Buy a new processor but wait
==> Parts & accessories are still available for many Cuisinart food processors!
Where To Buy Replacement Parts For Vintage Cuisinarts
Unfortunately, I forgot the bowl was cracked.  The metal chopping blade seemed wobbly.  The cracks in the bowl did not matter because the meat was raw. The unbalanced blade, I imagined, could handle the small batch of meat that was already cut into small pieces.
The first batch processed without any problem but when I hit the pulse button to process a second slightly larger quantity, the steel blade decided to call it a day.
The shaft broke off making it impossible to re-attach the blade to the motor pin.  But I digress.
Cuisinart DLC-X Plus Replacement Parts
Locating and buying replacement parts is not an easy task. Have you ever had to search for authentic replacement parts for vintage or classic small appliances?  Last year, I had a similar problem with a classic Sunbeam® appliance.
How does the DCL-X compare to new models? In my opinion, this model can easily replace my vintage food processor.
Over the years, I have tried to purchase top of line small kitchen appliances Nostalgia BSET300RETRORED Retro 3-in-1 Family Size Breakfast Station
New Price: $54.45 Old Price: $79.99You Save: $25.54 (as of 02/26/2018 03:48 UTC)
when the price is right. The reason being that these appliances last longer, have more power and come with accessories which also prolong the life and use of the appliance.
I purchased the Cuisinart food processor more than 20 years ago.  It seemed like quite a bit of money to spend on a kitchen appliance back then, but I envisioned myself able to cook up fabulous meals.
Thanks to my Cuisinart®, I have.
 Recipes for the Cuisinart: Food Processor

 The New Food Processor Bible: 30th Anniversary Edition 

 CUISINART FOOD PROCESSOR COOKBOOK

&
It is powerful enough to knead dough (for my special double-deck pizza), able to slice, dice and julienne all those fruits and vegetables. This kitchen appliance is perfection all wrapped up in a powerful machine capable of tackling just about anything I asked of it.
My favorite features include:
A commercial rated power base that does not travel across the counter when kneading pizza dough.
A huge work bowl with an equally large feed tube.  It allows me to slice whole apples without having to cut them in half!
A variety of

slicing discs

Cuisinart DLC-842TX 2mm Thin Slicing Disc

New Price: $26.00

Old Price: $26.00

(as of 02/26/2018 03:48 UTC)

that can produce everything from paper thin to 6 mm. thick slices
Shredding and julienne discs for everything from shoestring carrots to home style french fries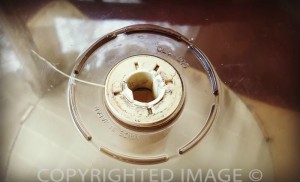 And it has done just that, without fail, for more than 20 years.
Could it be that I prepared one pâté too many?
Or pushed it to the max without thinking of the age?
The Cuisinart DLC-X Plus Compared To Other Cuisinart® Models
The problem here is that the base functions correctly.
The 20 cup bowl started showing wear and tear years ago and I don't remember when it cracked.
The adventure began when the time finally came to replace the amber colored Lexan work bowl and steel blade.
Have you ever tried to replace parts on appliances (large and small) which are considered to be obsolete or at best in the "oh, you still have one of those" category?  Along with the cook who can easily be categorized as vintage, my kitchen is full of what are now referred to as classic appliances!
How To Find Cuisinart DLC-X Plus Replacement Parts
As with many other purchases, my first thought was to check Amazon. Why? They sell everything or so it seems. I am now accustomed to finding unique items and unusual products on their site.
As it turns out, the Cuisinart DLC-X Plus is still available for sale. However, most listed replacement parts are not necessarily compatible with this particular model.
We called Cuisinart® Cuisinart DFP-14BCNY 14-Cup Food Processor, Brushed Stainless Steel
New Price: $165.57 Old Price: $365.00You Save: $199.43 (as of 02/26/2018 03:48 UTC)
.  While the DLC-X plus is labeled as discontinued on the company website, a helpful Customer Service representative assured us that they still had replacement parts in their catalog for this model.
We provided them with the serial number on the bottom of the base and the model number shown in the work bowl.
We Even Called Cuisinart® Customer Service!
Apparently, providing the representative at Cuisinart®  with the model numbers (as recommended)  proved useless.
After ordering the Cuisinart DLC-X Plus parts based on his references and recommendations, we received a clear work bowl which did not fit the brackets on the base.
We called Cuisinart® again.  They are still hunting for the correct parts.
Click HERE to buy genuine Cuisinart DLC replacement parts
When searching for new parts for the DLC-X Plus, use the following keywords as search terms: amber work bowl and an oval feed tube.
The amber work bowl and oval feed tube are unique to the vintage Cuisinart DLC-X Plus model.   Currently, the DLC-XPN model compares to the DLC-X
It turns out that few merchants now stock the replacement parts for the older classic models.  Forget model numbers.  
Not even the model number on the bottom of the work bowl proved helpful.  Sure, you can provide the numbers when requested but when buying new parts, do not hesitate to describe the original piece.


(Visited 2,026 times, 312 visits today)