Posts contain affiliate links so readers can locate resources mentioned in recipes & articles. Merci.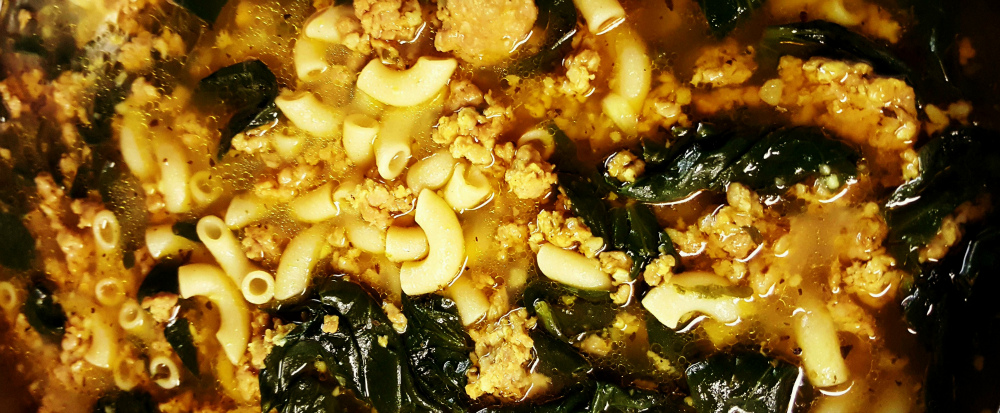 This easy Italian sausage soup with fresh spinach, gluten free pasta, and shredded aged parmesan or the more traditional and old fashioned chicken soup full of fresh vegetables and ditalini pasta?
It 's hard to decide which soup will make the top ten winter soup recipes. Probably both.
During the recent East Coast blizzard, I prepared a variety of new soups.
The chicken soup had a dual purpose: to cook large chicken breasts for chicken salad sandwiches (Grandpa's lunch) and to prepare vegetable-laden broth for a chicken noodle soup (snow days at Grandmas require homemade chicken noodle soup with ham sandwiches).
But I digress…
The easy Italian Sausage Soup was so quick to prepare that it was the ideal one-pot meal after a long Interstate drive to pick up Mom before the historic blizzard of January 2016 set in. I will add that my version took a little more time than anticipated but without any adverse effect on the soup recipe.


As I mentioned above, few kinds of soup prepared from scratch could be easier to cook than this Italian sausage soup with spinach and pasta.
I used the gluten free pasta to maintain Mom's strict diet, but the soup is prepared with any pasta from the little stars to orzo, ditalini, mini shells or elbow macaroni.
In this soup I used the Ronzoni® gluten free elbow macaroni made with white and brown rice, corn and quinoa.
The pasta maintained its shape in the broth and had a white pasta flavor. I topped the soup with a thick slice of toasted Tuscan bread spread with a layer of bubbly aged parmesan. Garlic bread or Texas toast works just as well. Sprinkle the parmesan on the soup instead. Yum!


My Recipe For Italian Sausage Soup
Ingredients:
1 lb Italian sausage – crumbled into small pieces as it cooks. Sausage can be spicy,  sweet or savory.
2 heaped tablespoons crushed fresh garlic – to taste. Use slightly less garlic if using spicy sausage.
6-8 cups chicken broth (from bouillon cubes or chicken base)
1 cup pasta (depends on the type of pasta used and the amount you would like in the soup.)
4 oz. Parmesan, shredded (aged Parmesan makes a world of difference to add another layer of flavor to this soup.)
Directions:
Sauté the Italian sausage until completely cooked, breaking it up into small bits as it browns.
We love garlic. Add 2 level tablespoons of crushed fresh garlic to the sauage and stir until well combined.
This sausage did not render much fat at all but if your brand does, be sure to drain the pan before proceeding with the soup.
Add 6-8 cups of rich chicken broth., adjust the salt, pepper and Italian seasonings and simmer for about 1 hour.
Add pasta and cook according to directions.
Just before serving, add a bag of baby spinach with stems removed.
Toast thick slices of Tuscan bread – topped with aged shredded parmesan. Or serve with garlic bread.
Bon Appétit!
P.S. The Ronzoni® gluten free pasta went completely unnoticed by those not on the strict diet!


(Visited 98 times, 8 visits today)