Posts contain affiliate links so readers can locate resources mentioned in recipes & articles. Merci.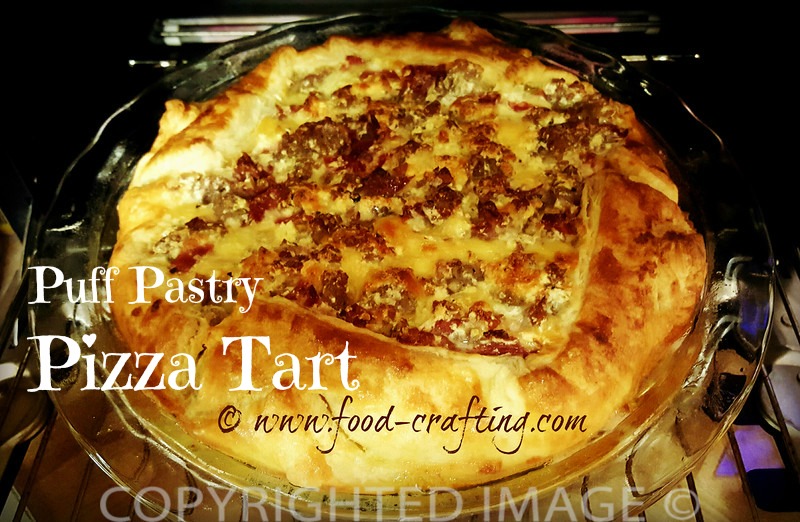 Puff Pastry Pizza Tart – Ever since I came across a recipe for a country style pizza during the past week, I've looked for the opportunity to prepare it for dinner.
Today is the day to make my version of this country style pizza – with a few twists.  I'm calling it a puff pastry pizza tart.   Calling it a "pizza" is, in my opinion, a stretch of the imagination when it comes to true pizza devotees.  There is not a tomato in sight – not even a lick of pomadoro sauce.
I traveled Inerstate 95 today to pick up my Maman for Easter.  During holiday weekends, traffic is rather unpredictable so I had to cut corners not knowing how long I would be on the road.
This short trip proved to be useful because I was able to stop at one of my favorite upscale food markets and purchase all the authentic Italian ingredients.  Yes, I paid premium prices but for this occasion, we'll splurge.
Next time I make the recipe (I am certain this will go on the menu again), I will opt for
Buy a 1 lb. pack of seasoned sausage meat instead of hand prepared Italian sausage links.
Use packaged parmesan cheese instead of a 1/4 cup of freshly grated cheese from that huge wheel behind the cheese counter and
Use pepperoni instead of soppresata.  No, on second thought, no pepperoni – that is where I draw the line! I'll use generic soppresata.
I may even try regular pie crust instead of puff pastry.  Maybe.  The puff pastry gives the slice of pie a whole other dimension.  Super flaky crunch!
The above ingredients will give it more of a deep dish pizza look and flavor – for those sitting at the table expecting a slab of  my trademark two-layer, deep dish pizza in hand tossed crust!
The reason these particular ingredients work well is the flavor combination they create as they cook.  This country pizza does not use tomato sauce.  Think of this puff pastry pizza tart as an Italian style quiche or even a country style, deep dish meat pie.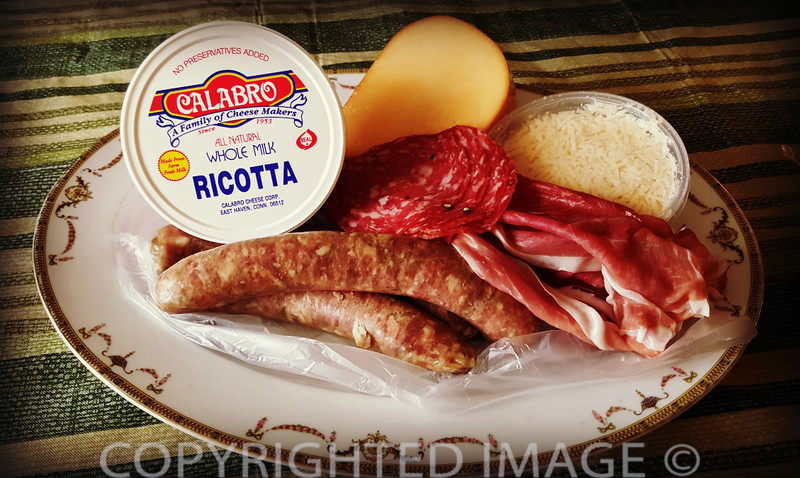 Puff Pastry Pizza Tart Recipe:
Ingredients:
2 to 3 large Italian Sausage links (mild sausage if you plan on seasoning the meat yourself but you can opt for hot 'n spicy sausage links)
4 oz. of Soppresata salami (authentic if possible)
4 oz. of Prosciutto ham (the San Daniele® has lower sodium content)
4 oz. of  smoked cheese, diced (Provolone of course but I could only find Gouda)
4 oz. shredded Kraft® mozzarella
4 oz. of Parmesian Reggiano
1 cup of whole milk ricotta
2 to 3 jumbo eggs
(the glue to hold all the meats together)
1 teaspoon garlic paste
1/4 teaspoon of cayenne pepper
Italian herbs to taste and freshly chopped parsley
1 package of Pepperidge Farms® puff pastry sheets
Directions:
Prepare the filling – In a large bowl, mix together the ricotta, smoked cheese, shredded mozzarella, parmesam, herbs, garlic, parsley and eggs.  Combine well until it forms a thick mixture.
Remove the sausage meat from its casings and break up into small bits as it cooks over low heat.  You want small crumbles not huge lumps of sausage meat.  Suprisingly enough, the sausage meat did not render much fat at all but just enough not to stick to the pan.  Once cooked, st aside to cool.  You will add it to the cheese and egg mixture.
While the sausage is cooking, cut the salami and prosciutto into small pieces.  You want these pieces to blend easily into the cheese mixture.
Add the chopped salami and prosciutto ham to the cheese mixture.  Set aside until the sausage is cooled.  When cooled completely, add sausage to the cheese and egg mixture and combine well.
Preheat your oven to 400 degrees.
Spray the bottom and sides of a deep dish pie pan with butter flavored Pam®.
Carefully spread a sheet of thawed puff pastry into the pie plate.  It will not fit perfectly all the way around but stretch some edges ever so gently so that it covers the depth of the pie plate all the way around.
Spread cheese and meat mixture mixture evenly in your puff pastry lined plate.  Fold the edges of the pastry towards the center of the pie, enclosing the meat as much as possible.
Brush the exposed puff pastry with an egg wash or melted butter.  I use a combination of the two.
Place in the preheated oven for about 40 minutes or until the cheese and meat mixture is bubbling hot and the puff pastry is golden brown and flaky.
Allow the meat pie to rest for about 10 minutes before cutting into it.  The pastry is delicate and the contents would fall out as you transfer the slices to each plate.
    This recipe received the "
you can make this again
" stamp of approval.
Enjoy your puff pastry pizza tart with some vino, a huge green salad full of fresh veggies or maybe a regal Caesar!
(Visited 224 times, 10 visits today)