Posts contain affiliate links so readers can locate resources mentioned in recipes & articles. Merci.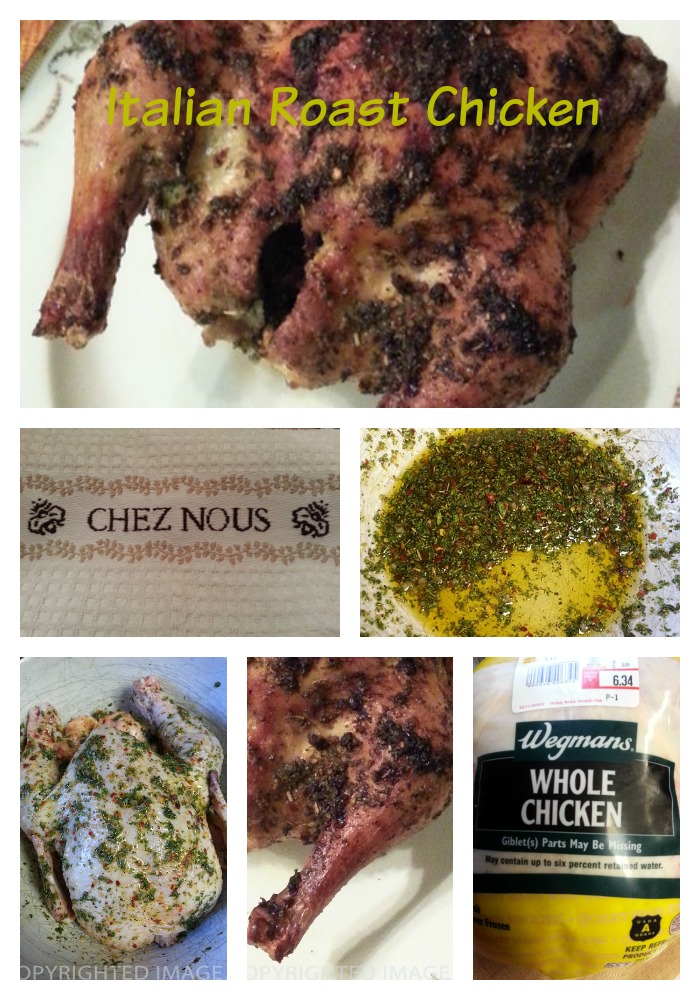 Today feels like one of those days when you just want to cook.  Well, at least I do. All day.
Roast chicken is on the menu for dinner tonight and I'll prepare a few meals for Mom including a quick and easy Potato and Leek Soup.
It's a "no particular recipe in mind" kind of day but I've been on a guilt trip all week thanks to a bundle of fresh parsley from which only a few snippets were taken – when fresh.
Since then, the bulk of the parsley has been sitting in a colander on the kitchen counter.   Needless to say, leaving fresh herbs out on the counter is not something I do often although I did it once, deliberately and with success, with a pack of fresh bay leaves.
As I watched the parsley dry, I wondered what would happen if I allowed other fresh herbs (I use quite a bit of fresh rosemary, thyme and sage) to air dry.  Without the use of a dehydrator.  The parsley became the test subject.
Would herbs lose all their flavor?
Would I be able to get them dry enough to store in zip lock bags?
What would the shelf life be?
Would they retain the same flavor as when they were fresh?
Then it hit me like the proverbial ton of bricks!
I would brine the chicken in a pungent parsley based marinade while I prepared the other dishes.
The parsley air dried to perfection and smells just as good as fresh.
I grabbed the bunch carefully between both hands and applied just a little bit of pressure.
The parsley crumbled into flakes.  It was easy to crumble the larger flakes into smaller pieces before adding the rest of the brine ingredients.
Pictured on the left are the results of the "experiment".
To a well used "vintage" mixing bowl (used by my mother in law to prepare chicken salads for her Farmer's Market table) I added the following ingredients.
Print
Italian Roast Chicken
Ingredients
3/4 cup of Colavita® olive oil
1/4 of Holland House® white cooking wine
1 1/2 teaspoons of sea salt
1 tablespoon of mashed fresh garlic
1 tablespoon of Weber's® Kick"n Chicken seasoning
1 tablespoon of McCormick® Italian herbs
2 tablespoons of my dried crumbled parsley
1 (5 1/2 pounds) chicken
Instructions
Pat the chicken dry and place in the bowl. Roll it around in the brine until evenly coated. Cover with Press'n Seal® film and allow to marinate for several hours.
Turn the chicken every 30 minutes until ready to roast in a hot oven.
Preheat the oven to 400 degrees. Cut a piece of foil large enough to make a "tent" for the chicken. Spray one side of the foil with Crisco® canola oil so it will not stick to the chicken.
Roast at 400 degrees for 15 minutes. After 15 minutes, loosely cover the chicken with the foil, lower the oven temperature to 350 degrees and roast for another 45 minutes.
Remove the foil for the last 20 minutes. Total cooking time depends on the weight of the chicken. I usually add 1/2 cup of water to the pan drippings and baste regularly throughout the roasting period. Add more water, 1/2 cup at a time, as it evaporates.
 Weber All Natural Roast Chicken Seasonings
End result?  The parsley did not burn.  The skin was crispy and the meat remained juicy!
(Visited 48 times, 5 visits today)