Find Offers, Shop, Redeem &
Get Cash Back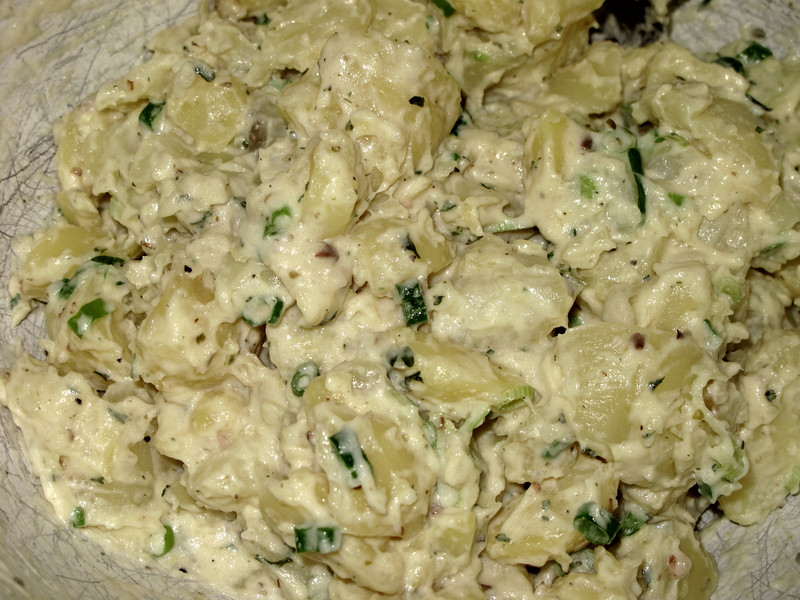 Posts contain affiliate links so readers can locate resources mentioned in recipes & articles. Merci.
Make Best Potato Salad Ever –  There is "Mom's" Pennsylvania Dutch potato salad with hard boiled eggs, celery seed and a home made cooked dressing.
There is the authentic German hot potato salad with onions and crisp bacon.
Why not try what I consider to be the best potato salad ever? I"ve been preparing this potato salad for more than 25 years.
Make Best Potato Salad Ever
One visit to the deli counter in any supermarket and you will find a variety of cold salads:
German
Country style with eggs
Red Skinned
The new "loaded" salad which comes complete with cheddar cheese, green onions and bacon.
Then there is the good old fashioned potato salad. Plain and simple.
Boil 10 medium potatoes. Add 1 ½ teaspoons salt to the water.
Peel the potatoes as soon as you can handle them.
Marinade: Prepare the marinade while the potatoes are cooking.  You want to pour it over the potatoes while they are still hot.
1 ½ teaspoon salt, 1 teaspoon dry mustard, 1/8 teaspoon freshly cracked pepper, 1/4 cup of white wine vinegar, 1/2 cup of EVOO, ¾ cup chopped green onion.
Once the potatoes have cooled, add the cream dressing.  Toss lightly to distribute evenly;  wrap tightly with cling wrap and refrigerate until ready to serve.
Dressing: 1 cup of sour cream, ½ cup of Duke's® mayonnaise. 1 teaspoon prepared Dijon mustard.
Cover tightly with cling wrap and refrigerate until ready to serve.
Prior to serving, garnish with celery, radish, hard boiled eggs and spoon into a bed of lettuce leaves.
Potato Salad
 Jake & Amos Real Bacon DressingMit Real Bacon! Marzetti Potato Salad DressingOld Fashioned Recipe! Wos-Wit Bacon DressingPennsylvania Dutch!
(Visited 83 times, 27 visits today)
Session expired
Please log in again. The login page will open in a new window. After logging in you can close it and return to this page.
error:
Content is © protected !!