Posts contain affiliate links so readers can locate resources mentioned in recipes & articles. Merci.
Veal Stew Recipe Slow Cooker – I'm cooking a veal Marengo recipe.   Loin veal chops are in the crock pot for a 6 hour slow cook.
I can hear the chef mumbling as I write.  "You don't prepare Marengo with loin chops! Or with veal for that matter."
An Easy And Versatile Recipe
In a hurry? Review all the recipes fit for emperors and presidents.
Veal or chicken, chicken or veal, it does not matter because this dish is being prepared in a slow cooker not as a fricassée. I can make the recipe with chicken anytime!

Today, in my kitchen, I improvised much like chef Dunant did that day.
I will admit to the recipe being "Marengo style" but I'm positive Napeleon would not object to my tampering with the original.  He may have pronounced my version just as "formidable!".
 Napoleon's Chicken Marengo: Creating the Myth of the Emperor's Favourite Dish

 The French Chef: Napoleon's Chicken

 Napoleon's Chicken: Recipes fit for emperors, designed for Weekend Cooks

&
 McCall's Cooking School Recipe Card: Chicken, Poultry 6 – Chicken Marengo (Replacement McCall's Recipage or Recipe Card For 3-Ring Binders)
To make things even more interesting, the only ingredient I purchased was the veal. You can, of course, replace the veal with chicken. Every other ingredient came off the pantry shelf.
Not only is this an easy recipe, it is extremely versatile.
During my shopping expedition earlier this afternoon, I came across discounted veal loin chops.
Veal is an expensive cut of meat and veal loin chops rank right up there as one of the most expensive cuts – $13.49 a pound. The discount? 30%.
I bought 3 packs which gave me six large veal loin chops. The recipe? None.
&
Perfect Recipe For Pantry Staples
I opened the pantry and grabbed ingredients I have used in other veal recipes – chopped and seasoned tomatoes, tomato paste, white wine.
You can easily add mushrooms to this dish but this is one rare case where I did not even have canned mushrooms.  The original recipe supposedly included shrimp and eggs.
Onions, garlic, olive oil, parsley and a generous helping of Italian seasonings including basil and oregano.   Preparing the tomato sauce was the most time consuming part of the entire recipe.
Instead of adding the flour to the liquid, I coated the veal loin chops and simply placed them in the crock pot.  Then I poured the onion, garlic and tomato mixture on the chops.
Let's Prepare A Veal Stew Recipe Slow Cooker!
Print
Veal Loin Chops Marengo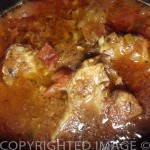 Italian style veal loin chops slow cooked to melt in your mouth tenderness.
Author:
Prep Time:

30 mins

Cook Time:

8 hours

Total Time:

8 hours 30 mins

Yield:

6

Category:

Main

Cuisine:

Homestyle
Ingredients
6 veal loin chops
1 medium sized onion, chopped fine
3 large cloves of fresh garlic, chopped fine
Olive oil
1 tablespoon butter
Holland House® white wine with lemon, 1 1/2 cups
Prepared chicken broth, 1 1/2 cups
1 (15 oz. ) can of chopped tomatoes seasoned with garlic, basil and oregano; do not drain
2 large tablespoons of seasoned tomato paste
3/4 cup flour
Salt and freshly cracked pepper to taste
1 tablespoon chopped parsley
1 1/2 teaspoons italian seasoning
Instructions
Mix the flour with the salt, pepper and Italian herbs. Coat the chops until completely covered and set aside.
Chop the onions and garlic. Fry on medium low heat in olive oil and butter until just golden. Turn off the heat or reduce to low. Add wine, chicken broth and contents of the can of tomatoes. Add tomato paste and stir combine well. Simmer for about 5 minutes.
Place the chops as level as possible in the bottom of a 6.5 quart slow cooker. They will overlap but you can reposition them during the cooking time.
Pour the sauce mixture over the veal chops.
Set the slow cooker to LOW for 6 or 7 hours. Cook until the meat falls off the bone. (If using chops). The sauce should also be thick and coat a spoon.
Serve over rice or fresh pappardelle pasta.
Vite! A Table. I am officially hungry – The whole house is filled with the aroma of Veal Marengo!



(Visited 635 times, 55 visits today)