Posts contain affiliate links so readers can locate resources mentioned in recipes & articles. Merci.
Sausage Stuffed Tomato Recipe: Imagine tomatoes as big as saucers stuffed with a savory sausage mixture just the way Grandma prepared them!
The key to success with this simple sausage stuffed tomatoes recipe is to start by selecting large vine ripened tomatoes.
Tomatoes should smell like you just picked off the vine in your own "potager" or vegetable garden.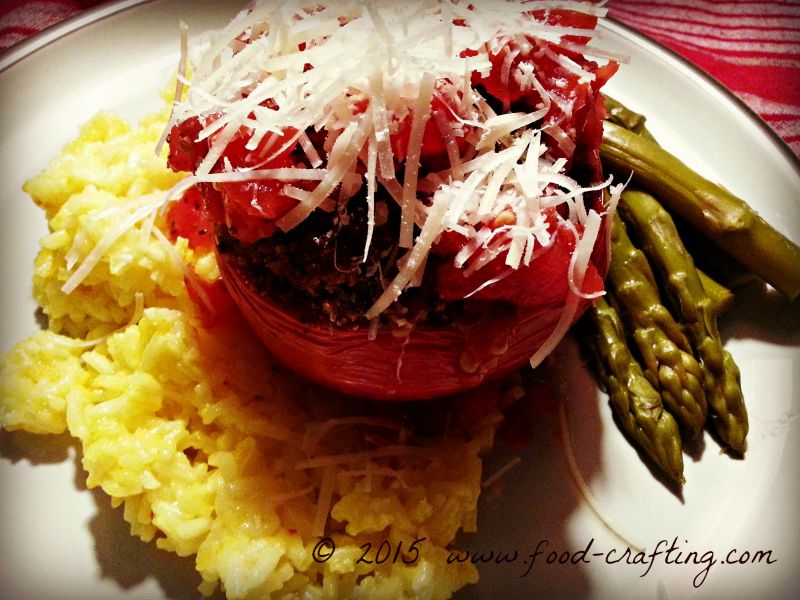 For this recipe, I did not have the option to pick the tomatoes in a vegetable garden.  Size wise, when selecting them in the produce section of your neighborhood supermarket, aim for tomatoes that are 3 to 3 1/2 inches across.
That makes a single healthy meal portion along with side dishes.
Grandma's Sausage Stuffed Tomatoes Recipe
When spooning out the flesh, take care not to break the outer skin.  I aim for an even 1/4 inch of flesh, so the tomato cooks evenly yet maintain its shape.
First, scoop out all the tomatoes you plan to stuff.  Set the pulp aside.  Dice it into small, even pieces.  Save the tomato juice as well.
Cook the sausage meat over low heat until cooked through but not dried.  You can drain it on a paper towel if you like.
My grandmother made her sausage mix from a combination of lean and fatty pork seasoned with shallots, garlic, parsley, coarse salt and freshly cracked pepper.
Every so often, the butcher prepared well seasoned "chair à saucisse" that she used to stuff potatoes as well as prepare her famous stuffed tomatoes. It was just as tasty!
I use sausage meat seasoned with sage but if you like things spicy, you can replace it with the spicy mix.  In this case, I would not add any garlic – unless of course you want that extra kick.


Make it fresh garlic (as much as you want) and fresh parsley.  Add to the sausage meat and stir well to combine evenly.  Add the crumbled bread to the sausage mixture.
Try not to nibble on the sausage stuffing as you prepare it.  I say this because I was hungry while making dinner.  The result? Only enough sausage stuffing for three or my four tomatoes!
If the sausage stuffing still seems greasy to you, spoon onto a paper towel again just long enough to absorb any fat.
Butter a baking dish. Season the tomatoes and fill with the sausage mix. Top with breadcrumbs. Surround the filled tomatoes with the tomato pulp. Season to taste.
Bake in a 350-degree oven for about 45 minutes. Spoon some of the tomato mix over the tomatoes to keep them moist. A cake tester can determine if the tomatoes cooked completely.
The stuffed tomatoes should be soft but maintain their shape and not collapse when serving.


Print
Sausage Stuffed Tomato Recipe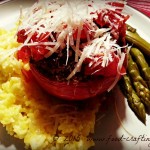 Prep Time:

30 minutes

Cook Time:

55 minutes

Total Time:

1 hour 30 minutes

Yield:

4 servings
Ingredients
4 large vine ripened tomatoes
2 (1 lb.) packs of Bob Evans® sage seasoned sausage
3 large cloves of garlic
3 to 4 tablespoons of fresh chopped parsley
Seasoned bread crumbs (Progresso® brand)
1/2 cup of fresh breadcrumbs (I used 3/4 of a slice of sourdough panini bread)
Salt and freshly cracked pepper (to taste)
Instructions
Preheat the oven to 350 degress.
Scoop out the tomatoes
Keep the pulp and dice it into small pieces
Season the inside of the tomatoes with herbs, salt and pepper.
Set aside.
Cook the sausage over low heat so that the fat is rendered but the sausage meat is not dried out.
Remove from the pan to drain on paper towels.
In a clean pan, add the drained sausage, the garlic, parsley, crumbled bread dough and added seasonings – to taste.
Mix to combine well and keep on low heat while you prepare the baking dish.
Butter a deep pie pan or oval baking dish (large enough to fit your tomatoes without crowding them).
Fill the tomatoes with the sausage stuffing.
Top with seasoned breadcrumbs.
Place in your baking dish and surround with reserved tomato pulp.
Lightly season the tomato pulp.
Bake in a preheated oven basting as needed for 45 minutes to 1 hour depending on the size of the tomatoes.
Top with freshly grated Parmesan.
Nutrition
Serving Size:

1 stuffed tomato


Bon appétit!
Enjoy our Grandma's simple but yummy sausage stuffed tomato recipe.
(Visited 113 times, 7 visits today)