Posts contain affiliate links so readers can locate resources mentioned in recipes & articles. Merci.
Easy Rabbit Stew Recipe – Basically, it's a simple stew recipe that could easily be made with chicken but do try it with game.  The flavors are very distinct.  At home, we call it a Civet de Lapin.
My great-grandmother was quite the home chef.  She could prepare all types of wild game recipes but rabbit was her forte – especially when prepared as pâté.
French Rabbit Stew: Civet De Lapin à la Grandmère
Wondering how to prepare game meats? Explore these slow cooker recipes for wild game
including rabbit!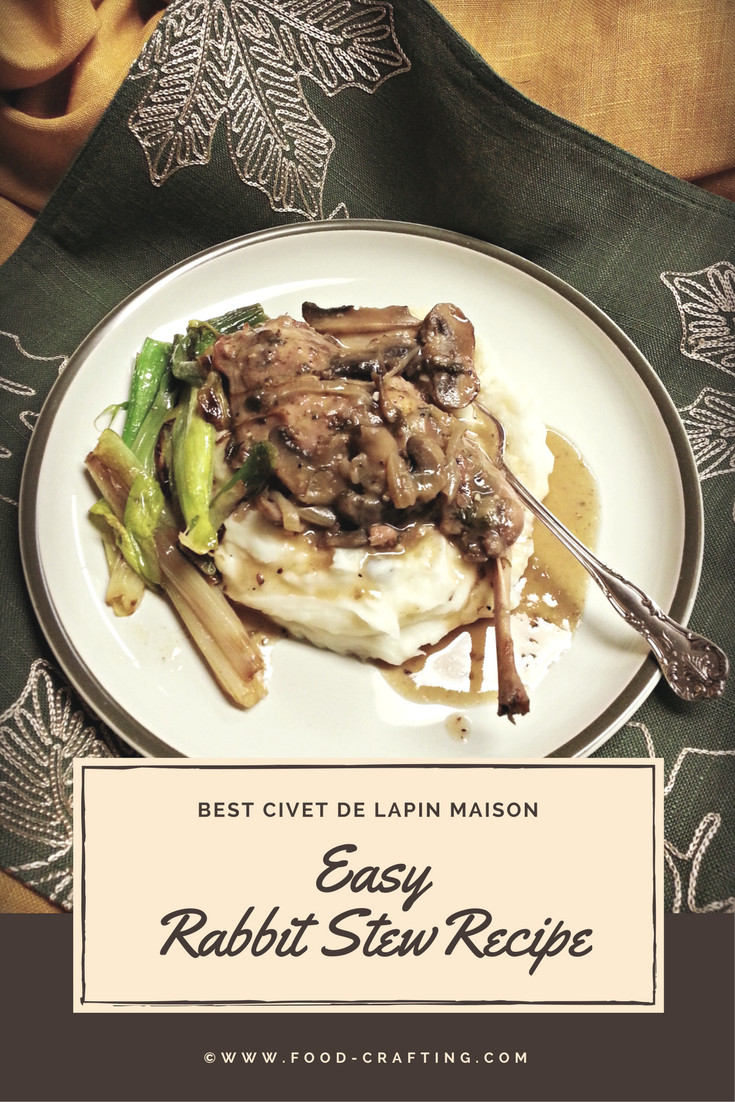 Fresh rabbit meat has become rather expensive and is generally found in high end supermarkets such as Whole Foods®.  Markets such as Wegmans® carry D'Artagnan packaged meat products.
Where else can you find the meat? You can order it online from D'Artagnan Foods®
I drive to Maryland on a regular basis and one of their Giant® food stores has set aside about 18 inches of their meat counter exclusively for D'Artagnan products: pâtés of all types, game meats including prime rib of buffalo, duck magrets, specialty sausages and rabbit!
That's where I found mine.  At Giant®, I paid a little over $22.00 for a whole rabbit that weighed just under 3 pounds.  I look at this purchase as a rare treat.
How To Cut A Whole Rabbit Into Serving Pieces
Click on the link for a gallery of photos showing how to cut a whole rabbit into serving pieces.  It is really easy to do.
If you prefer to skip that step then rabbit meat is available in individual cuts – the saddle, as legs quarters or  the loin meat.
Want it boneless?  You can have that too.
Wild hare is much "gamier" (and expensive) than farm raised rabbit.
That's not to say that farm raised rabbit is inexpensive.  Not anymore.

Just Like Great Grandmother Used To Make It!
The original recipe for a Civet De Lapin ( a traditional rabbit stew recipe) is really very simple.  Yet, I try to streamline and adapt recipes where possible without compromising the flavor.
I recommend using shallots instead of onions.  There is a world of difference in the flavor.
Also…don't be afraid of garlic.  Might scare you to know how much I use but there are recipes, particularly stews, where the addition of garlic (and I mean fresh garlic) will raise the flavor to another level.
You'll be drawing straws as to who gets the leftovers!
Preparing The Easy Rabbit Stew Recipe
Print
Easy Rabbit Stew Recipe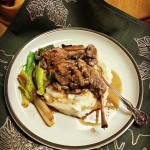 Nothing says comfort food to ME like rabbit stew. It takes me back to my childhood days in the French country side surrounded by several generations of fabulous family cooks.
Ingredients
A 3 pound rabbit cut into 8 serving pieces – pat dry
1/2 pound of bacon ends and pieces
1 1/2 pounds of sliced white mushrooms
2 large shallots, sliced thin
3-4 cloves of fresh garlic, minced
3/4 cup of minced fresh parsley
12 oz bottle of Holland House® red cooking wine
1 1/2 cups of chicken bouillon
1/2 cup of all purpose flour
Instructions
In a large heavy bottom frying pan, brown the bacon ends and pieces on low heat. You want to render the fat until the bottom of the pan is covered with a thin layer of fat. By then, the bacon should be getting crisp but not burned.
Remove the bacon from the pan.
To the pan, add the pieces of rabbit. Do not crowd. You may have to brown the meat in two batches.
Once the pieces are well browned on one side, season to taste with the Montreal Steak seasoning. Turn the meat to brown on the other side. Season. Remove from the pan; set aside while you brown the second batch of meat. Remove from the pan.
To the pan, add the sliced shallots, minced garlic and parsley. Brown lightly and stir gently to mix evenly.
Top with all the mushrooms. Allow the mushrooms to cook for about 5 minutes until they render some liquid. Mix together evenly with the shallot mixture.
Sprinkle the flour over the mushrooms to coat evenly. Mix the mushrooms and shallot well to distribute the flour evenly throughout. Allow the flour to form a light colored roux while scraping the bottom of the pan to release all the brown bits.
Spread the mushrooms evenly across the pan and top with the browned rabbit.
Pour the red wine and chicken broth between the pieces of rabbit and shake the pan gently to distribute throughout the meat.
Add sufficient liquid to almost cover the meat.
Simmer, covered, for about 1 hour. I use a lid with an adjustable vent. At this point, I open the vent about 1/3 of the way and cook for another 1/2 hour. This allows the liquid to evaporate a little and thicken the sauce.
Serve over mashed potatoes.
À table! Bon appétit.
Notes
Note: Watch for the tiny bones. Some as as small as toothpicks.
Serving and display items:
Save
Save
Save
Save
Save
(Visited 627 times, 189 visits today)