Posts contain affiliate links so readers can locate resources mentioned in recipes & articles. Merci.
Cheese Board Knife Sets –  Let's talk cheese. In our home, the menu for all festive meals and special occasion dinners includes an elaborate cheese plate.   Do you need a reason to have a cheese tray as an appetizer at any gathering? We sure don't.
Thanks to our diverse traditional favorites, the cheese board has a nice variety of cheeses to sample from English Hunstman to regular aged Cheddar and good size wedges of Morbier and Camenbert.
We always include a Reblochon, some intense Brie and a Pont L'Eveque.  Welcome to a nice assortment of French cheeses and English favorites!
Let's Set Up For Apéro!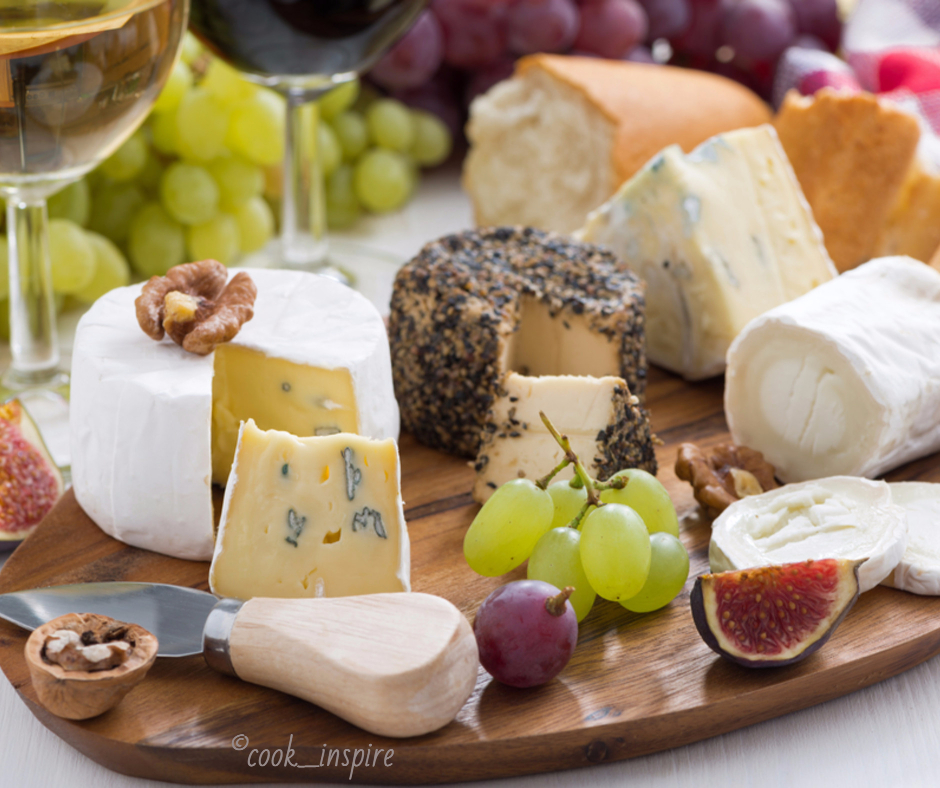 Make it the perfect gift for a foodie by including a beautiful cheese board knife set and the following "decorations" – sliced baguette, a variety of fancy crackers, nuts and dried fruits.
What you have is a spectacular appetizer tray all prepared to welcome the New Year!
Need a gift? You already know they have a fancy state shaped
slate cheese trays
or maybe a beautiful wooden board.  But do they have cheese board knife set?  I feel this is one item where it does not matter if you have more than one set.
Cheese Board Cutting Set with 4 Cheese Knives and Integrated Cheese Slicer
Cheese Tray and Dipping Accessories with Slate Tray for Cheese with Knives and Dishes
&
In a hurry? ===> You are bound to find a the perfect piece of specialty cutlery
in this huge collection! VonChef says as much…it will brie lonely this Christmas without these
!
 BIA Cordon Bleu Assorted Cheese Plates, Set of 4, Gift Boxed, Fromage

Apéro is serious business.
This is when you break out the cheese knife set and walk into the room with a fabulous cheese platter or anything else you care to have in the finger food category.
In our country home, cheese means wine.
Bistro glasses are what we work with.
Why? Because you can do so many things with them besides fill them with a vin rouge!
I've even used them for verrine appetizers
.
In any case, we're supporting the local economy as the glasses are manufactured about an hour from French country home.
&
 Cheese Board Set With Knives & Forks

 Slate Cheese Board Set

 Cheese Serving Tray with Hide-Away Utensil Set

&
Pick From A Huge Selection of Cheese Board Knife Sets!
 Le Fromage by Apilco France 6 Assorted French Scenes & Cheese Names Salad Plates 7 1/2 in

It's going to be difficult to make up your mind.
The selection of cheese board knife sets is staggering.
There is a cheese knife for just about any decor or cutlery style anyone may own.
However,  this is one piece where hostess silverware pieces do not have to match your table settings or other silverware.
&
Laguiole 3-Piece Cheese Knife Set
Jean Dubost Laguiole French 3-Piece Cheese Knife Set – Wood Handles
Let's start our collection of cheese knife sets with a colorful set from FlyingColors – a lookalike Languiole®.
Not every piece of cutlery labeled Languiole is a genuine Languiole®!
Use the following criteria to identify the real thing:
 Stainless Steel Blade
 French Craftsmanship
 100% Authentic with Certificate of Origin
 Dishwasher Safe
 Imported from France
&
Jean Dubost Laguiole 3-Piece Cheese Knife Set (Stainless Steel)
This set of cheese knives happens to me my personal favorite
.
It blends well with the carving set and other piece of stag horn cutlery we brign out during the holidays.
Prefer a modern look?  How about a sleek stainless steel
set?
&
Swissmar® Cheese Knives & Accessories
At Swissmar®,  they have a category of products made specifically for cheese! Let's face it, with fondue and raclette in their culinary repertoire, the Swiss know their cheese 🙂
One of our favorite winter meals is a white wine cheese fondue
seasoned with lots of fresh crushed garlic and kirshwasser.  With a bowl ful of crusty bread cubes,  a side of grilled bratwurst, spicy mustard and a salad, it makes for a fun comfort meal on a Satuday night.
In any case, Swissmar® has the perfect knife – with a modern styling – to cut a whole variety of cheeses.  In fact, they have everything you might need to serve cheese.
Swissmar® – because they love cheese in Switzerland
 Swissmar Stainless Steel 3-Piece Cheese Knife Set

 Swissmar 3 Piece Acacia Knife Set, Natural

 Swissmar Petite Suisse 4 Piece Cheese Knife Set, Black

&
Stainless Cheese Tool Sets
 Cambridge Silversmiths Charm Mirror 6-Piece Cheese Tool Set
Stainless steel cheese tools have a modern styling, sleek design and are easy to clean.
They are available in sets of four, five and even 6 tools. Cheese board is optional.
The perfect gift for gourmet foodies who may already have a beautiful bamboo cheese tray. Some stainless cheese tool sets come with a board .
If you want a truly unique gift for the cheese afficionado, make it a stainless and personalised  cheese knife set!
&
 Oneida 4-Piece Cheese Tool Set, Stainless Steel
 Serve, Cut, Slice, Shave and Spread All Kinds of Hard and Soft Cheese
 Happy Faces Cheese Fork, Knife, Shovel, Slicer ,Cutter, Set of 4
&
Wood Handle Cheese Board Knives
Cheese board knife sets with wooden handle can be as rustic or modern as you want them to be.
Most of them come with rust free stainless steel blades but imagine the variety when you can choose from bamboo, acacia, oak and colorful but synthetic pakka wood? Leave it to the Japanese to have a fabulous cheese knife set with olive wood handles and a bamboo storage box!
Share a photo of your favorite cheese appetizer plate along with one of your unique cheese board knife sets!
 Swissmar Stainless Steel 3-Piece Cheese Knife Set

 Swissmar Mini Cheese Knife Block Set

 Swissmar Petite Suisse 4 Pc Cheese Knife Set

&
(Visited 278 times, 20 visits today)