---
Description
Impress your guest with a Smoked Salmon Feta Cake. An easy way to stretch the best smoked salmon for a crowd, this is a very basic recipe with many flavor options. The salmon and feta combination is perfect!
---
Ingredients
3 eggs (at room temperature)
6 oz. of flour
1 heaping teaspoon of double acting baking powder
4 oz oz. robust olive oil
3.5 oz. of milk (at room temperature)
2 oz. of feta
2 oz. of gruyère, shredded
6 oz. Sushi grade smoked salmon loin (center cut loin), diced ($9.99) or
4 to 6 oz. os smoked sockeye salmon fillets ($9.99)
About 1 tablespoon of fresh dill, minced
Freshly cracked pepper
Butter (soft) to grease the loaf pan
Flour to dust the loaf pan
---
Instructions
Pre-heat your oven to 350 degrees.
Using spray olive oil (or butter), grease and flour the loaf pan. I used an olive oil spray to get into all wrinkles of a foil loaf pan.
In a medium sized bowl, add the flour, baking powder, eggs, olive oil and freshly cracked pepper to taste. Add a pinch of salt.
You can use a hand blender on the lowest speed to combine the eggs with the flour, baking powder, olive oil and pepper into a smooth batter.
Add the room temperature milk to the batter – carefully fold into the batter, then add the salmon, the minced dill, then the Gruyère and the feta last. Fold all the ingredients into the batter until evenly combined. Go gently as the more you mix the batter, the more the feta will break into smaller pieces.
Do not over mix the batter.
Pour into the buttered and floured loaf pan. Spread to the corners.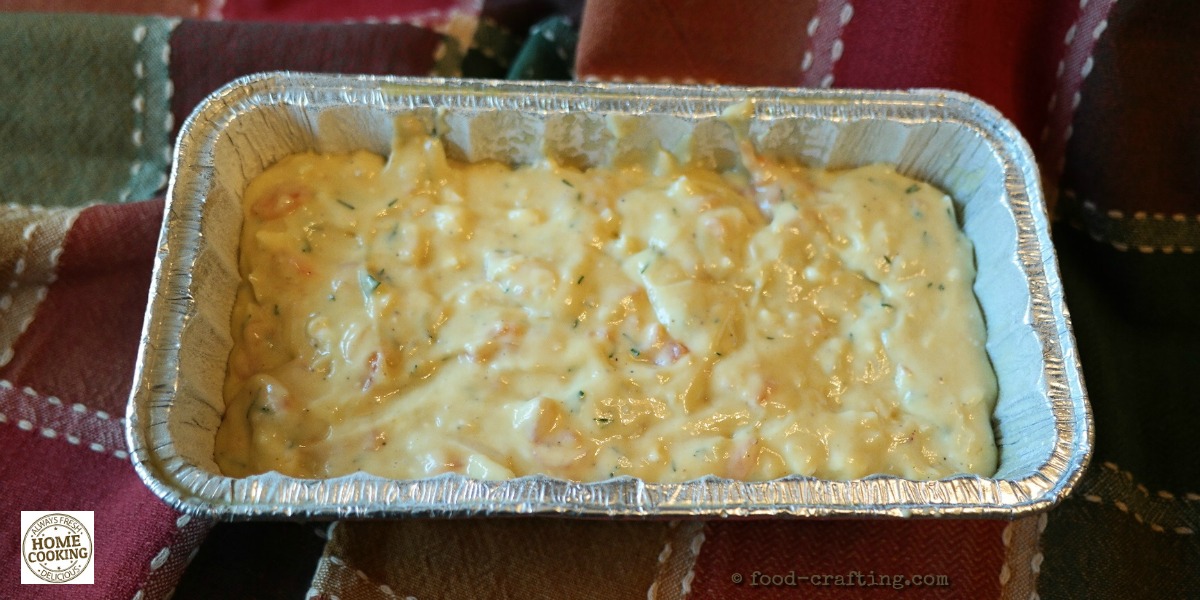 Place in the oven for 40 minutes or until golden and cooked through. I use a cake pick to check.
Allow the cake to cool in the pan, on a rack, until barely warm. Un-mold carefully and place on serving dish or wrap in non-stick foil if not serving immediately.
---
Notes
Buy salmon slices rather than thin nova – "lox". Center cut slices are of even thickness allowing you to quickly create small dice that can easily be folded into the batter. You don't want salmon shreds that will clump together.
For a more intense, saltier flavor and a different consistency to the salmon, use smoked sockeye fillets (620 mg of sodium). Flake the fillets into small pieces about 1/4 to 1/2 in size.
The feta crumbles easily – handle as little as possible. Shred the gruyère using a cheese grater like this one. These box shaped shredders are sturdy and above all – steady! The rubber handle allows for a good grip and the rubber base keeps it from slipping on the counter.