Posts contain affiliate links so readers can locate resources mentioned in recipes & articles. Merci.
White Coq Au Vin – Call it Coq au Riesling because this easy recipe for a chicken stew in white wine is as varied as there are regions and cooks in France.
Even I have prepared this recipe with different cuts of chicken depending on how I cook it – in the slow cooker or in a Dutch oven pan on the stove top.
Slow Cooker or Dutch Oven?
Think you have all the kitchen gadgets? I have two drawers full of handy cooking tools but any one of these
 – instead of a press -is a must!


It is the perfect recipe when feeding a small army especially when you find the family pack of chicken pieces on sale!  For this particular recipe, I was lucky enough to shop when the Manager's Specials were available.  Cost for the chicken? $4.09.
Bone-in, with skin, skinless or boneless – it all results in a lip smacking dish.  It is a go-to recipe when planning family gatherings.  How often do you have the kids, nieces and nephews and even the grands asking for a dish by name?
It's easy comfort food for a crowd and the main attraction on a simple menu.  Add mashed potatoes, a vegetable and a big bowl of salad.  Et voilà!
To round out the menu, prepare sour cream and chives mashed potatoes and a side of steamed asparagus or the vegetable of your choice.  Make sure to have a basket full of baguette slices to dip in the sauce!
Deconstructing The White Coq Au Vin Recipe
Let's talk about the different ways I have prepare this dish.  The recipe below was prepared with boneless and skinless organic chicken thighs.  Why?  Because these small pieces:
Cooked faster and were fork tender when cooked
No need to wrestle with big or small bones
No need for aggravation when trying to hold a knife – none required!
The sauce was all wine and rich broth – little to no fat.
Perfect for an elderly handicapped Mom on a strictly restricted diet.
When it comes to cooking for the troops, I use every part of the bird.  Let me rephrase that – several birds.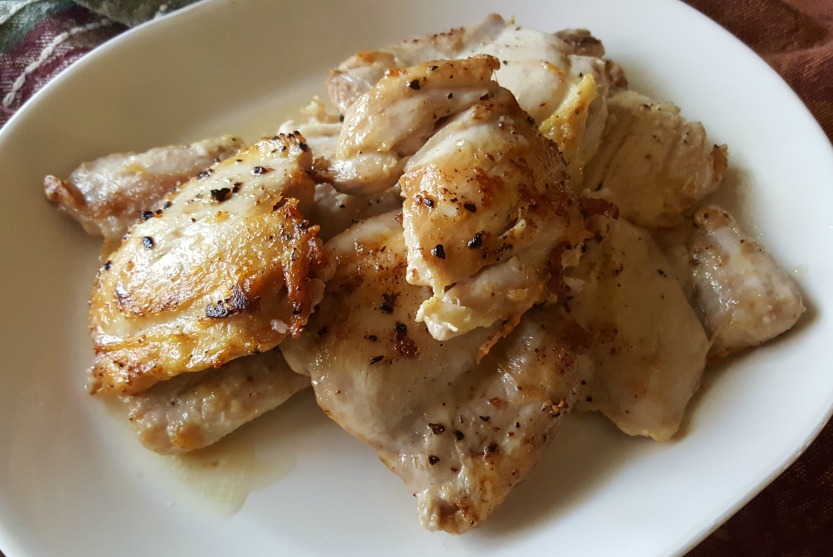 Skin on because it crisps up to perfection in the pancetta, shallots and garlic.
The chicken is cooked to fall-off-the-bone tenderness anyway…
There is no such thing as a single serving.  I have run out of chicken, mashed potatoes and did I mention chicken?
When the mashed potatoes are gone, ladle the sauce on a few slices of baguette.
Yes, the men are all over 6 feet tall and the grands are nearly there at 13.
When there are 15 around the table well…that's a lot of chicken.
Don't hesitate to prepare it with turkey thighs!  Perfect for the slow cooker. 🙂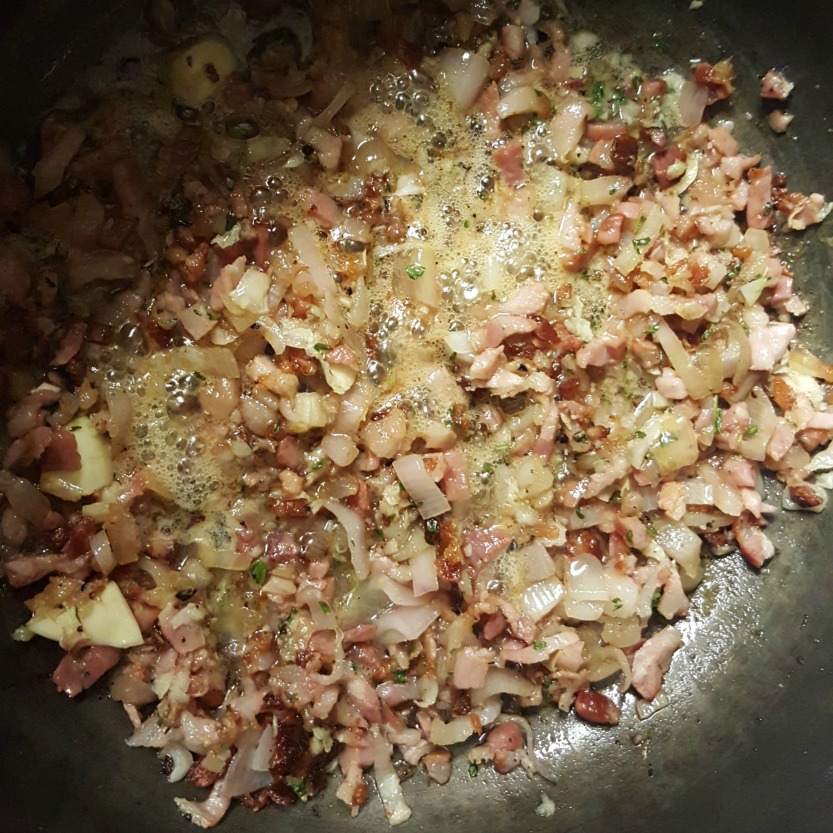 One of my favorite kitchen gadget is a contour grater. I use it when I want onions, shallots or, in this case, garlic to cook down into "mush" for flavoring. The only thing about it is that you have to watch your fingers very carefully!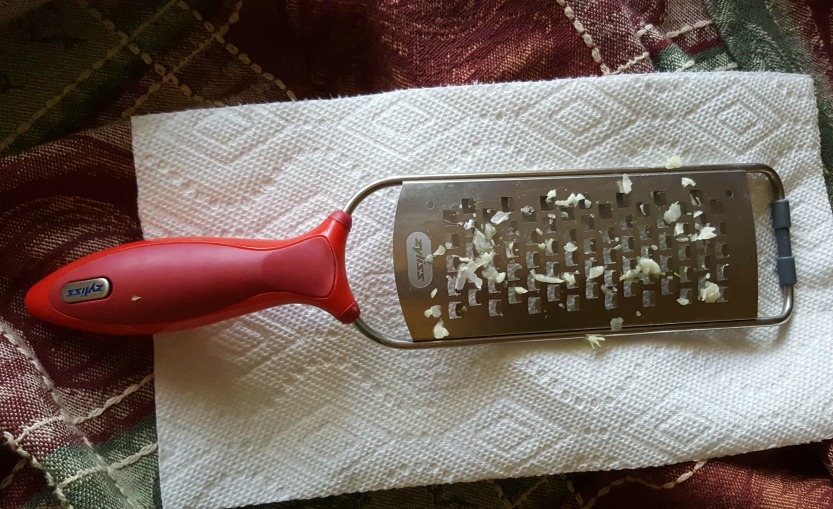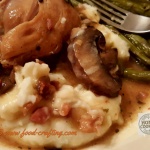 White Coq Au Vin (Coq au Riesling)
This recipe tops the list of most requested dishes for family gatherings.  Very adaptable to different cuts of poultry.  Use all white wine or half wine and half rich chicken broth.
Total Time
1
hour
15
minutes
2.25

lbs.

chicken thighs

Nature's Place® "All Natural" organic, boneless, skinless

8

oz. (2 packs)

mushrooms. sliced

baby bella

4

oz. (2 packs)

lardonsor Pancetta, diced

Fiorucci (or dice 6 slices of thick, lean bacon)

1.5

c.

Holland House® white cooking wine

or an equivalent amount of Pinot Grigio or Sauvignon Blanc

3-4

cloves

fresh garlic

shredded

1

shallot, large

sliced thin

1/2

c.

parsley

plain, chopped

2-3

tbs.

olive oil

robust or garlic infused

2-3

tbs.

butter

salted (to sauté)

1

c.

heavy cream

optional -for me 🙂

2

tbs.

cornstarch or flour

diluted in chicken broth or blended with soft butter to thicken sauce

1.5

c.

Swanson's chicken broth

regular or low sodium
Pat chicken pieces dry with a paper towel.  Brown a few pieces at a time in olive oil/butter over medium high heat.  Turn the pieces over as many times as need to brown and crisp the skin evenly on both sides.  Remove from the pan and set aside.

Lower the temperature under the pan.  Sauté the shallots and mushrooms over low heat until the mushrooms have rendered all their liquid.

When the liquid is almost evaporated, add the shredded garlic.  Mix well and cook a couple more minutes.  Don't burn the garlic.  In this recipe, I did not sauté the mushrooms because I wanted to use the rendered liquid as part of the cooking liquid.

Remove the vegetables and deglaze the pan with the white wine and chicken broth.  

Once the pan is completely deglazed, place the chicken pieces evenly across the bottom. of the pan.  

Cover with the sautéed veetables and stir gently to combine well across all chicken pieces.

Simmer over low heat for about 25 to 35 minutes.  Depending on the amount of chicken used, I have cooked it as long as 45 minutes.

To thicken the sauce, mix the flour in the softened butter.  Drop by spoonful around the pan and stir to combine.  

Continue to cook a few more minutes until the sauce is thickened.

Ladle the chicken and sauce over mashed potatoes.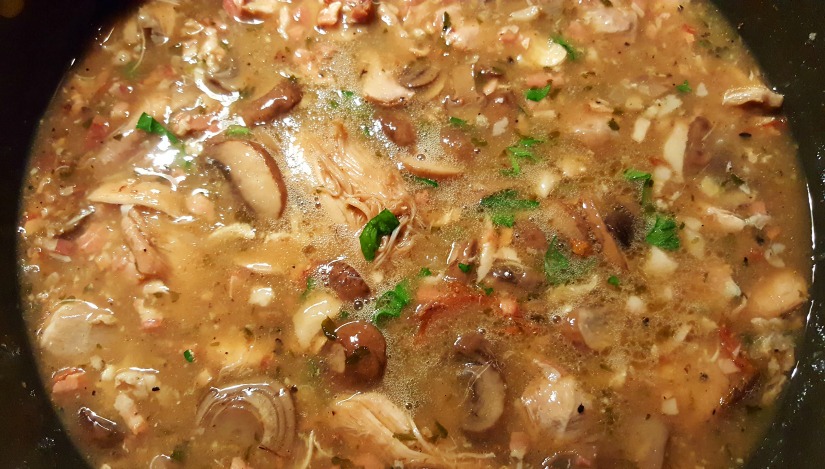 (Visited 138 times, 28 visits today)