---
Description
Poule au Pot (aka Chicken In A Pot) is the quintessential French country meal.  It IS Sunday dinner!
---
Scale
Ingredients
4.75 lbs young chicken (a small roaster is preferable but I have yet to find any weighing less than 7 pounds.  This one fit perfectly in the Instant Pot®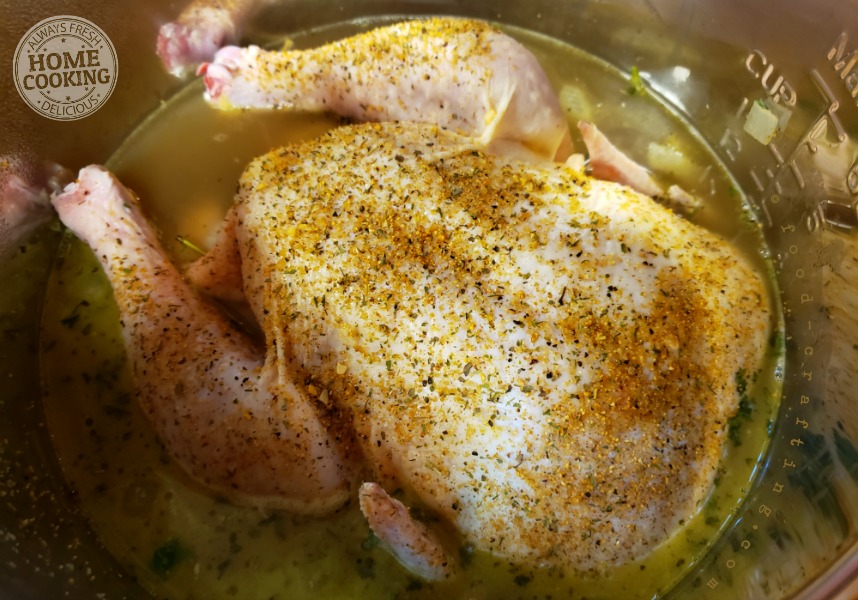 "Good, Really Good"® chicken bone broth 31 oz. jar.
Swanson® Organic bone broth free-range chicken – 32 oz. carton
One tablespoon of olive oil
Two tablespoons of butter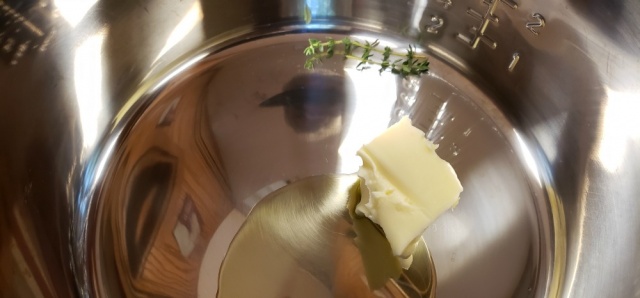 2 cups of diced carrots (from a bag of peeled baby carrots)
2 cups of yellow onion, diced
1 1/2 cups of celery, diced PLUS chopped celery leaves (equivalent to a small celery heart)
Pack of fresh poultry herbs (sage, rosemary, thyme)
1 bay leaf (which I forgot to include)
1 large Yukon gold potato, diced
2 small zucchini squash, sliced into 1 inch chunks (optional)
1 cup of French green beans, sliced into 1 inch pieces (optional)
salt and freshly cracked pepper
Low sodium McCormick® Montreal Chicken seasonings
---
Instructions
Peel the onion and dice evenly.
Dice the baby carrots carefully!  I used nearly a whole 16 oz bag.
Clean and chop an entire small heart of celery including the leaves.
Add 1 good drizzle of olive oil to the pot along with two tablespoons of butter.
Set the Instant Pot® to "Sauté" and when the butter is melted, add the veggies and sauté for about 3 to 4 minutes.  Do not allow to brown. Cancel the cycle while you prepare the meat.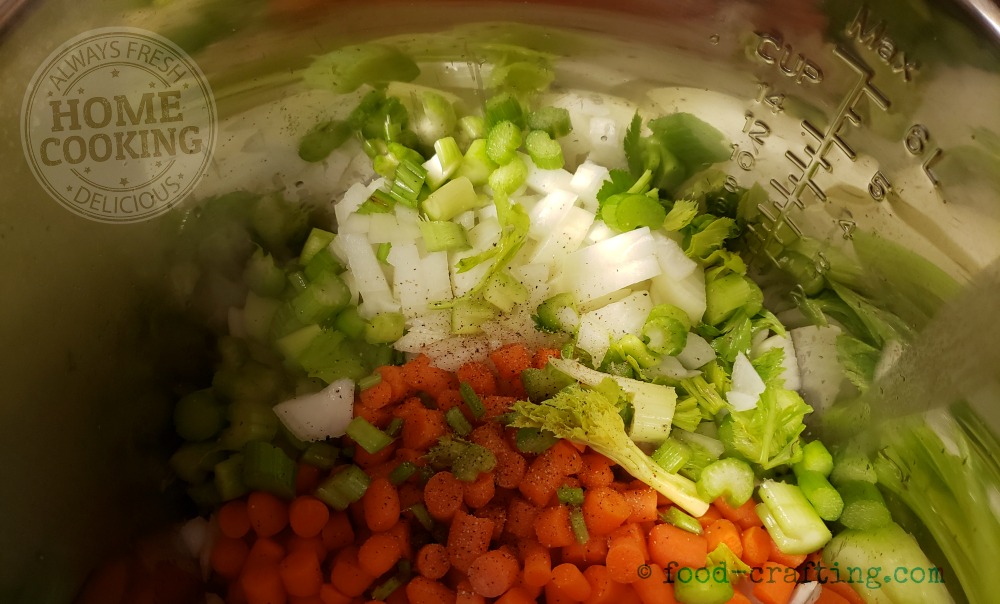 Stir the veggies to distribute evenly across the bottom of the pot.
Season the cavity of the chicken with some salt and pepper then stuff with the poultry blend herbs.  
Season the outside of the chicken with Montreal seasonings.
Place the chicken on the bed of vegetables.
Carefully pour the chicken bone broth around the chicken to reach the 10 cup level.
Set the Instant Pot® to "Soup" function and cook for the preset time.  No need to adjust the setting as it worked perfectly for this size chicken.  
The image below shows the result.  The chicken is still in one piece and the vegetables are still in whole pieces.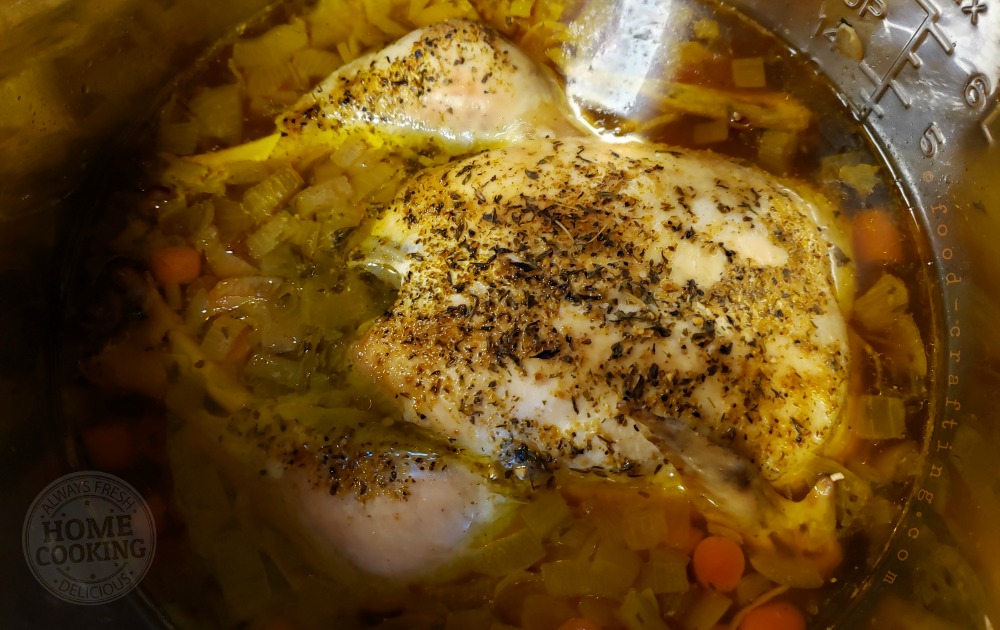 Carefully remove the chicken from the pot.  I say carefully because it did come apart as I lifted it out of the pot.  This gadget is perfect for this purpose but, along with the bay leaf, I forgot to use it!
Set aside to cool, debone and cut into bits for the soup.
Depending on your preference, you can have the soup:
Without the chicken pieces
With the chicken pieces or
---
Keywords: French Country Cuisine Recipes, Soup, Instant Pot