---
Description
The centerpiece of your Christmas dinner dessert table.  A no-bake, easy yule log to make when you need a show stopper dessert in a hurry.  Think of it as a giant chocolate truffle you can slice into individual servings.
---
---
Instructions
This type of yule log looks best in a smooth mold. This recipe makes the perfect amount to fill the stainless steel leak-proof mold pictured below.  In a pinch, fill a very clean loaf pan instead of a log mold.  
Run the mold under running water to wet the entire surface.  The remaining water droplets act like glue and help stick the parchment paper in place.
Line the wet mold with parchment paper.  Smooth as much as possible to remove any wrinkles in the paper.
Cut the butter into pieces so it melts faster.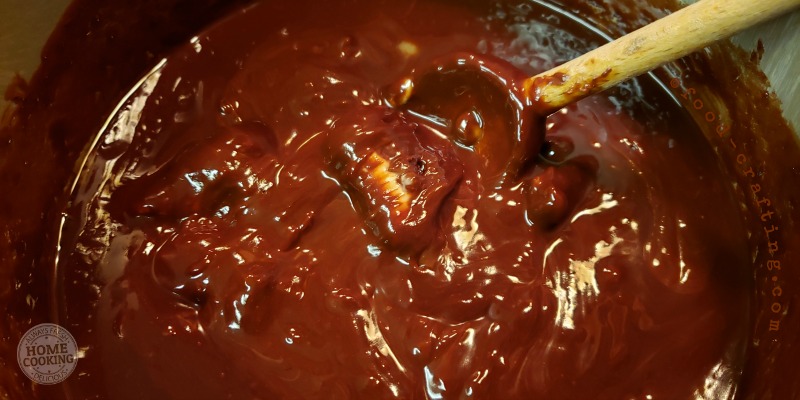 Melt the chocolate and butter, stirring with a spatula until it the mixture becomes smooth.  Set aside and allow to cool.
Beat the eggs and powered sugar until smooth and pale yellow. 
Mix the chocolate mixture with the egg/sugar blend.
Add a small amount of liquid coffee to the chocolate/egg mixture and mix well.
Fold the crumbled cookies into the chocolate mixture.
Sprinkle the candied orange bits evenly over the chocolate mix and fold in carefully.
Pour into the lined mold. Smooth with a clean spatula to spread the mixture evenly in the mold.  Tap lightly to remove any air pockets.
Fold the parchment paper over to cover the chocolate.  Seal the top with plastic film then carefully wrap the entire mold in foil.
Refrigerate for at least 4 hours.
To remove the log from the mold, carefully flip the mold onto a rectangular tray or platter.  Place your hands over the mold to warm it up just a little or let it sit at room temperature for about 10 minutes.
Pull off the end caps, then the mold and carefully remove the parchment paper.
Sprinkle with cocoa, decorate with marzipan pieces then sprinkle with powdered sugar (snow).
---
Notes
It pays to gently tap the mold to remove air bubbles.  As you can see from the image below, lots of bubbles came to the surface (or in this case the bottom of the log).  Better there than on the top!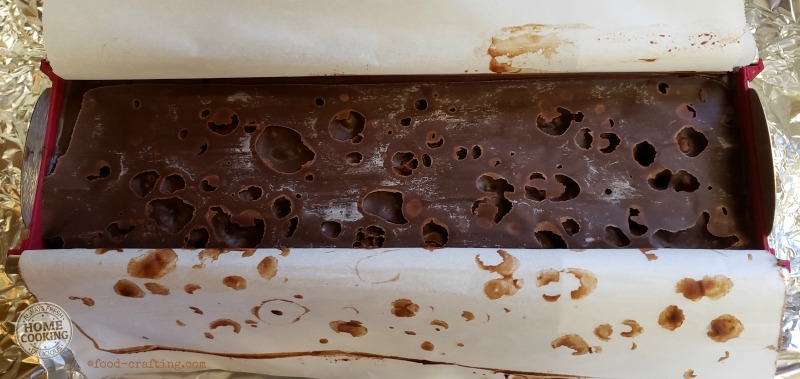 Remove the yule log from the fridge about 20 minutes before serving.  It is difficult to cut through the chocolate and cookies when still cold.  Decorate just before serving.
This is a very rich dessert.  Cut into 1/2 thick slices with a serrated knife.
Decorations:
This bûche traveled to grandma's house so any decoration was last minute – just before serving.
A dusting of powdered sugar, then a few added touches of milk chocolate salted ganache truffles, Ferrero Rocher® (always festive although Raffaello® would look great too!) and a light touch of the Wilton Holiday Mix® Sprinkles.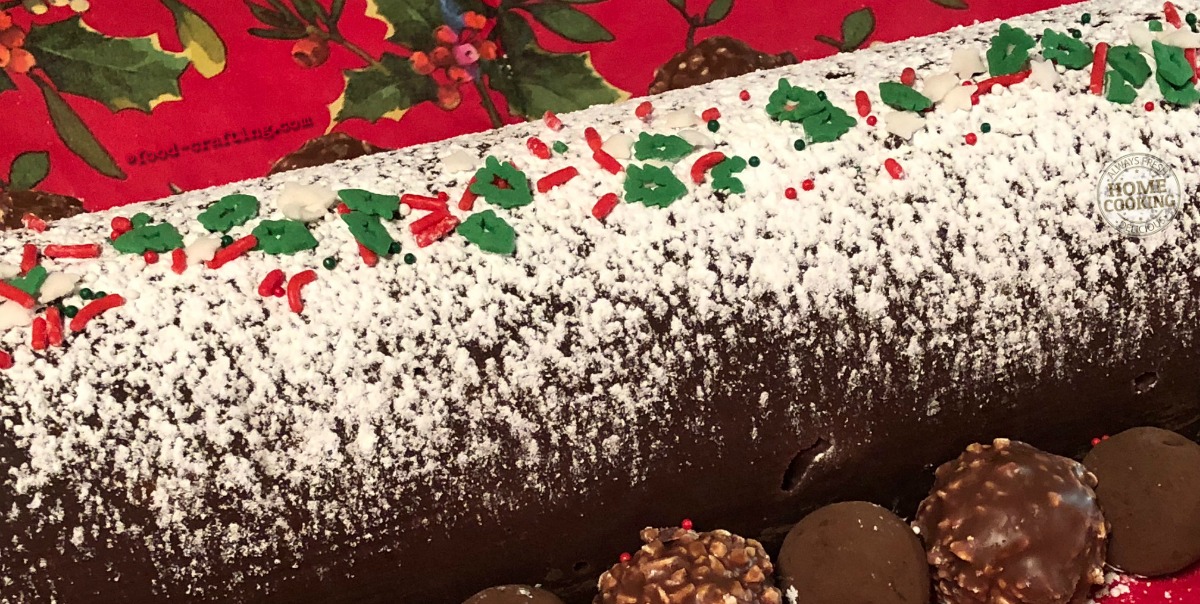 Variations:
Instead of the Biscoff® cookies use > crunchy bits of Gavottes, crumbled chocolate mint Oreo® cookies or crumbled hazelnut filled Pirouettes
Keywords: yule log, bûche de Noël, chocolate, cookies