---
Description
Experimenting with an apple cider vinegar marinade for a beef roast.  This version leans towards "Italian" flavors but you could easily vary a few ingredients for an Asian version.  Soy sauce, grated ginger, a few drops of sesame oil…
---
Scale
Ingredients
You will need a mini-prep food processor to prepare some of the marinade ingredients such as the fresh herbs and garlic.
2.5 lbs Beef Eye of Round roast (make sure to note the exact weight so as to calculate total cooking time)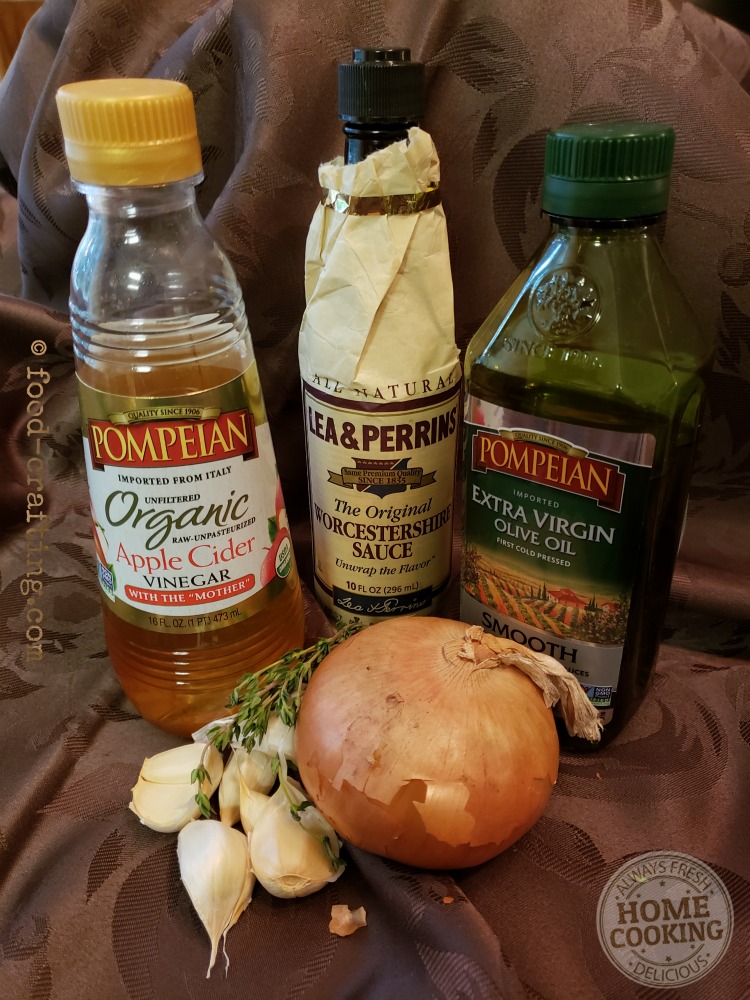 Marinade:
In a large glass bowl, mix the following ingredients.
1/2 cup

Pompeian® olive oil

1/4 cup

Pompeian® apple cider vinegar
1/4 cup of Lea & Perrins® dark Worcestershire sauce
or to taste

1 tablespoon

Reese® anchovy paste

1/2

large yellow onion, chopped

8

large cloves of garlic, chopped fine in a food
processor along with the parsley and other herbs.

1/4

fresh parsley, chopped

3

large fresh sage leaves
Fresh rosemary, leaves from 3 sprigs
1 tablespoon of fresh thyme, leaves stripped from 3
large sprigs.
Sea salt flakes, about 1 tablespoon
Freshly cracked pepper to taste
Place the roast in the bowl and roll it in the marinade to cover all sides. Cover the meat with as much of the marinade herb/onion mixture as possible.
Seal the bowl with plastic wrap.  Refrigerate and marinate for at least 4 hours  turning the roast over to marinate all sides evenly.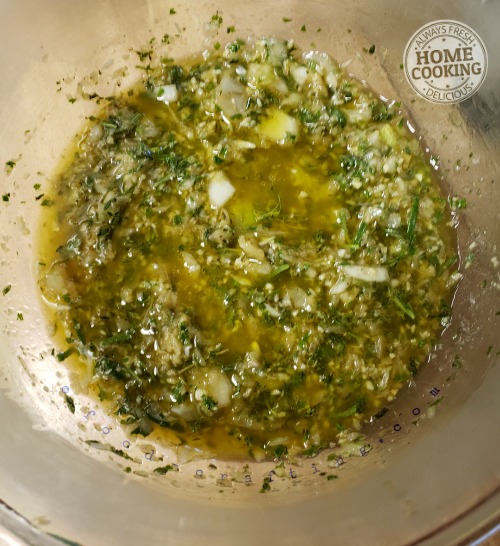 ---
Instructions
Pre-heat the oven to 500 degrees.
The oven must be at 500* before putting the roast in the oven.
Place the roast in a metal pan. Do not cover with foil.
Roast at 500* for 15 minutes.
Lower the oven temperature to 375* and continue to cook an additional 5 to 6 minutes PER POUND or an additional 12 to 15 minutes.
Allow the roast to rest for about 10 minutes before slicing.
---
Notes
Verdict? The eye of round was very tasty but a tenderloin would be much more tender. The tenderizing properties of apple cider vinegar did have much effect on eye of round.
Next marinade will have only 1/4 cup of oil, in other words, I would opt to reduce the amount of oil in the marinade rather than the vinegar.
I might also reduce the amount of Worcestershire sauce and use more anchovy paste.
Be careful when adjusting seasonings. The Worcestershire sauce is salty and so is the anchovy paste.
If you want to adjust flavors, consider adding onion processed to a pulp.
Personally, I would prefer this marinade on thick rib eye steaks which could be seared to medium rare perfection almost instantly.
Keywords: beef, apple cider vinegar marinade