Add to your cookbook collection with some of the very best French cookbooks
.
Have crock-pot will cook and have plenty of time for everything else we do especially when you can have local products delivered right to your door


No time to shop for groceries? No worries!
This is grocery shopping made simple. Here's a fresh market delivery service complete with the cut of boneless chuck roast we need for this recipe!
Yesterday was the first chilly day we've had this fall, complete with true to the season weather. In other words, it is time to bring the slow cooker out of "storage" and set it on the kitchen counter. It's beginning to feel like crock pot weather.
Mashed Potatoes Or Rice?
Traditional Beef Bourguignon is one of those recipes that delivers a huge flavor punch with a minimum of ingredients.  Serve the beef ladled on mashed potatoes, rice or straight up with a healthy serving of the freshest baguette you can find.  The idea here is to dunk pieces of country style bread in the rich gravy.  Bread hot out of the oven always tastes the best.
Traditional Beef Bourguignon Recipe, Comfort Food & Slow Cookers
With a few tweaks, the wine braised beef Bouguignon is easily be prepared in any slow cooker.
To add flavor, I always sauté or brown the meat before adding it to the slow cooker.  Sautéeing adds another layer of flavor.  Deglazing the pan with broth, wine or even water adds another layer.
Vary The Recipe Ingredients
 The Butcher's Guide: Buy the Best Meat and Save Money
You can also vary the ingredients to a certain extent.
Don't add just any ingredient but subsitute a similar ingredient if you cannot find exactly what you need.
In this recipe I used yellow onions but you could use pearl onions.
I happened to find very fresh shiitake mushrooms but Julia Child used wild mushrooms in her famous recipe.
Ventrèche Versus Bacon
Ventrèche is difficult to find unless you look in a high end food market.  Bits of pancetta work well but lean bacon would work as well.
 Beef Bourguignon with Mashed Potatoes and Herbed Green Beans by Chef'd (Dinner for 4)
I use a lot of fresh garlic in my cooking and this is one recipe where garlic adds intense flavor.
You might want to try jumbo organic garlic. It packs a punch!
Using Different Cuts Of Beef
When it comes to the cut of beef, try to find one that has a good ratio of fat to meat – I don't mean a fatty piece of meat but well marbled.
If you can find Prime cuts of chuck, try it for this recipe but Choice meats cook up just as flavorful.


——————-
This traditional Beef Bourguignon recipe may be the easiest of all – whether you prepare it stove top in my favorite French oven
  or in a slow cooker.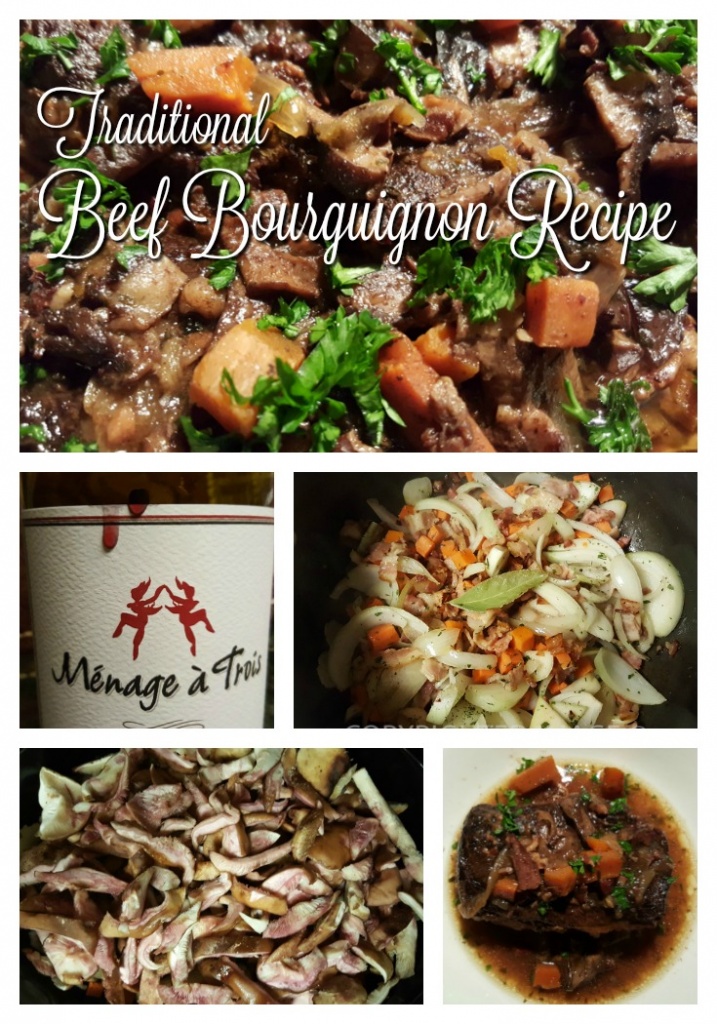 Beef Bourguinon is a  glorified stew braised in red wine and a bare minimum of rich beef broth.  Some adventurous cooks add 1/2 cup of cognac.  When I came across a couple of chuck roasts during a supermarket run, Beef Bourguignon was the first recipe that came to mind.
Cognac In The Stew
Let's put it this way…I rarely use cognac in my cooking so I was not going to buy a bottle just to prepare stew. I did, however, buy a 750 ml bottle of Cabernet Sauvignon for this purpose.  Holland House is the wine I use for most of my recipes that call for wine.


You can now buy this rich beef stew in a complete meal with all the pre-portioned ingredients – ready for you to make at home.
Maman gave this recipe a 5 star rating by asking that I not misplace the recipe! The ultimate compliment? "I need a slice of baguette. This sauce tastes just like Grandma's!" Why is she surprised? Her Grandma and her own Maman taught me how to prepare a selection of my favorite French country cuisine recipes.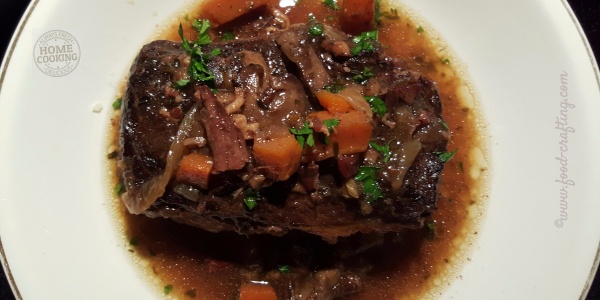 | | |
| --- | --- |
| | |
Slice the onions into thick slices. Slice the mushrooms into thick slices. Wash and peel the carrots then dice. Crush the cloves of garlic. Set the vegetables aside. Add the pancetta, ventrèche or even bits of lean salt pork to a Dutch oven over medium heat. Sauté until lightly browned then add the veggies. Sitr until well combined. Sauté over medium heat until the vegetables are softened but not burned. With a slotted spoon, remove the bacon/veggetable mixture from the pan. There should not be much rendered fat but if there is more than you want left in the pan, blot it out with a paper towel before proceeding.

Season the meat with salt and pepper then add a couple pieces to the pan. Brown well on both sides. Repeat with all pieces of meat. I cut each large chuck roast into thirds. Add a couple carrots to the bottom of a slow cooker to "support" the pieces of meat. Transfer the meat to the slow cooker, placing the pieces as evenly as possible across the bottom of the cooker.

Top the meat with the sautéed vegetables then with the sliced mushrooms - spread them evenly over the meat. Use the beef broth to deglaze the pan where you browned the meat, then pour over the vegetables. Pour the wine evenly over the vegetables.

Place the lid on the slow cooker and set to HIGH for 4 hours. It can easily be left to cook for another hour (I actually let it go through the entire "keep warm" cycle) but check the level of liquid from time to time. Add a little beef broth if needed.

Serve over rice, mashed potatoes or egg noodles.
I hope you enjoy preparing my traditional beef bourguignon recipe – just another recipe in our family's collection of French Country Cuisine recipes!