Posts contain affiliate links so readers can locate resources mentioned in recipes & articles. Merci.
Scalloped Potatoes With Bacon & Onions – What do you make when you want to test out the slicing ability of a new mandoline slicer?  
Scalloped potatoes seem like the perfect, quick and easy recipe to experiment with a new gadget.
You can buy bacon bits and even buy sautéed onions.  You can buy a cheesy bacon potato casserole ready-made – all you have to do is heat it up.  You can also prepare scalloped potatoes from scratch for a comfort food special.
Passed My Slicing Test With Flying Colors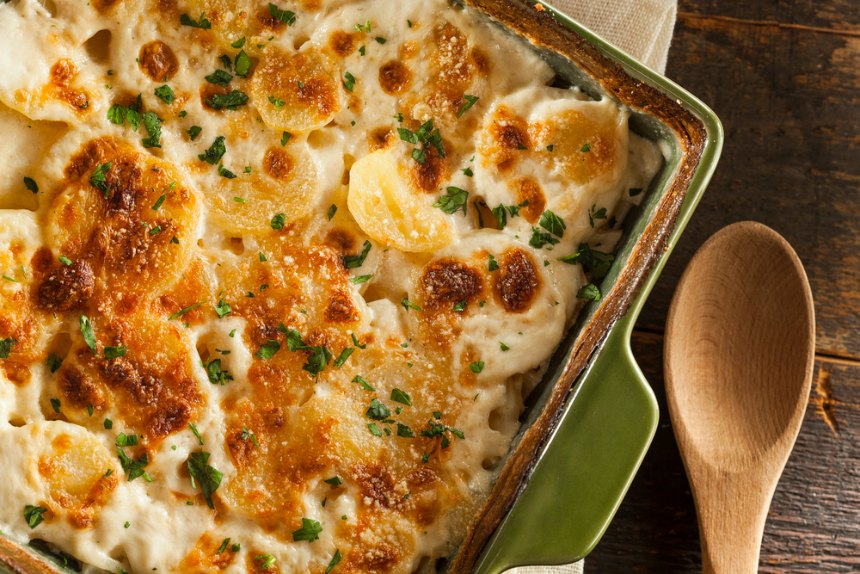 The quickest part of putting together the recipe was the slicing of onions and potatoes.
By using a slightly deeper casserole pan than called for, I extended the cooking period by about 35 minutes but the end result was well worth the wait.
Served with pan fried rib pork chops, the potatoes were creamy, with wonderful pockets full of sautéed onions and bits of crisp bacon.
I must admit that I like my kitchen mandoline slicer.  It did exactly what I thought it would do – slice my onions and potatoes down to the last sliver in beautifully even slices.  No waste!


My Scalloped Potatoes With Bacon & Onions!
Truffle salt?  You would be amazed at the incredible hint of "je ne sais quoi" flavor even a pinch of Truffle flavored salt adds it to your food.
Sprinkle just a pinch on your potatoes.  I also keep a small bottle of truffle flavored oil handy for seasoning purposes.
Casina Rossa Truffle and Salt 3.5 oz

Black Truffle Himalayan Pink Salt 14%

Sabatino Truffle Sea Salt, 3.4oz.

FungusAmongUs Truffle Salt, 3.5-Ounce Jar

Instead of the salt, add a few drops of the oil to the cream in your potatoes.   Make your dinner guests wonder how you made the dish taste so rich.
The idea here is to use these special seasonings with a light touch especially when it comes to the truffle oil or truffle salt.  
Too much quickly becomes too much!

(Visited 250 times, 28 visits today)
What better recipe than scalloped potatoes with bacon and onions to test the speed and slicing ability of a new mandoline slicer? Let's make it over the top in the flavor department by adding bits of bacon to the sautéed onions and then layering the potatoes and onion mixture!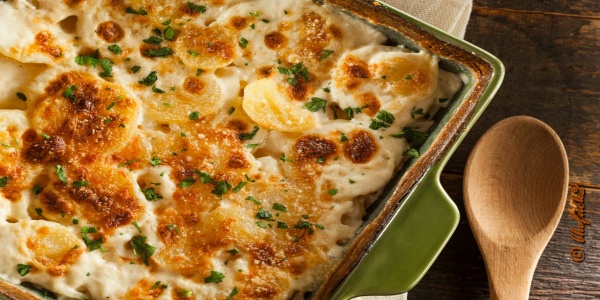 | | |
| --- | --- |
| | |
Using setting #2 (equivalent to 1/8th inch thickness) on the mandoline, slice the onions and the potatoes. Set aside.

Evenly spray the bottom and sides of a 9 by 13 inch pan with PAM© spray oilve oil. If you prefer, coat the bottom and sides with butter. Pre-heat the oven or toaster oven to 375 degrees.

Put some olive oil in a large frying pan. Add the diced bacon and sauté for a few minutes then add the sliced onions. and season with the Italian herbs. Sauté the mixture for a few minutes until the onions are soft.

Place a layer of sliced potatoes along the bottom of the pan making sure to cover the bottom completely. Overlap the pototoes if needed. Season to taste.

Top the potatoes with part of the onion and bacon mixture.

Continue with another layer of potatoes and another later of onions and bacon.

Top with remaining potatoes. Season lightly to taste.

Slowly pour the cream over the potatoes and then top with the slices of cheese. Season the top with a a pinch of salt and more freshly cracked pepper.

I used a 9 x 13 x 2.5 inch foil pan but it was too deep. It took my scalloped potatoes close to two hours to be soft enough to poke with a sharp knife. I highly recommend a shallower 9 x 13 casserole pan.

Cover the pan tightly with heavy duty foil and place in the pre-heated oven.

Cook at 375 degrees for close to 1.5 hours or until a knife can easily pierce through the potatoes .

The potatoes should have absorbed all the liquid but allow the pan to rest for a few minutes after removing from the oven.