---
Description
An oven baked garlic chicken wings recipe that is quick and easy to prepare.  Bet all the ingredients are in your pantry!
---
Scale
Ingredients
4.5 lbs of whole chicken wings
1 pack of "Steam In The Bag®" yellow potatoes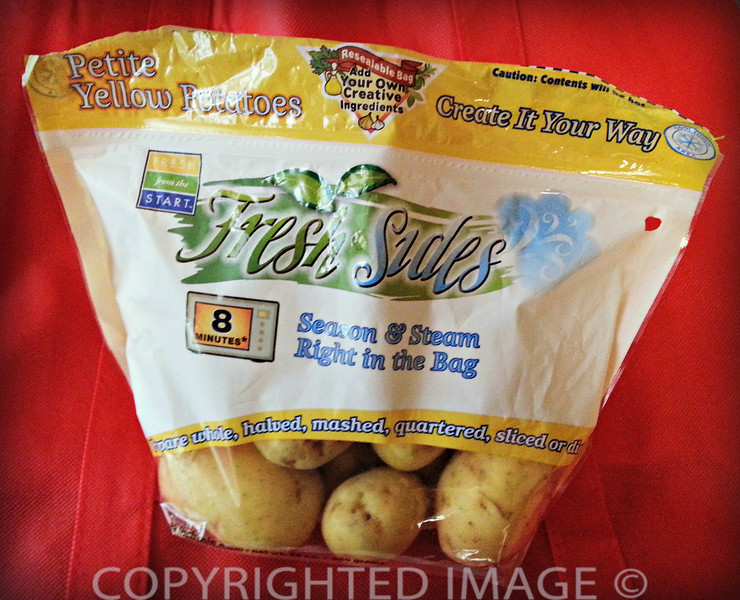 2 bunches of scallions, washed and sliced thin
1 tablespoon fresh parsley, chopped fine
1 tablespoon robust olive oil
Cardini's® Ceasar salad dressing
Weber® Roasted Garlic & Herb seasonings or
McCormick's Grill Mates® Montreal Chicken® or and Weber® Kick'n Chicken® spices.
---
Instructions
Preheat the oven to 375 Degrees.  While the oven is preheating, cut the tips of each wing with one chop of your trusty meat cleaver*.  You can also use use poultry shears to remove the wing tip. Speed is of the essence during this step so watch the fingers.  All we want for dinner are wings.
Place the chicken wings in the zip lock marinating bag and season first with McCormick's Grill Mates® Montreal Chicken.  Shake and toss the wings to coat them evenly with the spices.  You can also sprinkle the chicken wings with McCormick buffalo wing seasonings.  I wanted them plain this time.
Next, sprinkle the wings with the Weber® Kick'n Chicken® spices.  Toss the wings to coat evenly.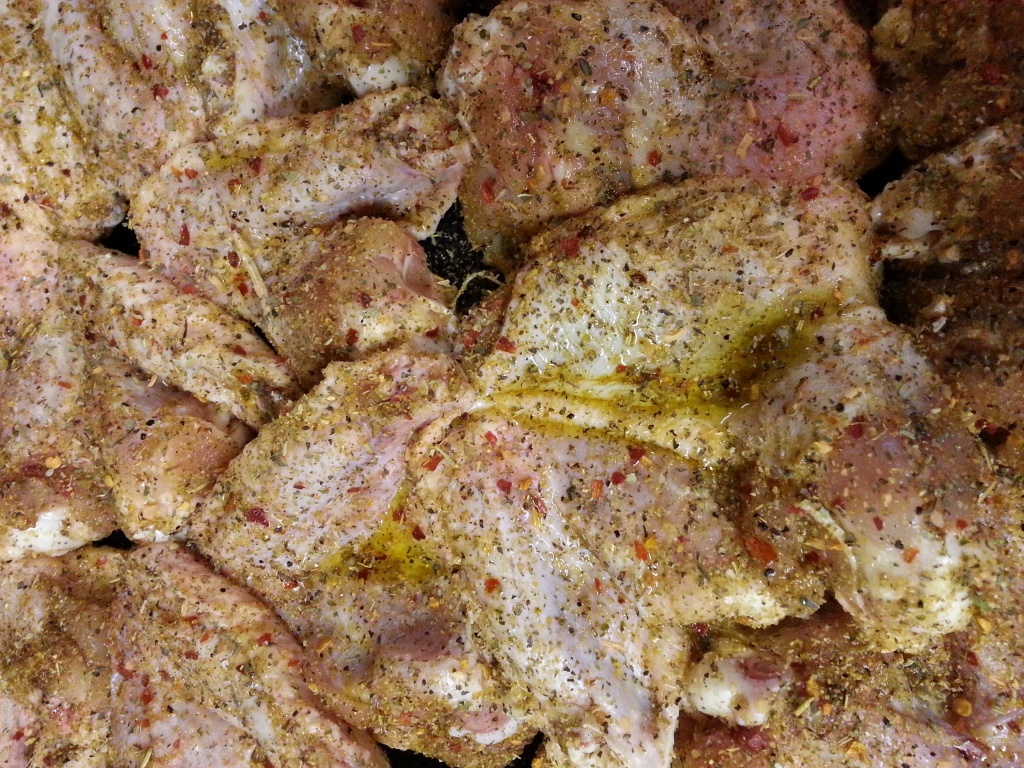 Drizzle a little olive oil in a shallow roasting pan.  Empty the bag of wings into the roasting pan and distribute evenly so that they are all in a single layer.
This entire process was done before the oven had reached the required temperature.
Use this spare time to make the potato salad dressing!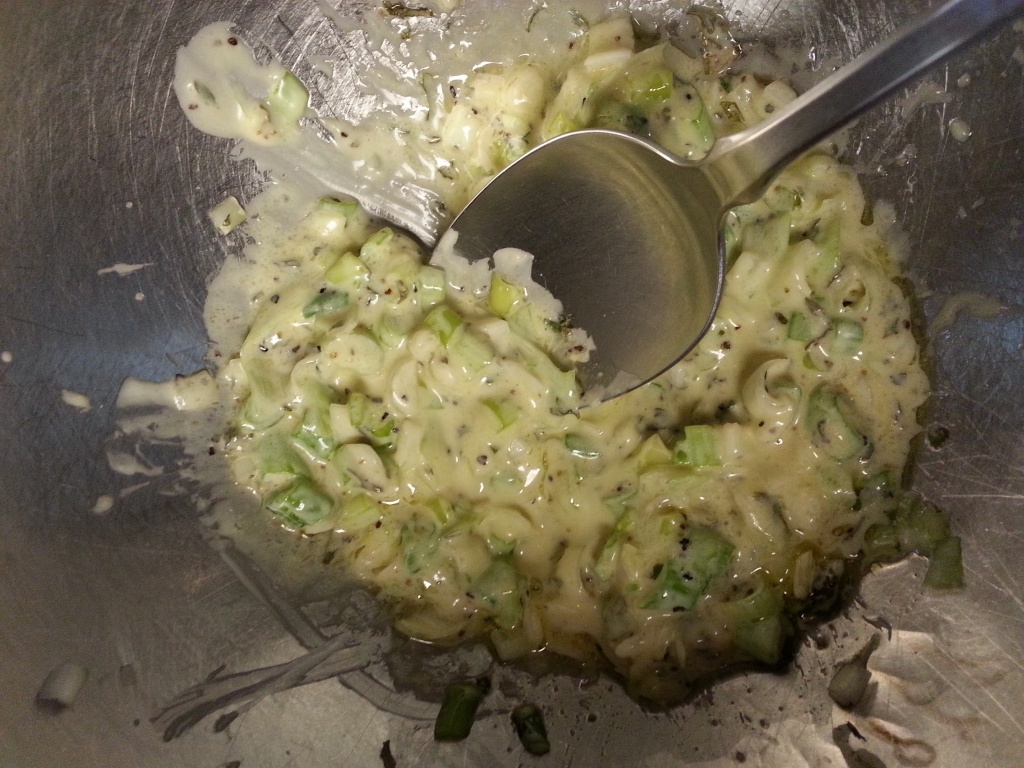 Chop your scallions into fine pieces.  Sprinkle with about 2 teaspoons of chopped parsley.  Drizzle about 1 tablespoon of olive oil over the scallions and parsley.  Add 2 tablespoons of Caesar salad dressing.  Stir to blend well.   Set aside.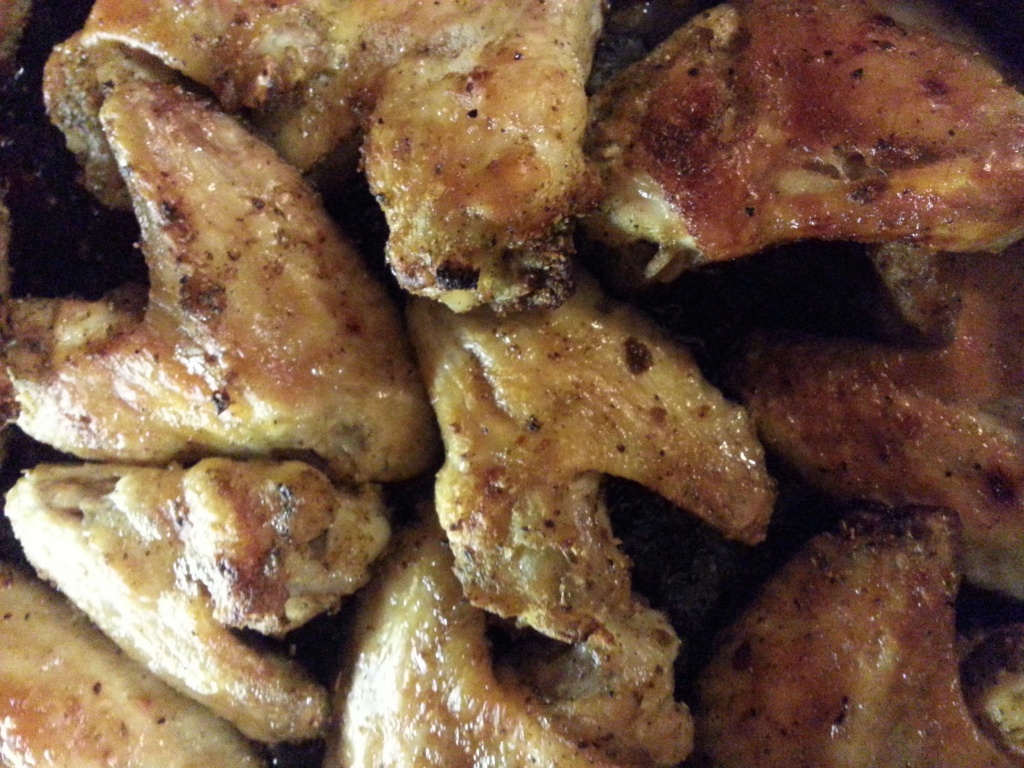 ---
Notes
WHILE you are doing Step 4, the bag of potatoes should already be in the microwave cooking the required 8 minutes.
Imagine all the things you can do in 8 minutes!  Doctor up the salad dressing? Set the table? Pour a glass of sangria?
Once the potatoes have cooled sufficiently to handle, cut them directly into the bowl with the salad dressing.  Adjust seasonings and add a little more salad dressing if needed.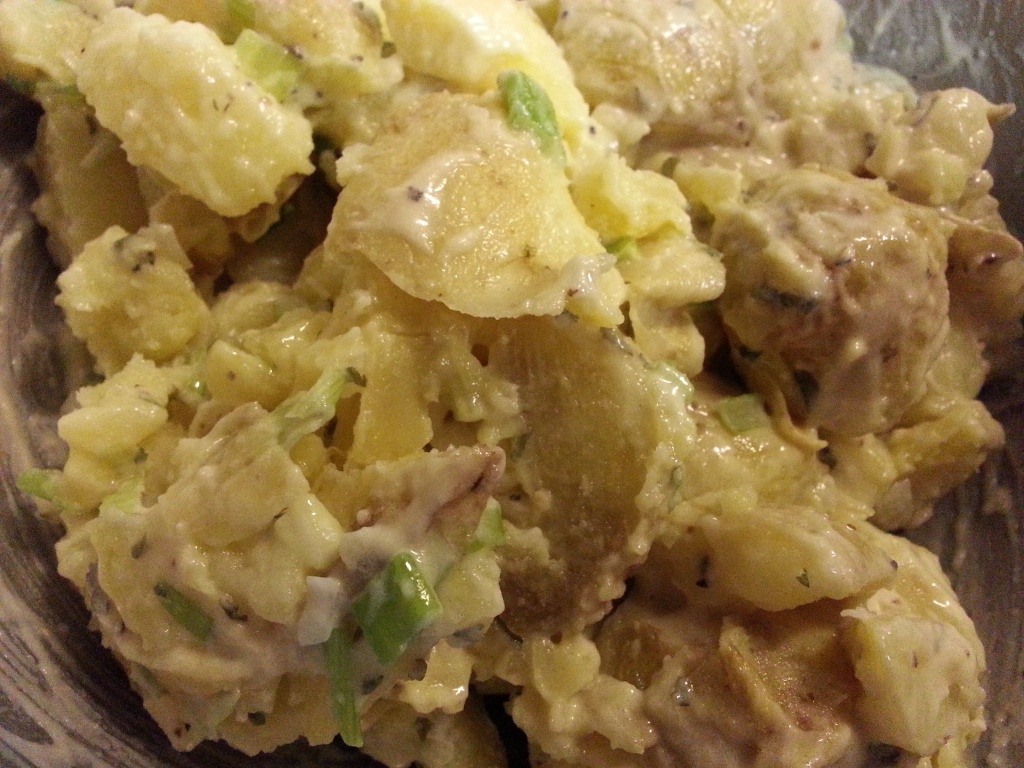 The chicken wings were golden, the potato salad was quite tasty and the entire meal was ready in under 45 minutes.  My cooking skills earned me a tall glass of Sangria on ice.  It was Friday so I added a jigger of Triple Sec.
*Using a meat cleaver makes this process quick and easy.   It helps to place the blade in the joint (rather than try to cut through bone).  The cleaver separates the joint and cuts the meat at the same time.   The weight of the cleaver also helps in cutting off the wing tip in a single downward motion of the handle.
---