Posts contain affiliate links so readers can locate resources mentioned in recipes & articles. Merci.
Easy Beef Pot Roast Recipe – In 2015, I participated in a slow cooker Crock-Pot 6-Quart Programmable Cook & Carry Slow Cooker with Digital Timer, Stainless Steel , SCCPVL610-S
New Price: $34.99 Old Price: $59.99You Save: $25.00 (as of 02/26/2018 03:50 UTC)
challenge.  The challenge was to prepare a new recipe every day for an entire month.  My participation fell somewhat short of the full challenge but this recipe for an easy beef pot roast was a keeper.
You know me by now – I "frenchified" the recipe.  Several of the ingredients were tweaked and some added but the recipe did not suffer for it.
An Easy Beef Pot Roast Recipe For Any Slow Cooker!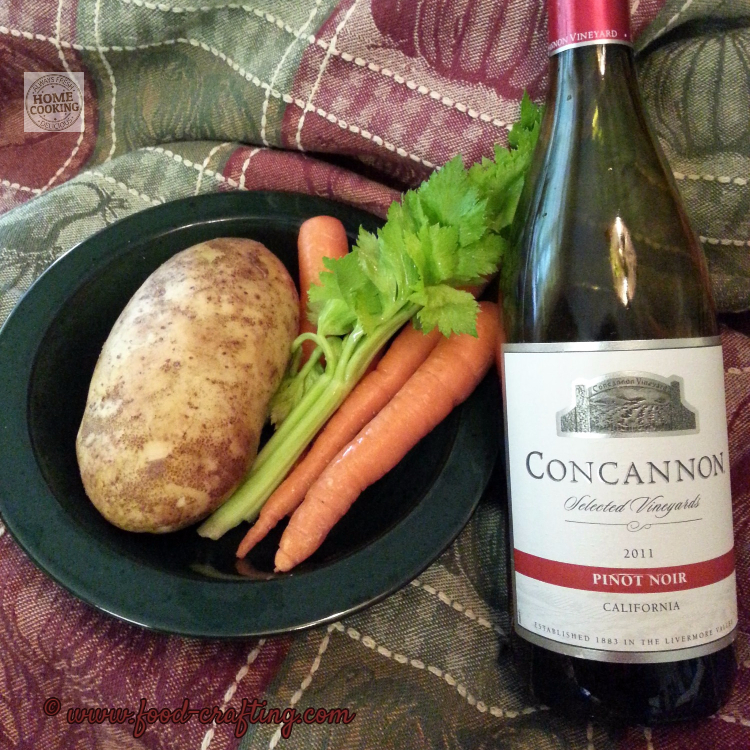 It was so much fun to participate in the Slow Cooking Recipes for the Busy Mom that year  that I decided to participate again but on a slightly different schedule – mine.


The Pot Roast Recipe Endures
November was eventful and very busy with a trip to France.
Then came Thanksgiving A Charlie Brown Thanksgiving
New Price: $9.99 Old Price: $9.99 (as of 02/26/2018 03:50 UTC)
and for December, my schedule is unrelenting.
I look forward to all the help I can get during this month when it comes to making great meals. My plan is to make those great meals with the help of slow cooker collection and my new kitchen toy!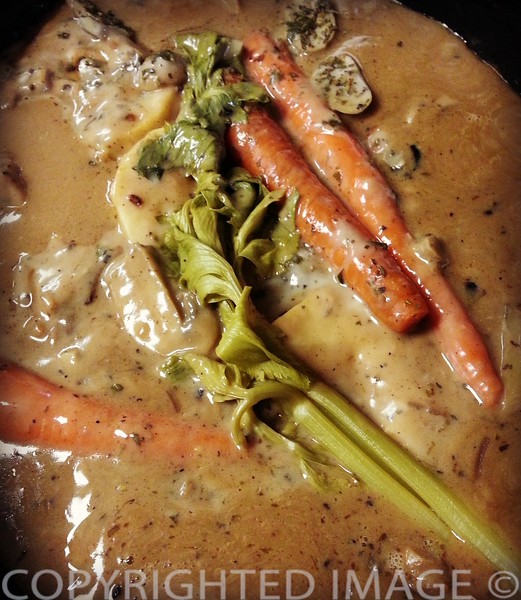 This year, to make things interesting, I would love to invite my readers to participate in a slow cooker challenge which starts today. 
I call it December's Best One Pot Wonders!
But let's get back to the easy beef pot roast recipe.
In a hurry to get the pot roast cooking?
With recipe in hand, I ran to Safeway© to pick up the missing ingredient.
 Lipton ONION RECIPE Soup & Dip Mix 

Not only is the recipe quick but I happen to have the cream of mushroom soup and the onion soup mix on the pantry shelf.
I am going to make a few changes to the basic easy beef pot roast recipe to make it my own but also accommodate Mom's special diet.
This is the perfect type of recipe which helps me assemble a variety of make-ahead freezer meals or ready made meals for her to use during the week.
At a minimum I can rest assured that she has several hearty meals ready to heat up.
Premium Glass Meal Prep Container Set with Snap Locking Lids, BPA-Free, Airtight, Leakproof, Microwave, Oven, Freezer, Dishwasher Safe (3.5 Cups, 28 Oz.)
More often than not, Mom manages to make two meals from one container. 
Mom's hands are affected by peripheral neuropathy.
Most plastic container lids that seal completely around the container make it difficult for her to open or close the container.
One of the winning features of these containers is that  they are easy for her to open because of the four individual snap lock closures.
Glass makes them dishwasher safe and she can reheat her meals in the oven or the microwave.  
Another bonus is that I fill a container with leftovers from other meals and she often has a full week of ready made meals Campbell's Ready Meals, Homestyle Noodles & Beef in a Creamy Mushroom Sauce, 9 Ounce (Pack of 6)
New Price: $16.09 Old Price: $16.09 (as of 02/26/2018 03:50 UTC)
at her disposal.
Believe me…my assorted crock pots (which range from a 2 quart to a large 7 quart size) get a real workout. 
And these meal prep containers Meal Prep Containers, [25 pack] KICHEIF 1 Compartment Food Prep Containers, Food Storage Containers with Lids, Reusable Freezer Containers - BPA Free, Stackable/Microwave/Dishwasher/Freezer Safe 26oz
New Price: $12.99 Old Price: $12.99 (as of 02/26/2018 03:50 UTC)
go a long way towards making the entire process easier whether I am cooking for Mom or for the two of us.
Chuck Roast or Chuck Steaks?
While this easy beef pot roast recipe calls for a chuck roast, the chuck steaks were on special today. 
Not only did I benefit from the special price available with a store card but I arrived just in time to watch them add a discount to each package!  Felt like a bandit.💲


And…if you want to prepare a variation of this easy slow cooker pot roast, how much easier could it be than simply changing the soup mix Frontier Soups Hearty Meal Soups Colorado Campfire Chicken Stew Mix, 7 Ounce
New Price: $5.71 Old Price: $5.71 (as of 02/26/2018 03:50 UTC)
you use to flavor the meat?
Prefer the pot roast with a richer, beefier sauce? Use the Beefy Onion soup mix.
Love mushrooms as much as we do?  Prepare the roast with the Onion Mushroom mix.
Want to go out on a limb? Use pork instead of beef and prepare the pot roast with the Golden Onion mix!
To view the photos in the gallery, click on any image to bring up the arrows for scrolling.
Print
Easy Beef Pot Roast Recipe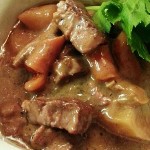 The perfect recipe for a hearty meal. A minimum of ingredients slow cooked to perfection result in a melt in your mouth family sized meal bursting with flavor!
Author:
Prep Time:

30 mins

Cook Time:

7 hours

Total Time:

7 hours 30 mins

Category:

Main Dish

Cuisine:

Homestyle Comfort Food
Ingredients
4 1/4 pounds of beef chuck steak, boneless
1 box (2 packs) of Lipton© Onion Soup Mix
14 oz. can of mushroom stems and pieces
4 carrots, peeled – medium size
2 large russet potatoes, cut into large pieces
1 stalk of celery (strictly for seasoning)
2 teaspoons Fines Herbes
olive oil and butter (just enough to brown the meat). Add small amounts as needed.
1/2 cup of rich beef broth
1/2 to 3/4 cup of red wine (I used some Pinot Noir)
freshly cracked pepper, to taste
Instructions
Sprinkle the contents of 1 pack of onion soup mix onto a large platter. Coat both sides of as many pieces of chuck steak as you can with one pack. Press the onion bits into the meat. I needed a second pack to evenly coat all the meat.
Brown the pieces of meat on both sides over medium heat (being sure not the burn the onions bits) and add directly to the crock pot in your slow cooker. Place the larger, thicker pieces on the bottom.
Season the meat with freshly cracked pepper to taste. I did not add salt (see notes for explanation).
Surround the meat with the chunks of potato. Top with the whole carrots and the stalk of celery.
On low heat, to the pan in which you have browned the meat, add the can of mushroom soup – undiluted. Scrape up all the brown bits in the bottom of the pan along with all the bits of onion from the mix.
Add beef broth and red wine. If the soup mixture still looks a little too thick, add a small amount of wine. Red wine never hurt a beef stew 😉
Stir until well combined and then pour evenly over the meat.
Spread the mushroom pieces evenly across the meat and vegetables.
Sprinkle with Italian herbs.
Set slow cooker to LOW for 7 hours. By the second hour, the aroma from the kitchen will lure perfect strangers to your table. Guaranteed!
Notes
Fines Herbes is a wonderful blend of chives, chervil, lemon zest, marjoram, parsley, tarragon.
Serve the pot roast with a salad and thick slices of freshly baked bread. Bon appétit.
Nutrition
Serving Size:

6

Calories:

903

Sugar:

5g

Sodium:

1488mg

Fat:

40g

Saturated Fat:

18g

Unsaturated Fat:

22g

Trans Fat:

2g

Carbohydrates:

38g

Fiber:

5g

Protein:

96g

Cholesterol:

288mg
You'll Cook This Beef Pot Roast More Than Once!
Next time, instead of the onion soup mix try the Beefy Onion Soup mix from Lipton©.
You can even use a different soup: beefy mushroom, or golden mushroom. How about cream of mushroom soup with roasted garlic?
Here is another recipe to cook perfect chuck roast.

$260.00
3 new from $260.00

Amazon.com
$364.95
2 new from $364.95

Amazon.com
Free shipping
$294.95
3 new from $294.95

Amazon.com
Free shipping
Last updated on February 25, 2018 12:45 pm
Not into "traditional" cookware? Be sure to take a look at Raymond Loewy designs for your kitchen.
On The Topic of Salt: Why I Don't Add Any
The soup mix contains quite a bit of sodium. So does the soup and even the canned mushrooms.  Add all the pepper you want.
The biggest culprit is the cream of mushroom soup. Of course, you can use the low sodium version but that has absolutely no flavor. Nada.
The canned mushrooms had 360 mg of sodium, the cream of mushroom soup had a whopping 870 mg (same amount in the small can) and the soup mix had 610 mg.
By my math, that's over 1800 mg of salt! A taste test confirmed that it did not need more salt.
Bon appétit.
It's A Slow Cooker Challenge!
How would you tweak my recipe for this easy pot roast? Be sure to share those tweaks in the Comments below.  I look forward to sharing some other recipe tweaks.
How many readers have a "collection" of slow cookers? I've found a specific purpose for each size and every one of my crock pots Crock-Pot 6-Quart Programmable Cook & Carry Slow Cooker with Digital Timer, Stainless Steel , SCCPVL610-S
New Price: $34.99 Old Price: $59.99You Save: $25.00 (as of 02/26/2018 03:50 UTC)
. Have you?
(Visited 73 times, 73 visits today)