---
Description
This easy Beef Minestrone soup is easy to prepare and thanks to Wegmans® varied ready made produce packs,  a real time saver when it comes to recipe prep.
---
Scale
Ingredients
1.25 lbs of Wegmans® Beef Center Shank
2 packs (16 oz. each) of Wegmans® Cut Minestrone soup vegetables (Potatoes, zucchini, leeks, carrots, celery, onions, and cabbage)
1 medium clove of elephant garlic (sliced thin)
6 cups of beef bone broth
2 – 14.5 oz. cans of Furmano's® Italian Style Diced Tomatoes (undrained)
1 can of Cannellini beans
1 1/2 cups of Ditalini pasta
Italian shredded cheese or aged Parmesan as a topping.
---
Instructions
Dry the beef shank pieces on paper towels.  Season to taste.
In a heavy duty Dutch Oven, brown over medium high heat on both sides.  Set aside.
Lower the heat to medium low.  Add contents of the cleaned and cut vegetable packs.  Add slivers of fresh garlic.
Sauté for about 5 minutes until the onions start to become translucent.
Season the vegetables with the fresh or dried Italian herbs.
Add some butter.  Butter is optional.
When the vegetables are ready, top them with the meat – bones included.  
Evenly distribute the contents of diced tomatoes (not drained) across the pan.
Pour the bone broth over everything and slowly stir to combine.  I do this to distribute the vegetables under and over the pieces of meat.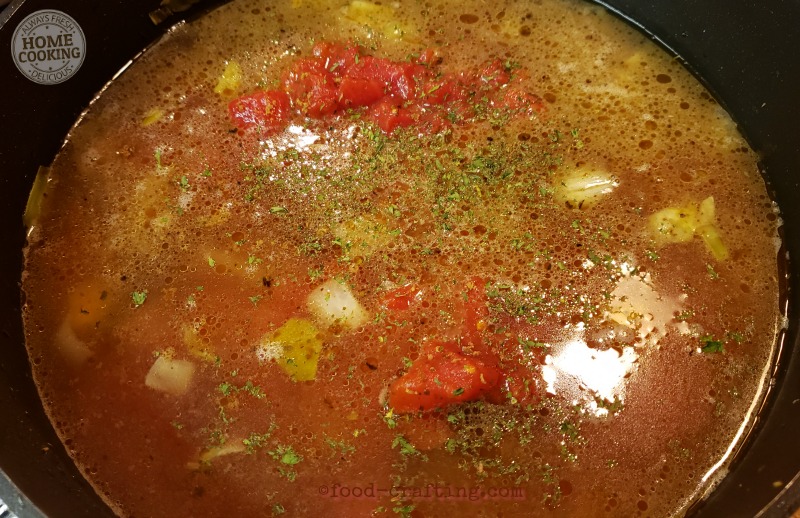 Taste the broth and adjust seasonings if necessary.
Place cover on Dutch Oven and simmer for at least 2 hours.
Remove the pieces of meat from the soup.  Set aside to cool.  When cool enough to handle, break them up into small bits to add to the soup later.
To the broth and vegetables, add the dry pasta.  Cook until Al Dente.  You may need to add just a little broth or water to compensate for the amount absorbed by the pasta.
When the pasta is almost cooked, add the Cannellini beans and the bits of meat. Do not drain the beans.  Stir to combine evenly.
Continue to simmer until the beans and meat are heated through – maybe 5-6 minutes more.  Serve immediately.
---
---
Notes
Enjoy your easy beef Minestrone soup with garlic bread and a green salad.  Fruit for dessert. Maybe a cookie?
Keywords: beef, Minestrone, soup, wegmans