Posts contain affiliate links so readers can locate resources mentioned in recipes & articles. Merci.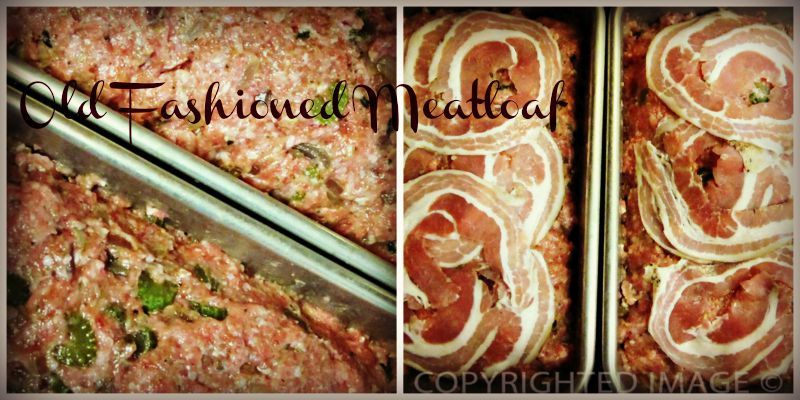 Veal meatloaf! It was the first recipe that came to mind last week when I found a special on ground veal.
One of Mom's signature "entertainment" menus featured veal Marinara as the main dish.
It was not a veal cutlet, but a thick, fork tender pattie the size of a small saucer drenched in a tangy Marinara sauce she made from scratch.
Those were the days when she bucked tradition and brought out the large rectangular electric frying pan. Can you picture the scene?
I must admit that it was the only pan capable of holding the entire recipe – veal patties and sauce. The pan still sits in the pantry, and the recipe is still fresh in Mom's mind.
That is a good reason to prepare it again so I can take a mouth watering photo!
Those were the days before ready-made sauces came in jars, and available in a long list of flavors many of us do not even think of buying.
Rao's® Sauce is a keeper because we all want to make a copy cat version of their meatballs.
The 32 oz. jar of sauce costs just under ten dollars at Whole Foods® but it is the original marinara in case you plan on making meatballs.
There is a smaller 24 oz. Jar costs $7.99 at Wegman's® that comes in an assortment of flavors:
Vodka
Artichoke
Roasted Garlic
4 Cheese
Tomato Basil
Arrabbiata Fra Diavolo (this one is spicy hot!)
Sensitive Formula Marinara and
Regular Marinara
Listed above is the selection I found at Wegman's® . The sauce is available in additional flavors. I would love to find a jar of the Puttanesca!
Did you know that Rao shares the recipe? It includes veal.
For those of us cooking for a special diet, Amy's offers fantastic organic pasta sauces and marinara. I digress, however.
Back to Veal Meatloaf
[yumprint-recipe id='11']
(Visited 26 times, 4 visits today)
Related posts: