Posts contain affiliate links so readers can locate resources mentioned in recipes & articles. Merci.
Pennsylvania Dutch Pork Ribs – This recipe for braised country style pork ribs with sauerkraut and apples is without a doubt a close cousin to French Choucroute Garnie. 
During the summer, the country ribs are bathed in tangy barbecue sauce and served over spicy saffron rice (Pack of 6) Mahatma Spicy Saffron Yellow Seasonings & Long Grain Rice - Zesty Flavor - Net Wt. 5 OZ (142 g) each
New Price: $13.75 Old Price: $13.75 (as of 12/12/2017 01:02 UTC)
 or pilaf  but when the temperatures dip, I prepare this version of the dish.  The ribs are paired with tart apples, sauerkraut and steamed potatoes.
Check out all my Pennsylvania Dutch recipes!
Homestyle Pennsylvania Dutch Pork Ribs
A quick confession – I will admit to cutting back on the typical quantity of meats in the authentic version of this dish (by not adding sausages) and by braising them in white wine.   Shhh….
Let's just call it fusion cuisine Vegan World Fusion Cuisine: Healing Recipes and Timeless Wisdom from Our Hearts to Yours, 2nd Edition
New Price: Old Price: $24.95 (as of 12/12/2017 01:02 UTC)
.
Another confession to make.  I normally prepare this recipe with country style ribs but tonight, I am bending the rules and using small boneless top loin roasts.   Let's pretend this is a  boneless pork ribs recipe.
While checking out the meat counter, there were only two small packs of country ribs – barely a serving each and likely to shrink to a few bites.    I opted for two small boneless top loin roasts.  Together, they cost less than $7.00 and weighed 2.25 pounds.  Boneless top loin is much leaner so it will take a little longer to braise them to fork tenderness.
An Easy Pork Dinner Recipe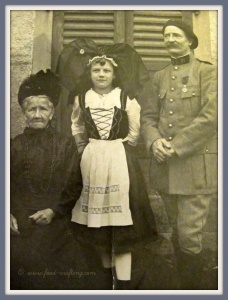 Dad was right all those years ago to say that many Pennsylvania Dutch recipes would remind us of home – both France and Germany.
Not only did my French grandmother and great-grandmother prepare this type of dish but Choucroute Garnie French Sauerkraut by Andre Laurent - Traditional (17.8 ounce)
New Price: $6.99 Old Price: $6.99 (as of 12/12/2017 01:02 UTC)
is a regional specialty very familiar to us.
We hail from an area not far from l'Alsace but Great-grandpa served in the Alsace Lorraine Michelin Green Guide Alsace Lorraine Champagne (Green Guide/Michelin)
New Price: $18.13 Old Price: $21.99You Save: $3.86 (as of 12/12/2017 01:02 UTC)
region during World War I and came to love the food.
Needless to say, Alsace was German at one time but it behooved us all not to remind him of that fact!  That's just one of the causes he fought for dating back to the 1890s.  La Revanche was a touchy subject.
A soldier since the age of 18 and always proud to wear his uniform, in this photo he is standing with members of his host family during the First World War time frame.  He re-enlisted for World War II and served as an aircraft spotter.  But I digress…that's another story.
Just goes to show that there are truly 6 degrees of separation in this family (both his sons would marry Germans ❤️ ) – and that it is a small world.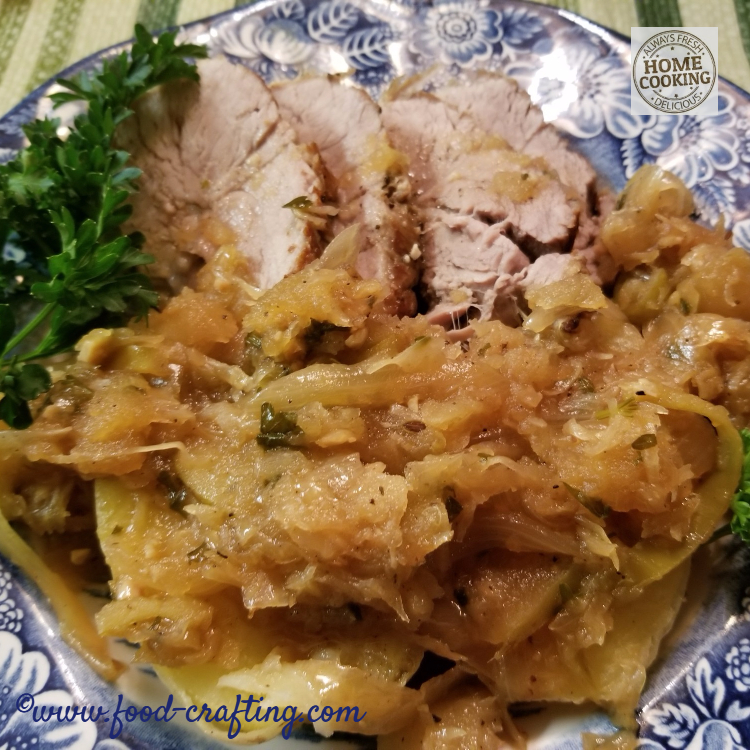 Pennsylvania Dutch Pork Ribs Dinner
2017-10-04 13:49:59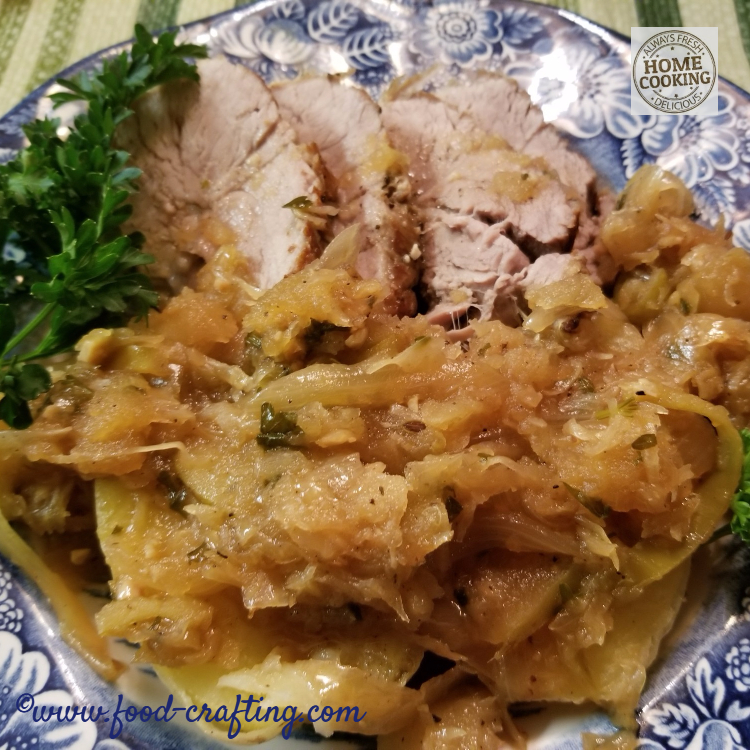 Pennsylvania Dutch Pork Ribs - a recipe for braised country style pork ribs (with bones or boneless) with sauerkraut and apples . A close cousin to French Choucroute Garnie!
2.5 to 3 pounds of country style pork ribs
16 oz. jar of old-fashioned sauerkraut, drained
2 large Granny Smith apples
3 to 4 small golden potatoes, steamed
1 large onion, sliced
3 large cloves of fresh garlic, crushed
1/4 cup of chopped fresh parsley
McCormick® Montreal Steak seasonings
Olive oil
Salted butter, 3 tablespoons
1 cup of white cooking wine or chicken broth.
Dry both side of the meat on paper towels. You want the ribs or roasts nice and dry.
In a Dutch oven, over medium high heat, pour some olive oil. A couple good dashes should do it.
When the oil is hot, add the butter.
As soon as the butter is melted and begins to froth, carefully place the meat in the pan.
Brown the meat until golden brown on one side before turning the pieces to brown the other side and seasoning each side as you brown them.
Once browned, remove from the pan and set aside while you prepare the vegetables.
To the hot pan, add the sliced onions, the crushed garlic and sauté about 2-3 minutes until the onions begin to brown along the edges. Season lightly.
Add the apple slices and stir to combine. Sauté another 5 minutes, being careful not to burn the onions or the apples.
Add the drained sauerkraut to the onion/apple mixture and combine well.
Top with the pieces of meat. Adjust seasonings.
Pour the wine or broth around the meat.
Lower the temperature and simmer for about 1 hour or until the meat is fork tender.
Prepare the steamed potatoes to coincide with the completion of the meat cooking.
I sliced the steamed potatoes open and topped them with the sauerkraut. The wine/broth made yummy gravy to ladle over the sliced meat.
Guten Appetit!
De's Home Style Food Crafting http://food-crafting.com/
This dish calls for hard cider or, if nobody needs to get behind the wheel – a nice white Chardonnay or red Beaujolais wine. Beer is perfect with the barbecued summer version of this dish!
If you have ever traveled across or lived in central Pennsylvania and the Big Valley area, you know there are some mighty fine butchers throughout the Kish Valley!


(Visited 147 times, 148 visits today)