Posts contain affiliate links so readers can locate resources mentioned in recipes & articles. Merci.
Game Day Menu Recipes:  The round up of varied recipes for appetizers, main dishes and sides we've collected below will make it easy for you to create a memorable menu for your Super Bowl festivities.
We've included our standard menu items which have become staples during the regular football season.  But on Super Bowl Sunday, we kick it up a notch and between the goal posts!
[yellowbox]In a hurry?  ===> Stock up with all the food you need for game day![/yellowbox]
Super Bowl LI and 51 FlagAre You Ready For Some Football?Perhaps you are a tailgating fan but since not all of us are lucky enough to be at the game, we focus on a Super Bowl parties.   We make sure the atmosphere and the food is worthy of a title game – complete with half time revelry.
Super Bowl day is getting closer and closer. Two teams are playing for the title .
Unfortunately, our team will not be one of them but we knew that a long time ago!
Regardless, when the day rolls around, we remain a house divided but we bury grudges and pick a team just for Game Day!
Two years ago, my sister-in-law was watching from the sidelines at MetLife.  Last year, she was in California for Super Bowl 50.
In 2017, she is in Houston at Super Bowl LI
.
Here in Virginia, we do our part by cheering her on during what we know to be a very long day.  Naturally, we're also cheering for a favorite team from plush front row seats – more commonly referred to as the living room sofa and chairs.
Claim Your Favorite Seat In The House!
 NFL New England Patriots Love Seat Reversible Furniture Protector with Elastic Straps, 75-inches by 88-inches

 NFL Atlanta Falcons Recliner Reversible Furniture Protector with Elastic Straps, 80-inches by 65-inches

Our part (we do huddle for this yummy task) is to prepare the food – lots of food.  Not only do we have a repertoire of game day favorites but we always add or change out a recipe for a new one.
Check out this collection of the tastiest game day recipes we could find to help make the menu making just a wee bit easier. Truth be told, I just made mine much more difficult by adding to it!
Chili Cheese Dip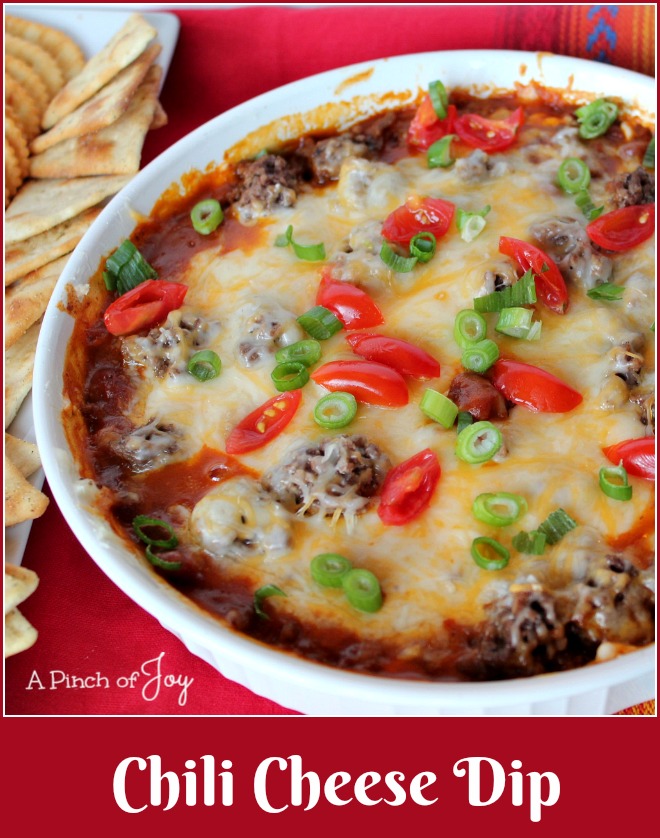 Chili Cheese Dip
&
Charlene's Chili Cheese Dip combines all our favorite ingredients!  Classic cream cheese and melted cheddar means we need the family size bag of Fritos® on hand.  I may just have to make a double batch of this quick and easy recipe and keep an eye on the resident spicy-hot afficionado.
A Pinch of Joy.
White Bean Dip
White Bean Dip
&
Heather prepared the perfect dip  for vegeterians or any hungry fan that loves hummus!  This version is prepared with Cannellini beans seasoned with freshly roasted garlic.  Triangles of lightly toasted pita bread is the ideal scoop for this smooth dip.
sloCooking.
Super Bowl Nacho Bar
Super Bowl Nacho Bar
&
Ok. I can do this. We all have slow cookers and how much easier does it get than to have someone else chop up all the toppings the day before or early on game day? Catch them now while you still can. Come game time, they'll all be at the nacho bar!
The Magical Slow Cooker
Chili Dogs For A Crowd
Chili Dogs For A Crowd
&
When I first came to the USA, chili dogs were a new taste sensation. But…game day is the perfect time to ladle out the chili and fresh toppings on a quarter pound all beef frankfurter! Now a chili dog screams football game to me. I never imagined myself sitting for hours to watch a football game  Then again, I am probably going to be the only one sitting during the Super Bowl. Eating a chili dog!
From Valerie's Kitchen
Butter And Herb Crockpot Mushrooms
Butter And Herb Crockpot Mushrooms
&
I can't think of a single person in my family that does not LOVE mushrooms!  These button 'shrooms would disappear in no time at all especially when seasoned with beaucoup de garlic and  tangy balsamic vinegar!  Yum!
Slow Cooker Little Smokies
Slow Cooker Little Smokies
&
The quintessential snack for get togethers of all sizes – little smokies.  And what could be easier than simmering them in a simple sauce.  I've seen these disappear faster than you can say "where are the little smokies?".  Let me count the times I've heard that over the years.
Best Fudgy Cocoa Brownies
Best Fudgy Cocoa Brownies
&
I came across this pin while looking for menu ideas and could not move past these chewy brownies! Best not set these out on the table until dinner is done or the kids will be tempted to eat dessert first. All that is missing is a double scoop of the richest French vanilla ice cream!
Cafe Delites
[yellowbox]
We made all recipes Mobile Responsive
[/yellowbox]
Crock-Pot Triple Dipper with Lazy Susan Food Warmer,Perfect For Dips!
There are scores of great cookbooks
 to make your Super Bowl gathering a success.
Crock pots are in use and the oven is working overtime, preparing crispy, oven "fried" wings seasoned with Old Bay®, Hickory Smoked or maybe Wing Dust. Some of each maybe?
Snacks may change but the main menu always includes Chex Snack Mix (made from scratch using the recipe on the cereal box),  chicken wings, a barbecued brisket, just a few sliders, our favorite homestyle potato salad and some crunchy three color coleslaw.
When it comes to appetizers,  this is the perfect venue to test out new dips.  Ask me about the Pizza Dip. It was a spur of the moment addition to a house warming party last year and it has joined the list of favorites!
[yellowbox]Nothing makes it easier than to have all your dips stay warm in
quart sized crocks
and in
a single appliance
! Think of the counter space you are saving![/yellowbox]
You get the picture. Enough food to feed a stadium full of hungry fans. Yep, it must be Super Bowl time!
Traditional onion burgers and chili dogs
Jambalaya for 2017
Ham or Chicken Parmesan sliders
Chewy brownies, assorted cookies and ice cream …
Dessert is quick and very easy because at the end of the day even the cook needs a break.
Our recipes are linked through the images below:
 Hickory Smoked Chicken Wings Tri Color Coleslaw Old Fashioned Potato Salad
&
Want to use EPD on your blog?
2017 Super Bowl 51 Party Balloon Bouquet

The sliders are ready for the oven, my potato salad is chilling, hamburgers are resting while they can,  hot dogs are waiting for a chili topping and the chicken wings are sitting on the sidelines.  For now.
There is talk this year of adding the "Pizza Dip" again. Can I make it in a crock pot?
I've been promised some
Planters Punch
We brew it by the gallon jug.  🙂  It is designed to ward off any chills but could also make it so we never figure out which team is #1.
Looking more and more as if we are ready for Game Day – when it comes to the menu!
Sure enough, it's impossible to have a game day gathering, no matter how small, without great food and drinks.    There is no need to enhance the excitement with too much alcohol but adding a bit of color never hurts.
Just to make things easier with the game day menu recipes, we work on some aspects of the meal either the day before but definitely well before the game starts.
You don't prepare brisket at the last minute and the salads can only benefit from an overnight sit in their respective dressings.
Somehow, they always taste better the next day anyway.
The party will be a success.  I know we have a well organized kitchen game plan  but it definitely will not determine which team wins the big game.
So, may the best team win. While we eat.


Follow My Food Crafting Boards on Pinterest
Who's Keeping Track Of The Stats?
 Interactive Football Trivia Super Bowl Trivia: 75 Quizzes SUPER super bowl trivia book
(Visited 275 times, 9 visits today)