Posts contain affiliate links so readers can locate resources mentioned in recipes & articles. Merci.
Bite Size Cheesecake Recipes!  Ice cream cake is all she really wants for dessert but I could not help but wonder if I should make some of these tempting bite size cheesecake recipes.  
In a hurry? Pin the recipe for my savory Salmon Cheesecake Bites to read later.
A Collection of Perfect Bite Size Cheesecake Recipes
My daughter has a July birthday and ice-cream cake is de rigueur as a dessert.  We've tried ice cream cake from various sources but her preference is a simple Carvel cake Mini 3 Layer Cake
New Price: $5.92 Old Price: $6.49You Save: $0.57 (as of 12/16/2017 07:06 UTC)
.  
Très Americain, non? What can I say! She's my Cabbage Patch Cabbage Patch Kids Cuties Collection, Parker the Puppy Cutie Baby Doll
New Price: $15.99 Old Price: $12.99 (as of 12/16/2017 07:06 UTC)
Carvel Ice Cream Cone baby. 
Set a pretty table with any of these beautiful plates to show off  any bite size dessert.
Cheesecake is a traditional dessert – especially in our family.   Our Thanksgiving menus include Dad's favorite Shoofly Pie, the kid's "gotta-have"pumpkin pies but also Susie's decadent pumpkin cheesecake.  Nothing mini about that cake!
Although we are watching our waistlines and cutting back on lots of sugary sweet desserts, the idea of setting out small portions of a favorite dessert is irresistable. Portion control at it's best.  It's difficult to train your brain to eat less of such a yummy dessert treat.
French Cheesecake? Mais oui! From plain to fancy and savory or sweet, select from a variety of cheesecakes!
Perfect Baking Pans For Mini Cheesecakes
A full size cheesecake works well but why not try cheesecake recipes in a variety of flavors so we cover all the taste buds?
These pans are going to make the task super simple and the following recipes are going to make it difficult to pick just one flavor.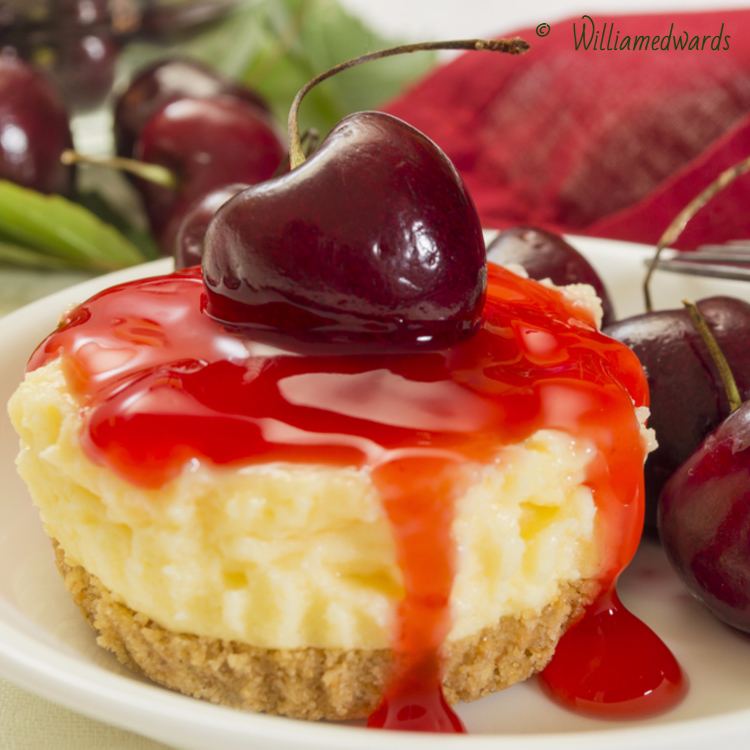 Making A List & Checking It Twice – A Variety of Favorites!
Mini Cookies and Cream Cheesecakes
Why is this recipe at the top of the list?  Simple – cookies and cream.  From the grandkids to the Grandpa, cookies 'n cream is a favorite ice cream flavor.
Oreos© come in the perfect size to top a mini cheesecake. It goes without  saying that they top the list of favorite cookies.  I add a chocolate crumb crust to the peanut butter pie!  wait a minute…peanut butter cheesecake bites.  This recipe covers all the bases.
Strawberry Cheesecake Bites
Perfect for a Spring party or an informal bridal shower.  A shortbread Walkers Shortbread Festive Shapes
New Price: (as of 12/16/2017 07:06 UTC)
or crumb crust topped with a cool and fruity cheesecake filling, whipped cream and a juicy slice of strawberry.
The only thing missing is a chilled glass of champagne or a sparkling punch.
Mini Pumpkin Cheesecake with Gingersnap Crust
Perfection!  Who does not like gingersnaps?  These crumbled cookies make the perfect crumb crust for a full size pumpkin pie as well as a cheesecake.  
I'm going to start dropping hints in all the right places 😍
Pumpkin Cheesecake With Graham Cracker Crust
Pumpkin cheesecake in bite size, perfectly portioned servings!  A simple gramham cracker crumb crust, creamy pumkin pie filling and a dollop of  flavored whipped cream as a topping.
Quick, easy and delicious!
Andes Mint Mini Cheesecake
This version is a must.  Chocolate and mint.  Not only is this mini bite of cheesecake beautiful to look at, but the creamy mint filling reminds me of the classic pastel cream mint candies served at my wedding reception 30 Packs Luminary Paper Lantern, Candle Tealight Tea Light Bag Bags - Flame Resistant Paper for BQQ Party Wedding Reception Party and Event Decor
New Price: $16.99 Old Price: $16.99You Save: $2.00 (as of 12/16/2017 07:06 UTC)
.  
The candy shop is long gone but this is the candy closest to a genuine Goss mint. 
Red Velvet & Vanilla Cheesecake
These mini bites of goodness are visually stunning! So dainty that I can think of any number of special occasions for which they would make a spectacular dessert table centerpiece.  
Just change the decorative sprinkles!  Everything sweets and treats is coming up Red Velvet!
Mini Cheesecakes By The Dozen!
---
Savory Mini Cheesecakes Make Perfect Appetizers!
Just once, forget about chips and dip Gibson Gracious Dining Chip & Dip Set Ware with Metal Rack, White
New Price: $34.61 Old Price: $35.79You Save: $1.18 (as of 12/16/2017 07:06 UTC)
or cheese and crackers.  Bake savory cheesecake bites.  
Instead of a huge bowl of cream cheese spread in the regular French onion flavor, why not adapt a recipe to make bite size cheesecakes?
A basic cream cheese filling can easily be transformed into a savory filling with the addition of onions, bacon and smoked salmon SeaBear Smoked Salmon Trio, 18-Ounce Box
New Price: $44.34 Old Price: $44.34 (as of 12/16/2017 07:06 UTC)
!  
We have a birthday gathering coming up this weekend.
I'm going to replace one of the regular appetizer choices to a savory bite of cheesecake – smoked salmon cheesecake bites sound just right.  I've added the recipe below.  Be sure to garnish the bites before you set them on the table!
Mini Salmon Cheesecake Bites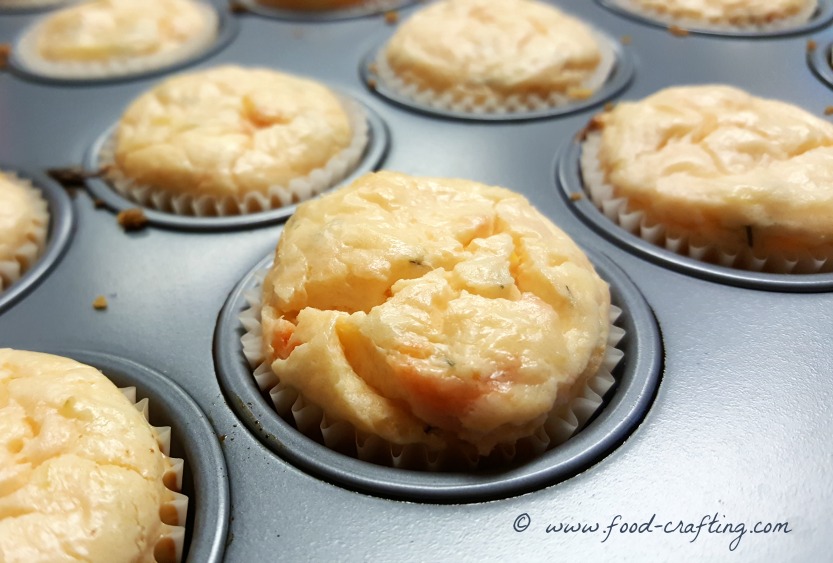 Mini Salmon Cheesecake Bites
2017-08-26 15:34:59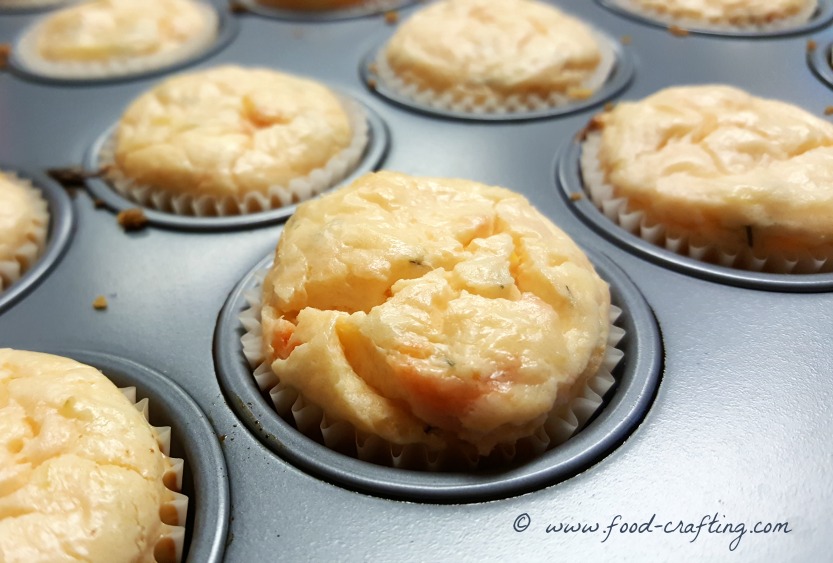 Just a tiny bite of salmon cheesecake to add to your appetizer tray. A four cheese cracker crumb crust with a cream cheese and sour cream filling dotted with bits of wild caught smoked salmon. Just before serving, garnish the top with a sliver of salmon and a salted caper.
Ritz® crackers (2 sleeves), crushed fine
Half a container of Bel Gioioso© Asiago, Fontina, Parmesan and Provolone freshly grated cheese
Pinch of seasoned salt
2 tablespoons melted butter
------------
2 8 oz. bricks of Kraft ® Philadelphia© cream cheese
2/3 cup sour cream cream
1 jumbo egg (mine had a double yolk) or two small eggs
Zest from 1 large lemon - then cut lemon in half and squeeze juice into bowl.
With kitchen herb scissors, cut a small handful of fresh dill into tiny pieces right over the bowl.
Grate about 1 to 2 tablespoons of onion over the cream cheese mixture
3 to 4 tablespoons of cornstarch
4 ounces of wild caught smoked salmon, pulled into shreds.
Preheat the oven to 325 degrees:
Prepare the crumb crust: In one bowl, crush the Ritz© crackers into a fine crumb. Add the shredded cheese and the seasoning. Stir to combine well. Add melted butter to the crumb mixture and combine well so that all crumbs are moistened. Set aside.
In a medium bowl, add the two blocks of cream cheese, the sour cream, lemon zest, lemon juice, finely chopped dill, cornstarch and shredded salmon.
With a hand mixer on low speed, combine the cream cheese mixture into a well blended filling. You want little bits of salmon and a smooth filling.
Line each muffin cup with a paper liner.
Add a teaspoon of crumb mixture to the bottom of each paper liner. Tamp down lightly with the back of a spoon or the top of a spray can. You want it to be a perfect fit.
Fill the muffin cups with the cream cheese filling. I fill them quite full and they did not overflow.
Bake at 325 degrees for about 20 minutes. The tops will crack a little and settle as they cool.
Allow to cool a couple minutes before removing from the muffing pan. Place in a rectangular cake pan with a airtight lid. You can then refrigerate to set the cheese mixture.
When ready to serve, garnish top with a sliver of salmon and a salted capers.
You will need 2 medium bowls, a hand mixer, mini muffin cup liners and a quality 24 cup muffin pan.
More ideas: Instead of salmon, use crabmeat and season with Old Bay® or bits of shrimp and chili lime seasonings!
De's Home Style Food Crafting http://food-crafting.com/
I may have to try each of these Bite Size Cheesecake Recipes just to make sure they taste just right. Chalk it up to recipe testing 🙂
(Visited 190 times, 131 visits today)