Posts contain affiliate links so readers can locate resources mentioned in recipes & articles. Merci.
We just had to share our aioli mayonnaise recipe!
Seafood of any kind, particularly lobster, simply tastes better with garlic aioli. At least, we think so.
We eat fresh seafood as often as possible but when comes to certain type of fish and shellfish, we prefer dipping that succulent morsel in mayonnaise rather than drawn butter.
Recently, we enjoyed a wonderful visit with a "long time no see" family member who lives on Cape Cod. Fresh, live lobsters were on the menu.
Dinner was not your typical New England lobster bake but while some around the table preferred the traditional butter and lemon juice, I thought it might be nice to also prepare our favorite garlic mayonnaise. The rest of the menu included grilled corn on the cob and a huge salad of mixed greens with a home made, tarragon vinaigrette dressing.
Since all these goodies were prepared in a kitchen other than mine, I was basically winging it with the proportion for the garlic mayonnaise.
Just be aware that if you use the whole egg, the mayonnaise will be more liquid and more akin to a sauce than if you used only the egg yolks.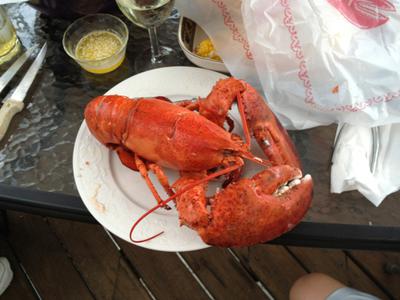 Aioli Mayonnaise
2 jumbo egg yolks or 3 large egg yolks (or 3 whole eggs)
4 garlic cloves, crushed (or to taste)
A squirt of lemon juice is optional
Salt and freshly cracked pepper to taste
You can add parsley or chives to the blend (also optional)
About 3/4 to 1 cup of high quality olive oil
To make the aioli, add the egg yolks to the beakers and all other ingredients over the egg yolks, pouring the oil in last. Start with the smaller amount and add if needed. This is where the immersion blender shines as a kitchen appliance.
Carefully place the blender into the oil mixture and let it rest in the bottom of the beaker. Start on low power and you will be amazed at how quickly the ingredients emulsify into a fabulous homemade mayonnaise.
You can accomplish the same results in a food processor but you will need to drizzle the oil into the egg mixture very slowly and gradually.
Also…in the food processor, the mayo is made so quickly that you want to be sure to adjust seasonings as soon as possible. The more you "process" the thicker the aioli becomes.
By the way, making plain (no garlic) mayo is just as quick and tastes so much better than the condiment you get in a jar!
Use Canola oil for regular mayonnaise. Just be aware that the olive oil will impart a specific flavor to the condiment which may not taste as good with all foods.
Here are a few other ingredients you can add to your "plain" home made aioli to "tailor" the taste according to what you will use it in. Think potato salad, mixed vegetables (a summer favorite dish in our home), chicken salad, even tuna salad!
1 tablespoon of Dijon mustard;
1/4 teaspoon of cayenne pepper
1 teaspoon of Old Bay seasonings
A few drops of vinegar
A tablespoon of mined dill pickes or sour gherkins
A tablespoon of small capers
A tablespoon of minced onions
Woah! We just about made Tartar sauce out of our mayonnaise! Try it – you will like it.

(c) Can Stock Photo /zoryanchick
(Visited 12 times, 3 visits today)
Related posts: